A new era dawns as CTS takes a bold step forward in announcing its entry into the Johannesburg bloodstock market. CTS will be holding a Ready To Run Sale in Johannesburg in November 2014 and a Select Yearling Sale in April 2015. The move came about at the request of several vendors and CTS are delighted to be entering the Johannesburg Sales market.
Following on the well established CTS concept of inner city sales, the CTS team look forward to taking this unique brand of Thoroughbred Sales to Johannesburg. The CTS Johannesburg Ready To Run Sale, with around 170 entries expected, will be held to coincide with the Gr2 Charity Mile, the Gr3 Graham Beck Stakes, the Gr3 Starling Stakes and the Emperors Palace Ready To Run Cup held at Turffontein Racecourse on the 1st of November 2014.
"We are extremely excited by the opportunity to fully cater to the Johannesburg market in the same manner as we have currently been conducting sales in the Cape. It has always been CTS's motto to think outside of the box, in order to enhance the South African bloodstock market to the benefit of both buyers and sellers", said CTS Chief Operating Officer Adrian Todd.
The CTS Select Yearling Sale, to be held during April next year in Johannesburg, is designed to enable vendors with quality, late maturing yearlings or yearlings hampered by travel restrictions, access to a CTS style sale that complements the company's existing yearling sales in Cape Town.
Adrian Todd explains: "CTS feels that a select sale in Johannesburg in April truly complements our existing Cape Town sales market and also offers an opportunity for vendors who have not previously been able to access CTS's sales due to movement restrictions or late maturing yearlings. Rather than competing with our existing sales, this initiative complements and enhances our current offering of quality horses."
"As promised, CTS will continue to offer new and innovative platforms for the selling of racehorses", concluded CTS Chairman Chris van Niekerk.
(source:  Cape Thoroughbred Sales Group)
‹ Previous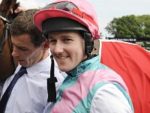 Juice For The Duke