After careful consideration and in the interests of both buyers and vendors, CTS has decided to change the date of its Johannesburg Ready To Run Sale from the 2nd November to Friday the 31st October. This will afford buyers the opportunity to view and purchase horses at both the CTS and BSA Ready To Run Sales. We apologise for any inconvenience that the change of date may cause our clients.
In keeping with the CTS initiative of inner city sales, the Johannesburg Ready to Run Sale will be held at the Inanda Club. Situated in the heart of Sandton and in sight of the high-rise towers of the financial district, it would be hard to find a venue that is more inner city than the lush green oasis that is the Inanda Club. Meaning 'beautiful' in Zulu, the Inanda Club certainly lives up to its name and horses are very much a part of the Club's history.
Established in 1934, the roots of the Club are firmly anchored in equestrian activities, with the Johannesburg Polo Club and the Rand Hunt Club amalgamating to form the Inanda Club. Many a Polo International has been played on its green turf and CTS is delighted to have been able to secure such a prestigious venue for its first ever Johannesburg Sale.
The CTS Johannesburg Ready To Run Sale promises to be a world-class event that epitomises the CTS philosophy of presenting quality horses in stylish surroundings, while catering to the buyers' every need. The Sport of Kings is coming to the centre of Johannesburg for the very first time. It is an event not to be missed.
‹ Previous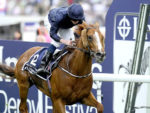 Cape Stallions Show The Way