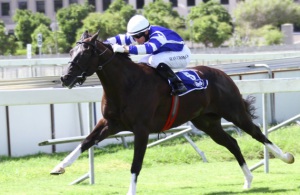 One of South African horseracing's forward thinkers and most successful breeders of modern times once stated the obvious – 'racing is about running, not walking.'
He also suggested that packaging the product for the prospective buyer where they can see what they are getting on paper and in the action on turf, just makes so much more sense.
The ready-to-run sales concept has fired the imagination and there are many more plusses too – like the savings on holding costs and the fact that a potential return on investment is possibly just around the corner.
And then of course the prized lottery ticket into a dream payday, the size of which is normally reserved for champions in the golden arena ordinarily inhabited by less than 1% of the equine population.
That is precisely why the Durbanville parking lot will be chock- a-block next Saturday as the sun sets over the Cape and Normandy Stud's beautiful unnamed Dynasty filly enters the ring as lot #1 to get the 2014 CTS Cape Ready To Run Sale under way.
Sure there will be those still distracted by the on-field post mortems of the day's action-packed racingheaded by the Kuda sponsored Matchem and Diana double feature – and let's not forget the Springboks and All Blacks showdown on the live screen from Johannesburg.
But that's fun and history.
The sale is the future – it is an exciting thought is it not, that a hand raised at the right moment today could well shape your tomorrows.
With 181 lots on offer this year, the catalogue, much like last year, promises something for everyone and every budget, and of course, the lure of the chance to race for a lucrative R2million in stakes.
This year's sale features 47 different stallions from both home and abroad including Sires Bankable (2) Biaritz (1) Great Britain (6) and Rock of Rochelle (8) as well as overseas sires Archipenko (1) Domesday (1) and Henrythenavigator (1)
From a home grown perspective, the ever reliable sires in Var (7) Silvano (4) and Dynasty (2) will all have their admirers as will emerging sire Lateral (5) the last of the Western Winters (2) and of course the sire of last year's winner Captain America, the perennial Captain Al (9).
Every sale has something unique to offer – this one is no different!
It's a numbers game!
1 horse – is all it takes!
2 October – the breeze- up gallops
3 October – the viewing day
4 & 5 October – the sales days
21 November 2015 – the big race
26 Vendors
47 Sires
77 Fillies
104 Colts
181 Lots over 2 days
1400m – the distance of the big race
2 million – the stake and your reasons to buy!
‹ Previous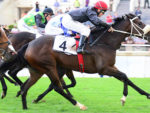 The One That Didn't Get Away