Bloodstock SA, Gold Circle and several South African companies based in Kenya are some of the sponsors that have already joined forces to throw their weight behind the 110th anniversary celebrations of Kenyan horseracing in 2015.
The Jockey Club of Kenya, under the guidance of Tom Fraser and a powerful committee, have undertaken to make 18 January 2015 the best day of racing Kenya has ever experienced.
The Kenya Guineas is Ngong's first classic of the season, and will take pride of place on the day.
Arrangements are being made to hold a four nation jockey challenge, which will include the cream of the crop from South Africa, Mauritius and Zimbabwe. This will be an innovative first ever such challenge for the local riders.
"We have already had enthusiastic support from the likes of Bloodstock SA, Gold Circle, Varsfontein Stud, Scott Bros, Oldlands Stud, Digteby Stud and D.M. Southey and it is planned that many more sponsors will  join in what is going to be a momentous occasion in our  long racing history," said an enthusiastic Tom Fraser.
Kenyan buyers have been purchasing horses in South Africa at the National 2yo Sale since 2005 and there will be plenty of South African representation on the classic day.
"We herewith extend a warm welcome to all interested parties and look forward to extending our renowned Kenyan hospitality on this big day. Accommodation will be made available through our members, and we will host guests, or book them into local hotels if that is preferred. For those who wish to see more of our beautiful country we can make holiday arrangements for game park visits, safaris of 3-4 days or longer, deep sea fishing excursions, cattle and horse stud visits and other day trips. there are also a host of golf courses available," said Fraser.
He confirmed that they had also invited one of South Africa's top race commentators to call the races plus assist with the pre- race and post-race interviews and top dignitaries and top sportsmen and women were expected to add glamour and sparkle to the occasion.
Fraser invited prospective sponsors to contact him at [email protected]
All sponsors will by recognized by the Jockey Club of Kenya and will be acknowledged with a commemorative plaque.
Driftwood Beach Club situated in Malindi have a special offer of  a week of deep sea fishing.
Al enquiries: Tom Fraser [email protected]
‹ Previous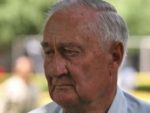 Leading Trainer: 'Stop The Rumours!'