A fun day out was enjoyed by all at Sha Tin Racecourse today, Saturday 6 September, when over 10,000 participants took part in various educational and racing-related activities at the Hong Kong Jockey Club's Pre-season Carnival.
The annual event, held a week prior to the opening fixture of Hong Kong's racing season – this year scheduled on Sunday, 14 September – provided a friendly, welcoming environment in which families and friends took part in different fun and educational activities. Postcard and painting workshops proved popular, as did mooncake-making lessons and a cheerful performance by a world champion clown. Children and adults alike had the opportunity to learn more about animal care as the ever-popular Shetland Ponies were on hand for grooming, with many youngsters making the most of one of the day's most popular features – pony rides.
The day's outright highlight was once again the annual Jockeys' Sprint. This year's fascinating event had a new look as Hong Kong's star riders formed into teams of two for a 100m relay contest. Having shown fleetness of foot and seamless teamwork, the team comprised of Karis Teetan and Vincent Ho were the first to cross the finish line and claim the crown in this unofficial "first race" of the season. The Club's Executive Director of Racing, Mr William A Nader, presented a HK$5,000 cheque, the winning trophy and medals to Teetan and Ho after the competition. Team Alex Lai and Jacky Tong in second, and team Alvin Ng and Olivier Doleuze in third, were also presented medals and cheques of HK$3,000 and HK$2,000 respectively.
Visitors also had the chance to watch the real stars, the race horses, in action. Dozens strode out under their riders in eight turf barrier trials as evening arrived. The on-track action offered a taste of the exciting entertainment to come at the 2014/15 season opener at Sha Tin next Sunday.
| | | | |
| --- | --- | --- | --- |
| Year | Champions | First runners-up | Second Runners-up |
| 2014 | Karis Teetan / Vincent Ho | Alex Lai / Jacky Tong | Alvin Ng / Olivier Doleuze |
| 2013 | Nicola Pinna | Karis Teetan | Andreas Suborics |
| 2012 | Richard Fourie | Jacky Tong | Olivier Doleuze |
| 2011 | Brett Prebble | Jacky Tong | Howard Cheng |
| 2010 | Olivier Doleuze | Jacky Tong | Derek Leung |
At the pre-season press conference, Hong Kong Jockey Club CEO Mr Winfried Engelbrecht-Bresges' message was his commitment "to the sustainable growth of world-class racing in Hong Kong."
Mr Engelbrecht-Bresges expressed confidence in the Club's ongoing strategic projects, notably the successful Racecourse Master Plan, which is entering its third and final phase this season; the Club's pioneering customer-centric approaches; its moves to enhance Hong Kong racing's position of international prominence; and the Conghua training facility.
The CEO highlighted the outstanding achievements of the previous season which, he averred, "must be viewed in the wider context, not merely in terms of what we achieved last season." He said the successes of 2013/14, which included record racing turnover of HK$101.97 billion and four overseas G1 wins for Hong Kong horses, were "the pinnacle so far of the various strategies the Club has formulated and implemented over the past few years."
He continued: "Our achievements in recent seasons are the result of our strategy to revitalise racing based on a customer-centric approach. This has led to a series of strategic projects in customer segmentation and correlated marketing drives; investment in the Racecourse Master Plan; the application of digital media to enhance connectivity with customers, in particular the younger generation; and the successful Happy Wednesday brand, which forwards racing as a social lifestyle entertainment."
Mr Engelbrecht-Bresges outlined what racegoers can expect this season from the HK$2.9 billion Phase 3 of the Racecourse Master Plan, which will spread across three seasons to 2016/17. The recently completed HK$2.8 billion Phase 2 addressed the needs of various target groups and has been so successful that demand is exceeding supply. Phase 3 will target the as yet unmet demand.
"Phase 3 is designed to address unfulfilled demand, especially the Club's member segment," he said. "We will create new venues for the younger members and, given its high popularity, we will expand the venues for our Racing Club members with a view to increasing its membership base.
"We also recognise the need to enhance the experience for our public segment of racegoers, and so we are investing in carefully designed zoning of the public areas at Sha Tin and Happy Valley. This will enable us to introduce more venue choices, create premium space for high value public patrons, and generate interest in the sport among casual entertainment seekers, which we recognise is essential for the sustainability of the sport."
He said that such developments have in part been designed to counter the effects of unlicensed offshore operators, as well as competition from the Macau casinos that are targeting Hong Kong people with aggressive CRM initiatives.
Mr Richard Cheung, the Club's Executive Director, Customer and Marketing, gave a detailed outline of developments for 2014/15 as the Club enters Phase 3 of the Racecourse Masterplan.
"Our on course marketing activities, under the umbrella of the Happy Wednesday brand, with their appeal to young generation racing fans, have proven highly successful," said Mr Cheung. "Having engineered the revitalisation of the track as a lifestyle and entertainment hotspot, we are now rolling out a strategy to replicate that at Sha Tin."
Mr Cheung pointed out that the Club recognises the expectations of younger racegoers at Sha Tin are different to those at Happy Valley with the Sha Tin patrons being more sports entertainment focused. He said that the Club is creating a cluster of venues for young fans at Sha Tin incorporating Hay Market alongside new developments such as Digital Zone and the [email protected], while a new Tourist Zone is to be unveiled. Happy Valley's new features will include Wins Caf?, the renovated Leading Edge, Stable Bend Terrace and the Public Betting Hall.
"The success of our customer segmentation meant that last season's new venues were fully booked 90% of the time, with surveys showing a high level of customer satisfaction," said Mr Cheung. "Popular youthful venues such as Hay Market, Sha Tin's stylish Public restaurant, proved particularly popular, with a good balance of male and female customers."
Mr Engelbrecht-Bresges reemphasised the Club's position on the utilisation of technology, which he stressed is "a key enabler in connecting with customers" while noting that last season 50% of racing turnover came through interactive channels.
"We anticipate that this upward trend will continue," he said. "With our competitors already well advanced, improving our customers' digital content experience, especially on mobile platforms, is the key going forward."
He said that the Club had sophisticated operating systems in place and recognised the need to invest in newer systems with technological advancements in order to cater future business requirements and meet customer expectations.
"To maintain Hong Kong's leading position in the field, a new strategic direction is being pursued," he said. "We are engaged in a multi-year project to develop a new generation customer information and wagering system that will enable the Club to further increase operational efficiency by reacting more quickly to the market, and advance risk management. We are committed to delivering state-of-the-art systems that will improve connectivity and enhance the customer experience."
Mr Engelbrecht-Bresges pointed to the Club's success in raising the standard of Hong Kong racing, emphasising the upgrading of four local G1 contests to international G1 standard, making a total of 10 staged in Hong Kong as of the 2014/15 season. An overall 10% prize money increase sees total Hong Kong prize money for the upcoming season amounting to a record HK$990 million, with the four LONGINES Hong Kong International Races worth an unprecedented HK$83 million combined.
In keeping with the strategy of maintaining Hong Kong's position as a global leader in racing, the Club is this season embarking upon Phase 2 of a comprehensive stable refurbishment programme at Sha Tin. All six three-storey blocks were refurbished during Phase 1 – completed in July – and this season will see the commencement of Phase 2, during which the first of the 14 remaining two-storey stable blocks will be upgraded. The significant HK$500 million modernisation will also include a second swimming pool at the Olympic stables complex.
As for the Conghua training facility, HKJC's ongoing development in mainland China, Mr Engelbrecht-Bresges stressed that it is "a critical part of our vision to uplift the Club's training facilities to maintain world-best standard, and enable us to increase horse population and meet the growing demand for ownership in Hong Kong. Our strategic Conghua Training Centre project is designed to address these issues"
He noted that the project had met with some setbacks: "Due to various factors Conghua has experienced significant challenges resulting in a substantial delay. These started with a delay in the Approval of Environmental Impact Assessment and permission to start work; severe weather then highlighted design issues and quality-of-work issues regarding our contractor, who failed to deliver to the standard we want to achieve.
"We had to review the design and replace the contractors as well as assemble a stronger team in China to ensure the project will be delivered to our high standard.
"Despite the setbacks we made significant progress on a number of other fronts in the past year especially in regard to horse movement. Due to the strong support of the Hong Kong Government, Guangdong Government and the Central Government, we have in place seamless border crossing and quarantine arrangements, which are critical to ensure a smooth operation."
Mr Engelbrecht-Bresges asserted that the Club is "100 percent committed to the Conghua project," which is important to the sustainable growth of Hong Kong racing.
Mr Engelbrecht-Bresges remains optimistic going into the new season and invited all to visit Sha Tin and Happy Valley to make the most of the new racecourse facilities. The Hong Kong racing season commences at Sha Tin on Sunday 14 September.
(source:  HKJC)
‹ Previous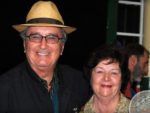 Seats Of Power