There have been a lot of bad news stories, robust discussion and constructive suggestions regarding the Thoroughbred & Racing landscape of late through this medium that's been enough to make any passionate racing person cry! What it has confirmed to me, is that our industry is like an onion and it has a lot of layers, writes Thoroughmedia's Simon Burgess.
All that aside, it's been extremely encouraging to hear all of the different opinions and suggestions from a broad cross section of demographics within the industry. The bottom line remains though, there's a lot of work to be done, but there's a passion there that suggests there's some light at the end of the tunnel?
I was in Hong Kong last weekend and attended the pre-season launch for the new racing season at Sha Tin. There was no racing, no wagering just a few trials, a Jockey's sprint race (coincidentally won by Karis Teetan), jumping castles and pony rides and oh….about twenty thousand people! Yes twenty thousand people at a non racing race day! Why, because that's how they roll in Hong Kong. Yes they are without doubt a huge nation of Punters, but they absolutely love their racing, their trainers & jockeys and their horses that they hold in hero status. So what continually keeps them coming back to the races and from an even more inquisitive perspective, to a non race day season launch?
The Hong Kong Jockey Club is undoubtedly the bench mark of racing at every level and beyond comparison to any other racing jurisdiction in the world with perhaps Japan the only exception. One of the major reasons for this is that they understand their product and their customers because of meticulous research and consultation. They have clear plans and strategies, and they execute those plans with military precision.
Their vision is to "committing to a sustainable growth of world class racing" and with a 35% increase in racing turnover equating to just under HK$102 billion in the last season, it's safe to say that things are going ok! But as the hunter has become the hunted with every other racing country using Hong Kong as a benchmark but they're certainly not sitting back and waiting for everyone else to catch up. So the question beckons, why are they so good?
Well yes they have got a gambling mad audience, but they still have healthy competition for the punting dollar and they still attract crowds and owners. There's currently a seven year waiting list just to own a horse! Now I'm not saying we're comparing apples with apples here, but there are a lot of similarities and I think we can learn a lot from Hong Kong even if we just cherry picked a few of their ideas.
Let's take a minute to look at why they are such a well oiled machine. Firstly, they have a "Master Plan" that is primarily centered around providing a superior customer experience & service and keeping on the cutting edge of technology. Aside from that they're extremely focused on delivering what they like to call "Global Excellence" a combination of major events, racing & wagering experiences, integrity, top class horses, trainers & jockeys, prize money and world's best facilities and this season they'll take another quantum step in their master plan by ticking off a lot of those boxes.
Obviously like a lot of our fellow racing countries suffering from Hong Kong envy, we can't do everything, but we could certainly adopt some "best practice" ideas particularly with their customer centricity and digital connectivity that would be of great benefit. On a side note, there was one very interesting point I noted in their two hour presentation to the media that South Africa can certainly tap into. They have a great cause for concern that with the increasing competition for their Owners to buy quality horses from around the world (HK has no breeding industry), it is now becoming very difficult due to the unfavorable exchange rates.
Bingo!
‹ Previous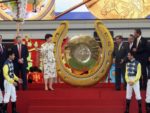 Hong Kong is back