Lightweight jockey Francois Herholdt chatted to the Sporting Post today to update all the friends and fans that have inquired about him since his fall at Fairview in early November.
"I've been receiving conservative treatment by a specialist and came back to ride Kingston Mines for Mike de Kock on Summer Cup day, but I think it was a bit too soon. I've been off over Christmas, which is a nice time to be off I suppose, but I'm really missing my racing. This is the longest I've been off in 25 years."
The good news is that an MRI scan last Friday has shown him to be almost as good as new and he has the all clear to start riding work in a week's time.
He thanked everyone for all the inquiries and well wishes and says he's looking forward to being back in the saddle.
‹ Previous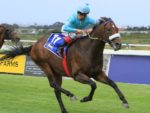 All Bortz And Paid For!