The sobering cautionary from champion jockey Piere Strydom that the R2 million Gr1 SA Classic is a deceptively open race given the draw turnarounds and the trip, is food for thought. So be warned. An element of circumspection may be the prudent option – rather than a straight blind plunge on Lafferty's champion Australian-bred first leg winner.
We enjoyed the privilege of an exclusive interview with the legendary jockey earlier this week. He has had a tough time of it of late with niggling injuries but said that he would be back to just about best come Saturday.
"Guineas winner Harry's Son has had things his own way so far. It is not going to be easy and he has it all to do from the 17 draw. Consider the unbeaten Gr1 winner Ertijaal who has plenty of stamina. Then French Navy, Mljet and Forest Fox are all better drawn this time. And they have 200m extra – which will be right up French Navy's street particularly," said Strydom.
Strydom is an expert realist and while Harry's Son (114) has top-class form, his 17 draw is a major deterrent. In his favour is that trainer Paul Lafferty knows how to win this race – he pulled off the scoop in 2013 with Love Struck.
Unbeaten Gr1 Investec Cape Derby winner Ertijaal (107) has drawn only one gate inside Harry's Son but he showed with a galloping performance there that he has plenty of stamina and the gate speed to get in front early.
Gavin Lerena (aboard at the last three wins) has been tasked again with the ride ahead of Anthony Delpech, and the only doubts are that he will be allowed to dictate the way he did in Cape Town.
Battleship
Sean Tarry's French Navy (105) has a perfect draw at 2 (9 out of 16 in Guineas) and ran on strongly last time to get within a half length of Harry's Son. He will relish the extra 200m and will be storming at them late.
Vaughan Marshall-trained Mljet (105) has drawn against the paint and is another horse mentioned as a potential danger by Striker.
He was well beaten in the Cape Guineas and ran 6,50 lengths behind Harry's Son from an unfavourable draw last time. He remains something of an enigma in our book.
Paul Peter's  Forest Fox (102) ran on strongly for a 1,75 length third in the Gauteng Guineas and tries 1800m for the first time.
He is out of a Fort Wood mare who only won up to 1200m, but has shown the characteristics of a horse who will enjoy the standside 1800m.
Marwing Attack
The first of the Marwing runners is the Lateral gelding Illuminati (100), who has again drawn badly at 13.
He ran on from the worst of the draw at 16 in the Gauteng Guineas and got to within 3 lengths of the winner when  grabbing fifth place. That was a terrific run and Piere Strydom's focus on the relevance of the draws puts the effort into perspective.
Include this one in the hands of Sean Cormack!
The Roy Magner –trained Prince Of Orange (99) has run on steadily at both his last two starts – in the Tony Ruffel (1,25 lengths) and the Gauteng Guineas (4,50 lengths).
He is a three-time winner from ten starts and the engagement of Grant Van Niekerk all the way from the Cape could prove key to his connections' optimism.
It is not often that Anthony Delpech rides a De Kock second-stringer, but with Gavin Lerena's relationship well forged with the unbeaten Ertijaal, Delpech finds himself riding Mutamakkin (97).
The son of Redoute's Choice has won twice in seven outings and ran on steadily for a 4,25 length sixth behind Harry's Son in the Guineas.
His second win includes a level weights defeat of Silver Scooter over the Turffontein Mile, and the Ferraris continues to show his capabilities – as he did with a good win at Turffontein last Saturday.
Mutamakkin has the look of a decent dark horse lurker.
The former Justin Snaith –trained Arniston (94) is now in the care of Joey Soma and has his first Gauteng run after a 4,85 length fourth behind Ertijaal in the Cape Derby.
He is a steady earner but as a one-time winner in 9 runs appears to have his senior level limitations and remains a 3 lengths off the best on his good days.
Mike Azzie will be tearing his hair out over the awful luck of the draw of both Deputy Jud (94) and Greek Legend (94).
The Azzie duo have drawn 15 and 14 respectively, but with 5 races in the bag between them have certainly earned a spot in the line-up.
They were right in the action behind Ertijaal in the Listed Sea Cottage Stakes over the Turffontein 1800m inside track in January.
Greek Legend ran at level weights and finished a 1,25 length third (and 1,25 length ahead of French Navy), while Deputy Jud was a half length behind Ertijaal in receipt of 2kgs.
Both won their subsequent starts in lower handicap company and would have been serious challengers for the back end of quartets – were it not for their draws.
The second of the Paul Peter duo is the Windrush gelding, Amsterdam (88).
The Highland Farms product won his first two races in succession, and then was thrown straight into the deep end in the Gauteng Guineas.
Given his relative inexperience, he did not run a bad race and stayed on for seventh and 4,35 lengths behind Harry's Son in the Guineas.
Amsterdam strikes us as a possible quartet longshot kicker and warrants inclusion in bigger combinations – if a Hiroshima result is on the cards.
Errico Verdonese-trained Diesel Jet (88) won both of his post-maiden efforts in low-key handicap company, until finding the going tough when fading out 8,50 lengths behind Bouclette Top in the Listed Drum Star Handicap.
He looks to have plenty of ground to make up.
Another of the Marwing trio is the lightly raced Australian-bred Mac De Lago (86), who won his first two on the trot.
Inexperience and unsoundness may have found him out when beaten 6 lengths behind Belong To Me in the Gr3 Tony Ruffel Stakes and on a line though that he looks held by the top contenders here.
The third of the Marwing runners is the Go Deputy gelding Rampant Ice (86), who looks to have no stamina doubts following his Vaal 1800m maiden win.
He beat Finchatton a length over the Turffontein mile last time, but has yet to prove that he is capable of stepping into the big league at this stage of the game.
The second of the Sean Tarry attack is the Right Approach colt Finchatton (83), a one-time winner who ran a decent enough second behind Shea Devon in a Graduation Plate at Turffontein last Thursday.
He has not drawn well at 12 and looks held by Rampant Ice on his penultimate.
Reservations
The unfortunate case of the reserve runner and Dingaans winner Unparalleled (112) has been discussed at length. If he gets a run he must be a major runner but has been supplemented into the Gr1 Horse Chestnut Stakes.
The draw reversals and the extra 200m bring the likes of French Navy and Mljet into the race.
It should make for a fascinating race and tactical battle.
‹ Previous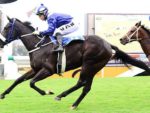 Home And Dry