High flying Summerveld trainer Paul Lafferty is confident that his crack colt Harry's Son will add a second Gr 1 victory to his already glittering career record on Saturday at Turffontein, where he runs in the R2 million SA Classic over 1800m.
Lafferty said, "All is well and everything he has done since his Gauteng Guineas win has been good. We ran him a little overweight in the Guineas. We have kept up his work program between races, his work has been good, he is doing well, I am very happy and he will weigh much the same for this race.
"I have looked at Ertijaal's runs and he a very good horse. He is extremely talented, is a real galloper and looks like he will go further. But I think we can beat him. We have a great rider, we will need some luck in running, but we have a very good horse and I hope he can beat Ertijaal with his speed. But there are a few horses that I have the utmost respect for in this race.
"Our wide draw is an obvious concern, but what must be remembered is that if there is any race you would want to be drawn deep in at Turffontein then it is over the 1800m. There is a lovely run in before the bend and I think this is where Striker (Strydom) will use his ability in such a way hopefully to tuck the big boy in and position him.
"We have always felt that he would go ten furlongs. You can't tell me that a horse that wins a Gr 1 over a mile as a two-year-old doesn't go an extra furlong. So we have no doubt he will go the 1800m and 2000m. He relaxes well and quickens well so we firmly believe he will get the trip. In the Cape Guineas he over raced early but still stayed on and he was a bit keen early on in the Gauteng Guineas and went for home early too.
"He had that race won at the furlong mark and without disrespect to the second horse (French Navy) I think he only got as close as he did (0,5 lengths) because our horse was eased before the line. If you look at the form French Navy finished 2,5 lengths behind Ertijaal but we could have beaten French Navy by further."
Harry's Son has had an exacting season on paper as he has already travelled to Johannesburg by float three times and to Cape Town by air once. However, the Australian-bred colt by Haradasun is the most laid back of characters and is an extremely good traveller, so this will be of little concern.
He follows the same travel plan as usual and will leave his Summerveld base at midnight on Friday, arriving at Turffontein on Saturday morning which will allow him enough time to stretch his legs and familiarise himself.
www.goldcircle.co.za
‹ Previous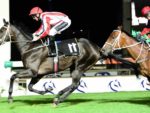 A Seductive Strike