Phumelela CEO Rian du Plessis raised serious concerns about the absence of trainer representation at a meeting of industry stakeholders to find a platform to give recognition and representation to Grooms.
The meetings were scheduled as a result of a Department Of Trade And Industry directive to the horseracing industry to get its house in order.
Against a background of alleged threats to trainers lives and the apparent attempted extortion of R5 million from the two racing operators, the issue of representation and a voice for one of the most strategic components of the industry remains a contentious one – but there is progress, it seems.
Du Plessis' concerns are understandable, given the reality that grooms are employed by trainers. Phumelela have also urged trainers at centres under their management, to comply with basic conditions of employment legislation, and to make it possible for their staff to join whichever association they choose.
The meetings were held on 3 and 8 December 2014 and facilitated by Tefo Raditapole of the government appointed, Tokiso Dispute Settlement.
Flowing from the discussions, it was agreed that the correct forums to accommodate grooms' representation are the regional Industry Liaison Committees.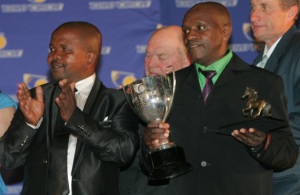 For the first year, both SAGA (SA Grooms Association) and SANGATA (SA National Grooms & Assistant Trainers Association) will be represented, whereafter they would have to show that they represent at least a third of the grooms in each of their regions to maintain their positions.
The respective associations are not unions and as such, they would not be permitted to table employment related matters – but rather broader industry matters impacting on their members.
It was also agreed that an environment of mutual respect would prevail and that no further threats of violence, strikes or intimidation would be made by any of the parties.
Phumelela have stressed again that, while they and the Racing Association fully support the principle of grooms representation, the two grooms associations are considered completely independent of the racing operators and the owners association.
‹ Previous

Warning For Trainers