In August 2014, the Sporting Post published a new look at stallion statistics, by using ratings rather than earnings as the definitive measure. Rating-bins were created, using six categories stretching across the spectrum of ratings less than 55 to ratings of more than 99. For every stallion the percentage of raced offspring in each bin was calculated. The method not only highlighted the stallions'outstanding offspring, but also the average and below average progeny. It showed, when racing the progeny of stallion X, what the chance is to get a dud, an average racer, or a topclass one.
What follows is an update on last year's exercise, with specific focus on the stallions represented at Nationals who have current offspring of 3yo and older. Some caution must be exercised with stallions whose only crop are 3yo (first crop in 2011), as their (mostly lightly raced) offspring's ratings will remain fluid until the end of the season. This also affects the older sires with 3yo's racing, but to a lesser extent.
There are separate rating bins for colts and fillies. They illustrate that some sires are better with one sex than the other.
In the overall population of racehorses, there is a difference in median ratings for the sexes, colts being somewhat higher than fillies. This difference is represented in racing programmes as sex allowance. Our ratings show a difference of 3 pounds, and the rating bins for the fillies have been adjusted accordingly.
How it works
The percentages on the top-line show the distribution across all bins for the racing population as a whole.
Last year's analysis of Graded winners showed that the second highest rating bin (90 upwards) is a minimum requirement for Gr1 and Gr2 winners, and to a large degree also Gr3 winners (the latter category features many handicaps, where lowly rated horses e able to beat the better ones).
Taking the male offspring (see table below, for colts) as example, 3% falls in the top-bin ( >99), 7% in the second highest bin (90-99), which together make for 10%. If the 17% from third highest bin (80-89) is added (the minimum for Listed and multiple winners)  the combined rounded off total gets to 24%.
Looking at the bottom bin (<59, the likely non-winners), the population average is a scary 30% – one in three.
In the table, the six bins are shown together with two columns which add the two top-bins (>89, black type candidates), and three top-bins (>79, useful winners).
All this represents what can be expected, on average, from the colts produced by the sires in the table. The top-bins as well as the bottom ones help construct an informative picture. It is against this that the featured sires, all with offspring at Nationals, should be measured.
The bin-ratings for fillies, shown separately, are on a lower level than the colts, by 3 pounds (it equates the sex allowance encountered at some level or another, normally according to official Jockey Club (NHA) rules).
Let's take this from the top – cherry picking, with comments on the interesting ones. Sires go in order of the year they had their first crop.
Fort Wood – one of South Africa's leading sires, and sire (and grandsire) of sires, as well as a highclass broodmare sire. His percentages put him among the best, on both sides of the spectrum – if you'd buy eight Fort Woods, on average one would be a dud, four would be good horses, and the other three would probably pay their way.
The number of Fort Wood offspring offered at sales has reduced in recent years (there were less than twenty in each of the last three years) and average prices have come down as well, notably for his fillies. There might well be opportunities this year, as he has a dozen yearlings offered by a variety of vendors from Cape and KZN.
His Pick of the Bunch should include #253, a colt out of a half sister by Rich Man's Gold to Wonder Lawn (by Fort Wood). The sire x broodmare sire cross is also found in Gr1 winner Athina.
Among the fillies is #54, the first foal of a half sister by Tiger Ridge to Mr Brock (by Fort Wood), from the family of Horse Chestnut (by Fort Wood), and #353, from the same family, and a first foal. Also a filly is #224, the second foal of a stakes placed half sister by Western Winter to Hold The Fort (by Fort Wood). The sire x broodmare sire cross (which has 19 winners from 24 runners) can be found in Gr2 winner Magic Smoke. Bred on the same cross is the 2nd foal of a half sister by Western Winter to Champion staying filly Monyela (by Fort Wood). In the context of this sire x broodmare sire cross, look at #221, a half sister by Fort Wood to 2 winners by Western Winter, their dam a half sister to Western Winter.
Western Winter – simply the best as a sire, on all fronts. This is his last crop of yearlings to be offered at Nationals. There are 21 on offer here, of which a dozen colts.
In the summary on Fort Wood the sire x broodmare sire cross with Western Winter was noted. The reverse has done it's bit as well, with a Gr2 and Gr3 winner, plus Gr1 winning flag-bearer Capetown Noir, who'll follow in his sire's footsteps by becoming a stallion later this year.
The cross can be found in #220, a colt who is 2nd foal of stakes winner Justthewayyouare, half sister to Master Of My Fate, from a great family. Another is #436, a colt from the family of Fort Wood's Dog Rose. A variation on the theme is #83, a colt, second foal of Gr3 placed Cashew Nut, by Horse Chestnut (Fort Wood) and full sister to another Gr3 placed winner, both sired in the US, from a US female line.
All that said, leader of the pack may well be #296, a full brother to a bunch of highclass runners including Gr1 Nania and Red Ray. No bargain prices here, we suspect.
Muhtafal – not on many people's radar, but has interesting percentages, suggesting value-for-money.
He has just two on this sale, a colt and a filly. There's #234, half brother to 3 winners including multiple Gr3 placed Placido. The progeny of their 6-time winning dam (who stayed a mile and more) have all gone through the sale-ring, at relatively low prices (check the Buyer's Guide). The yearling filly is #314, a third foal and half sister to a winner. Their dam Passive Resistance is a Gr2 placed 2yo Gr3 winner, while the next to dams are also stakes winners. This is a sprinter's pedigree.
Both Muhtafals are offered by Spring Valley Stud, masters of the unexpected.
Captain Al – perennial leader in the 2yo statistics, and one of the best sires we've seen in the last decade. All this is reflected in the prices paid for his progeny, and bargains will be rare. There are sixteen on offer at this sale, both sexes virtually equally represented. As expected based on his covering fee, the dams of the yearlings are black-type performers, or black type producers, or from strong black-type families – or all of those.
If one yearling is to be singled out from this embarrassment of riches it may be #294, a colt out of Mystic Spring. The mare is dam of Champion 3yo Rabiya, and of two Graded stakes winning daughters who each produced highclass winners by Captain Al, notably Champion filly All Is Secret.
Buyers of Captain Al progeny will no doubt be found at the deep end of the pool.
Count duBois – this Gr1 winning stallion has had a peculiar career, with entertaining studfees in his early years, but mostly lack of support (he had several crops of less than 20 foals, one even less than 10). This no doubt had an impact on the quality of mares he got, and he never quite recovered from it. His percentages should be read in the light of all this. In a nutshell, he's undervalued, and one to keep in the crosshairs.
There are just two on this sale, both fillies. One (#270) is the first foal of a winning full sister to Gr1 winning miler National Spirit. The cross of Count duBois with mares by National Emblem has had 2 runners, both winners, including multiple Gr3 winner Kinematic Countess. The other filly is #165, a half sister to Gr2 placed Gr3 winner Whistle Stop, their dam a 4-time winning half sister to champion 2yo filly Asylum Seeker, who is by Count duBois. Good stuff.
Kahal – currently the leading sire on sand, and well ensconsed in the top ten in all other categories (sires overall, sires of 3yo's, sires of 2yo's, and sires on polytrack). Has had his share of Gr1 performers during his career, from mostly good-sized crops. The impression is that it is important to pick the right ones, as his bin percentages leave him a bit behind the best.
He's well represented at Nationals, with a dozen colts and eight fillies. The sire x broodmare sire cross with Badger Land has given 10 winners (2 SW) from 13 runners, including sand-champion Uncle Tommy. The cross can be found in #130, a colt out of 5-time winning Elation, whose dam is a half sister to champion racer & sire Bush Telegraph, also the female line of sire Lords. The mare has 6 runners, all winners, including two full siblings to the yearling offered.
Another cross to note is with Model Man as broodmare sire, with so far 12 runners, 9 winners (2 SW), including very narrow July runner-up Smanjemanje. The same cross is in #365, a filly out of a winning half sister to Gr1 winner O Caesour. Mentioned, too, should be #3, a colt out of a half sister to Gr1 sprinter Harry's Echoe and to the dam of Pocket Power & River Jetez. The dam of the colt is by Complete Warrior, also found as broodmare sire in Kahal's Gr1 winning daughter Spiced Gold, one of four winners (from 6 runners) produced on the cross.
Mogok – in percentages appears to be in the same league as Kahal, but from mostly smaller crops. This half brother to sire Machiavellian has sired champion 3yo and international Gr1 winner The Apache (now a stallion) and international Gr1 filly Gypsy's Warning, to show he's got what it takes. Has never had a high profile at the sales, and can be regarded as a lurker in terms of value for money.
He has 4 colts and 5 fillies on offer. Notable are #66, a full brother to Gr1 winner Orbison, and #266, a full brother to stakes winning filly Markofdistinction, as well as #109, half brother to the useful Beckedorf, out of a mare by Kahal.
Silvano – as should be expected from a Champion sire his percentages measure up to the best, but there is a distinct impression that he's better with colts than fillies. It is interesting to see that, for several years now, this was reflected in the sale prices of his offspring. Noteworthy, though, that his best German-bred Gr1 winner is a filly, Mi Emma (Timeform 118).
Silvano has 15 colts and 15 fillies on offer, a few of them full siblings to highclass performers. #144 is a full brother to Dingaans winner Silver Flyer, who ran 2nd in the Cape Guineas and 3rd in the SA Classic. #167 is a full sister to multiple Gr1 placed Gr3 winner Bulsara, their dam Gay Regina a Gr1 placed Gr2 winner. #333 is a full brother to Gr1 SA Derby winner Seal.
There were five Silvano yearlings (four of them colts) who broke the R1 million barrier at last year's National Sale, with a top price of R3.7 million for a full brother to Martial Eagle and R1.8 million for a filly, first foal of Gr1 Consensual. On the other side of the scale, there were seven who went for R200k or less – six of them fillies ….
Dynasty – heir apparent to his sire Fort Wood, and with similar bin-percentages. He'll go close to being Champion sire this season. Like Silvano, he seems better with colts than fillies at the top-level, and for Dynasty, too, this shows in the sales results from recent years.
There are nine colts and 6 fillies in Dynasty's Nationals draft. Singled out from these is #106 a full brother to useful 3yo filly Zrinski, who finished 4th in the Gr3 Fillies Mile on Summer Cup day last November and ran in the Gr1 Fillies Classic last month. This is an English sire producing female line, which in the SA context is the one of Count duBois and Imperial Stride (and of highclass stayer Coltrane, a gelding).
Var – this European Champion sprinter has taken the SA statistics by storm, siring champions of both sexes, and major winners over all distances. His percentages are majestic on the high end, and about as low as you'll get on the dud-side. He is best represented of all sires at Nationals, with 19 colts and 12 fillies. At last year's sale a colt and a filly both broke the R1 million barrier, while for his other 24 yearlings offered at that sale prices around 300k appeared to be the norm. That looks like value.
Predictably, the dams of the Var yearlings on offer have done their bit, either at the track or at stud. A case in point is #422, a half brother to Gr1 fillies Captain's Lover and Ebony Flyer. Another colt #43 is 3-part brother to Var's Gr1 staying daughter Princess Of Light.
There are more than a few mares with first foals (or still without runners), which complicates matters for buyers.
Black Minnaloushe – highly capable of throwing the bomb, but you have to be selective to be able to find them, judging by the percentages. His yearling prices tend to reflect this uncertainty – at last year's National sale his top price was 450k (twice), with anything between 200k and 300k the norm. And that was during the reign of triple crown winner Louis The King, coming hot on the heels of the previous year's champion 2yo Kochka…
There are seven yearlings on offer, of which three are colts, including #284 half brother to a winner, from the Young Polly female line, bred on the sire x broodmare sire cross with Elliodor, also found in Kochka.
Right Approach – here's one sire where the sexes seems to matter a lot, as he's much better with colts than fillies, across the board.
His two yearlings are both colts, the sex with which he has a very useful record. Note #261 a half brother to Gr3 winner Sky Rise, from the female line of Horse Chestnut. The dam is by Elliodor, representing the sire x broodmare sire cross also found in millionaire Red Barrel. Noteworthy, perhaps, that Elliodor is second damsire of Whiteline Fever, and Elliodor's son Model Man features in several Right Approach stakes performers, notably Green Keeper.
Tiger Ridge – this Storm Cat half brother to AP Indy shows up in the current top-ten list of sires, and of 3yo's, and is third in the sires on sand. He sired Champion filly Cherry On The Top, but even so seems marginally better with colts than fillies – and somehow this also goes for this sale: 11 of his yearlings offered are colts.
With Tiger Ridge's ancestry, imagine a son of his making it as a stallion… in that context, take a look at #230 a colt out of a winning daughter of Gr1 Yorkshire Oaks winner Key Change (TFR 117, by Sadler's Wells), who comes from a sire-producing Aga Khan female line.
Cherry On The Top has Tiger Ridge on a mare by Fort Wood, a combination with 15 winners (from 20 runners) and 4 SW. You'll find it in #252 a colt out of Gr3 winner Loupe, from the female line of Horse Chestnut (by Fort Wood), and #259  a colt out of a winning full sister to Gr2 miler Syon, from a family where Fort Wood has had great success.
Go Deputy – flying under the radar, this sire has useful percentages for colts in contrast to those for his fillies where the top categories are less.
Has one of each sex at the sale, both out of Western Winter mares. #152 is a filly, first foal of 4-time winning half sister to Go Deputy's Gr3 placed son Current Event, their dam half sister to the of the Year Yard-Arm (by Western Winter). #447 is a full brother to two winners, their dam a Gr3 placed 4-time winning full sister to Nania, Red Ray and Valor Red, and half sister to SW Adobe Pink (by Go Deputy). There might well be value to be had with these two yearlings.
Greys Inn – Gr1 winning champion 3yo, with a Timeform 123 rating based on performances in Dubai and Hong Kong. Shows up with a superior percentage in the top category for his colts (two of which are Gr1 winners), but the fillies are less impressive.
Represented by 2 colts and a filly.
Trippi – superior percentages across the board, with fillies possibly outdoing the colts – he has the lowest percentage of dud-fillies of all stallions listed and is with Western Winter the only one in single figures. He's well represented, with nine colts and eight fillies.
Pick of the Bunch must include #316 a full brother to Trippi's multiple Gr1 placed (at 2) and recent Gr3 winner One Fine Day (MR 103). Their dam is a daughter of Kingmambo, the next dam a half sister by Sadler's Wells to stallions Singspiel, Rahy and Rakeen. Then there's #272 a colt out of Gr3 winner Milden Magic, grandam of Triple Crown winner Louis The King. In a pedigree evaluation of Louis last year, we wrote about the Milden Magic's offspring by Trippi:  '.. there's enough in Trippi's female line background to make both his grandam and third dam close kin to Milden Magic's third dam Anglice (giving 3×4 and 4×4 kin-breeding). Magic, indeed.'. This year's colt on offer is full brother to two other colts, neither of which made it to the sales (they were entered but withdrawn, one subsequently a winner from 4 starts). Perhaps now's the time to strike.
The Buyer's Guide will give insight to the remaining 15 Trippi yearlings on offer.
Sires whose first crops were in 2010 and 2011 represent relatively uncharted waters in terms of rating summaries, as figures are still fluid, and are bound to change before the end of the current season. Keep this in mind when looking at their percentages.
We'll refrain from comment, other than that Horse Chestnut has #235 a full brother to Gr3 Fillies Mile winner Banbury (MR 104), Judpot has #62 a full sister to 2 stakes fillies, Gr1 placed Gr3 winner Double Whammy (MR 103) and Gr3 placed Skysign, and Mambo In Seattle #17 a filly, first foal of a winning full sister to Gr1 Top Seller, from a major Gr1 family
.
.
‹ Previous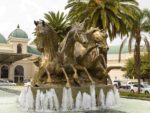 CTS Select Sale Success