Having been part of the South African racing and breeding landscape since 1870, Zandvliet Stud announces that it is closing down
Being considered 'part of the furniture' is the unique domain of institutions accepted as such permanent fixtures that one ends up taking them for granted. It's almost a compliment in an odd sort of way. One such institution is the wonderful Zandvliet Stud, which will shortly be changing ownership and closing its doors on a large portion of South African racing and breeding history.
About Zandvliet
The de Wet connection to South Africa dates back almost as far as the Drommedaris. Jacobus de Wet, a forefather of 'our' BAR Valley de Wets, arrived in South Africa from Amsterdam in 1695 and went on to become the cellarmaster to the Dutch East India Company.
However, it was in 1870 that a 5,000 morgen stretch of land named Zandvliet was purchased by Jacobus Stefanus (J.S.) de Wet. J.S. de Wet later divided greater Zandvliet between his sons, giving rise to 3 individual farms: Prospect (Daniel), Excelsior (Kowie) and Zandvliet (Ernest). It is worth following the family tree a little further as each branch had a significant effect on the local breeding landscape.
Family Ties
Daniel at Prospect had two sons, Chris and Malcolm, both of whom had breeding interests and the two brothers purchased Noble Chieftain together.
Kowie at Excelsior was succeeded by Oscar, who had 4 children – Stephen, Freddie, Veronica and Althea. Of these, Stephen and Freddie took over the running of Excelsior and latterly split it into Excelsior (Freddie) and Arabella (Stephen). Veronica (now Foulkes) is the force at the head of Normandy Stud.
Paul de Wet (Paul snr) purchased a farm named Voorsorg where he specialised in brandy distilling. He also assisted the sickly Ernest in running Zandvliet, later acquiring the farm.
Paul was a very successful farmer concentrating mainly on the production of the fortified Jerepigo wine. These wines were made from Shiraz cultivars planted in the early 1900's and the family's love affair with Shiraz has endured to the present day. Paul Snr also farmed with ostriches, until they were wiped out with bird flu in 1914, as well as breeding Hackneys and later thoroughbreds. The Thoroughbred stud was very successful and produced a number of good horses, but a severe outbreak of Horse Sickness virtually wiped out the stud animals and it was his son, Paul Junior (Paulie) who started the regrowth of the modern stud as we know it today. After Paul Snr's death in 1946 Paulie managed the stud for his brother W.N. de Wet (Billy) and himself.
Foundation stock
Paulie acquired shares in the stallions Grassgreen and L'Aretin (the first sires to be syndicated in South Africa) and in 1952, with his cousins Chris and Malcolm de Wet, Paulie took the progressive step of importing a son of Hyperion, Double Eclipse, who had finished 3rd in the Derby (Double Eclipse was later sold to America). During the early 50's and 60's, with booming agriculture and a strong Rand, it was the order of the day for local breeders to shop at the Newmarket sales in England. With the assistance of BBA's Keith Freeman (and the proceeds of the sale of Double Eclipse), Paulie imported a number of well-bred mares. Added to shrewd purchases from local farms he carefully built a band of high class mares including Inverlassie, Filcar, Miazzina and Popcorn that went on to establish some of Zandvliet's important foundation families.
When Prospect's Chris and Malcolm dispersed their breeding stock, Paulie purchased their interests in Noble Chieftain as well as a number of select mares, including the wonderful Sailor Beware II. Noble Chieftain was an unmitigated success – he was named champion sire for three consecutive seasons as well as being Champion Broodmare Sire- and his success helped the stud become a major branch of the farming operation at Zandvliet.
Paulie was a meticulous man and the farm was run to his exact specifications. There was only one method – everything had to be "'right". The vines had to be planted exactly, and the horses fed only the best home-grown lucerne, and the best grade oats were imported from Freddie Duckitt in Darling. The first yearlings were offered at the Witwatersrand Agricultural Society during 1954 where Gallican realised 500gns and later won 10 races for Reggie Passmore. Zandvliet produced exceptionally handsome-looking stock and with this strict attention to detail, Paulie won the coveted Gold Cup for the best turned out yearling at the Rand Easter Sales no less than four times.
Zandvliet produced a number of very good horses, and even selecting just a few highlights is difficult, but some of the early big names include Roderick (1964 Queen's Plate), his full brother Caradoc (Summer Cup, Gold Cup and Champion Stakes), Goldwater, Home Truth, Don Cossack, Cornice, Davy Jones and Peter Beware (Queen's Plate and 1969 Metropolitan Stakes, which he won in Paulie's silks).
Paulie was a master salesman, a big charmer and a larger than life personality and he passed on both his character as well as his talent for good wine and good horses to his sons, Paul jnr and Daniel (Dan).
Current generation
Paul jnr graduated from Stellenbosch University with a viticulture and winemaking degree and has continued the family's romance with Shiraz. Dan matriculated at the Diocesan College and after Naval training, he studied animal husbandry and viticulture at Elsenburg. He spent 6 months learning the tricks of the stud trade with Christie Grassick at Coolmore Stud (getting to watch The Minstrel win the Epsom Derby), before joining Paulie on the stud in 1977. During their time together, the father and son team produced the likes of Smackeroo, Moccasin, Harry Hill, Susan's Dream, Amberlad, Coolstar, Bloodline Million winner Fast Gun and their second J&B Met winner, Wild West in 1986.
Paulie passed away in 2000 and Dan has proved a more than worthy successor, producing the likes of Swartland, Vertical Takeoff and of course, the incomparable Pocket Power.
Pocket Power
The Pocket Power story begins when Dan purchased Stormsvlei, a daughter of Prince Florimund at the 1998 Natal Broodmare Sale at Summerhill Stud. He remembers, "She was an average-looking mare, but what attracted me was the genetic make-up of her pedigree, because it was compatible with a whole lot of top stallions." The 12 year-old was in foal to Damascus Gate and Dan procured her for a bargain R20, 000 from Henry Devine.
Stormsvlei duly produced a filly christened Stokkiesbaai, but she was born with a cleft palate and had to be destroyed as a yearling. Next she visited Western Winter and produced Snow in Summer (later renamed Maximum Break) who was a beautiful yearling and sold for 160k to Ian Veldman. Maximum Break became a 4-time winner before retiring to stud. Stormsvlei's 2000 colt, Stormberg, by Freedom Land ran for Pietie Giliomee and co and notched up 8 wins.
Patricia and Henry Devine's Jet Master stood his first season at stud in 2001. With his great performance record and being a wonderfully good looking horse into the bargain, Dan was convinced that Jet Master simply had to make it and faithfully sent him four mares right from the very start. To add to his conviction, Dan is a keen student of Tesio and says the programme 'did a double somersault' when he entered a proposed mating between Jet Master and Stormsvlei.
Stormsvlei duly produced a bay colt at 2am on Saturday 28th September 2002. As she hadn't produced anything of note at that point, Dan says there wasn't too much excitement at the time, but he remembers that "The guinea fowl were especially noisy that morning as if they were celebrating something special." Pocket Power caught the shrewd eye of Mike Bass at the 2004 Grand West Yearling Sale and the hammer fell at R190 000. The rest, as they say, is history.
There is a small postscript to the story in that Dan sent Stormsvlei back to Jet Master in 2002, but then sold the mare – carrying the filly River Jetez – for a mere R12,000. "Of course I regret selling her, but she was a 16-year-old mare, she hadn't done much, and I thought I would move on. Breeders sell horses like her – it's something we do – and I can remember my Dad selling Tivoli when she was carrying Beau Art." Such are the vagaries of breeding!
While it is pretty hard to get past a horse that won the July as well as notching the farm's 3rd, 4th and 5th J&B Met victories in addition to adding 4 more Queen's Plates to the trophy cabinet, horses like Hammie's Hooker and Trip Tease have continued to fly the Zandvliet flag high.
End of an era
Dan confirmed that Zandvliet has recently been sold, although the de Wets will stay on the farm until the end of August. The new owners do not intend to continue the Thoroughbred breeding operation. The boarding horses have already been relocated and a draft of 36 horses will be dispersed on the forthcoming Kleinplasie Mare & Weanling Sale on 21 May 2015. Included on the list are the dams of Hammie's Hooker and Trip Tease as well as a number of siblings.
Dan is philosophical and says "All things come to an end," but confirms that he has already registered a new operation by the name of Heritage Stud. "It's all up in the clouds at the moment, and we'll probably board horses to begin with, but we'll see how it goes."
Dan is married to Kosie and the couple met when they were 16 and 9 respectively. Dan chuckles as he recounts the story that he told Kosie he would marry her when she was nine. "She told me to wait 12 years. I waited! She is level headed and a great sounding board and has always been my back-up through the years. She is great with the kids and is as beautiful as the day we married." They have four children, Jeanne, Sadie, Emma and Daniel of which the youngest, Daniel, seems to have inherited the 'horse bug'. Is there any possibility that this father-son duo might team up in the Heritage venture? "There will always be some involvement in horses – it's in the blood," says Dan, "but for now he must first go to college!"
‹ Previous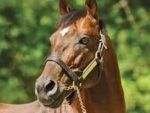 What A Strike!