April is forever a dark month on the racing calendar due to the Hennenman disaster, but it is now also responsible for the loss of two members of our most prominent breeding families – Lowell Price and Leigh Southey, who both passed away on 3 April 2015. These two gentlemen comprised some of the last, bright flickers from breeding's halcyon days and it would be remiss of me not to doff my hat at their passing.
Lowell Price
Lowell Eldred Grant Price was born in Queenstown on 28 July 1942 and grew up on the farm Weltevreden, alongside his older siblings Margaret (now Bridgman), Norman (father of Michael and Rennie) and younger brother Murray.
They were a great farming family with a number of farms up and down the Queenstown district. Murray Price married a daughter of the district's Phillips family and Bob Birch married the other Phillips daughter and so the association with horses began via their family ties with the Birch Brothers.
Lowell originally started breeding in Queenstown under the Sherwood Forest Stud banner. He moved the operation to Donnybrook, at the foothills of the Winterberg and in conjunction with Murray started calling themselves the Price Bros. Lowell did the horses and Murray took care of the sheep and cattle, and it was via the sheep farming arm of the enterprise that they acquired Soho Secret.
Soho Secret
Lowell and Murray were at a ram sale in Colesberg intent on purchasing merino rams with the help of a local breeder, Ian "Dad" Hay. A Birch-bred Thoroughbred filly was led through the ring and the trio decided to purchase her. The hammer fell at R1,000 and Soho Secret became the property of Price Bros. They sent her into training with Stanley Greeff and the rest is more or less history. The brothers latterly bought out Ian Hay's interests and Lowell eventually sold the mare to Wilfred Koster. However, Soho Secret's influence is still felt on the Price breeding programme with a number of family members still in the Wicklow broodmare band. The family have also maintained the ties with the Greeff family and they currently have the very useful Silvan Spirit in training with Alan Greeff. Another prominent female line that Lowell was involved with was Lady Zia (dam of Quarrytown).
From Donnybrook, Lowell moved a little higher into the hills on the farm Mount Hope, but when the government bought out large tracts of land to allocate to the Ciskei homeland in the 80's, the family fragmented and Lowell finally settled on Belmont Stud in the Sundays River Valley in 1985.
Breeding career
Stallions that Lowell stood over the years included Fairthorn, who transferred to his care from the Birch Bros and died at Sherwood Forest Stud, Herculaneum, Brer Rabbit, Silver God, the home-bred Quarrytown, Waterville Lake and another famous Birch Bros sire Politician, who died and is buried on Rennie's Wicklow Farm.
The best horse Lowell produced was Quarrytown, winner of the 1980 Cape Guineas and 1981 Queen's Plate and Champion 3yo of his year. The Price Bros partnership also managed the South African branch of Robert Sangster's Swettenham operation for many years and purchased Waterville Lake in partnership with Sangster in 1985. They later took over Sangster's interest in the stallion as well as his broodmare band in 1991.
Lowell served on the TBA Council for many years, serving as the Chairman from 1991-1992. Graeme Hawkins remembers him as an extremely popular chairman. "He paid special attention to staff, made sure he knew everybody's name and always had time for them. He was on speaking terms with everyone from the janitor to the top. It made him very well liked. On the business side, he was firm at council meetings, but always very respectful with it. I'm sorry to learn of his passing." It is thanks to Lowell's vision and support that the TBA mainframe was transferred to the Form Organisation and became what we know today as the ARO programme.
An intelligent man
Charles Faull remembers him as "A great friend and supporter. An intelligent man. He was a great horseman from a family of great horsemen. He could look at a horse and knew what he was looking at. And he knew his pedigrees. He's the guy who picked Silver God."
"Unfortunately he had a lot of bad luck. He bought Brer Rabbit, a stallion of merit, who made a big start to his career, but something went wrong and he died. Then came Silver God. He was a very fast English horse by Red God and he came into this country at about the same time as Flirting Around. Lowell told me an interesting story about that. Apparently he went to the quarantine station with Bob Birch to see Silver God, who had a TFR of 115. Flirting Around had won the King's Stand Stakes and had a rating of 134. Lowell said to Bob that they should cover one another and suggested swopping a service right in each stallion. Bob guffawed – Silver God was rated 19 pounds inferior to Flirting Around – but he got Quarrytown in his very first crop. Then he also died. It was a tragic loss as he would really have put Price Bros on the map. Those two set-backs in my opinion were two things he didn't really recover from. If you gamble on stallions boy, you're gone. He had two really top horses that he took a chance on and lost them before he could reap the financial benefits. He was a very charismatic, popular man. He had this expression, 'My buddy'. Everyone was 'my buddy'. He liked people. He was a great people person and got on well with everyone."
Someone who tried to make a difference
Lowell's nephews remember him as an extremely outgoing, charismatic person and a great raconteur. He married South African tennis ace, Sandra Reynolds in 1961. Sandra remains the only South African to play a Wimbledon singles tennis final. "That's the kind of character he was that he could hook a babe like that!" reminisces Rennie proudly, "but he could walk with kings and not lose his common touch." Lowell was a liberal thinker and always interested in learning and trying new things. He spent a lot of time with local vet Chris Marlow, conducting experiments with feeding, etc. If a man can be judged by the company he keeps, then Lowell could fairly be said to have been very well liked and well respected, both at home and abroad. The famed 'Eppie' Nelson was a frequent visitor and Michael and Rennie remember many a night around the fire listening to the likes of Paulie de Wet, Stanley Bennett and the like discussing breeding theories. He was also a very practical horseman, teaching the boys the art of teasing mares and foaling down. "I have a lot to thank him for," says Rennie. Michael says, "He had strong opinions on things and how things should be done. Quite a few people disagreed with what he said, but there's an expression that if someone dislikes you, it means you stood up for something sometime in your life. I think he'd like to be remembered as someone who tried to make a difference."
Lowell is survived by his wife Sandra, daughter Dessie and son–in–law Adrian, as well as his sister Margaret Bridgman, and brothers Norman and Murray. Nephews Michael and Rennie Price continue the Price legacy under the Wicklow banner.
Leigh Southey
Christopher Leigh Southey was born on 10 October 1944 and is descended from one of South Africa's original breeding dynasties. His forbears trace back to a member of Devon's Culmstock gentry, George Southey, who arrived in South Africa aboard the Kennersley Castle with the 1820 Settlers. George's grandson, Charles Southey, was one of the first people to import Thoroughbreds into South Africa. He founded Culmstock Stud and was instrumental in establishing the South African studbook. The farm stood sires such as Whack 'Um and the mighty Pearl Diver and produced the first South African horses to win in England – Pearl Rover and Camp Fire II.
A few generations on, Tommy and Richard Southey bred under the 'Southey Bros' banner and their brother Robert (Leigh's father) went out on his own at Kuilfontein Stud in 1940. Robert had a close association with Hennie Coetzee (Felix Coetzee's father) and raced most of his best horses with Hennie.
Captain of the naughty team
Leigh was a very good horseman, who used to ride a lot as a child. His cousin David Southey relates that he participated in a lot of shows, frequently coming home with the silver. Leigh attended Stellenbosch University and while he was very bright, never took his studies particularly seriously and didn't graduate, although David said he was definitely 'captain of the naughty team!' "He was one of those guys who was always in the right place at the right time. He knew everyone who was worth knowing and was always great fun to be with. That was Leigh."
Leigh joined his father at Kuilfontein in the late 60's and some of their more recent stallions included sires such as Pitador, Mid Beat, Fearless Lad and Grey Sky. He bred 1965 Summer Cup winner Non U, Gold Cup winners Rack & Ruin and Equilateral and pinhooked the 1989 J&B Met winner, Fearless Streaker.
Floating Trophy
Leigh was an enormous character in the breeding world and beyond and was described as 'A party man'. His wife Penny says, "He loved a party. He loved young people and all the fun things in life. That was him. No matter where you went in the world, he always knew somebody. Wherever you went, it was only a matter of time before someone would say "Leigh Southey, what are you doing here?"
Cousin David says, "He was a colourful character in the Thoroughbred industry. So many people from far back rang to offer their condolences. He was certainly well known not just in SA, but England, and beyond. Had many good parties and the BBA, and all the agents liked Leigh enormously." Close friend Vaughan Norton relates that Leigh's party reputation, particularly at the yearling sales, earned him the moniker 'the floating trophy of the Karoo' from Paulie de Wet, but he finally settled down late in life and married Penny, with whom he had two children, Alexandra and Patrick.
Guest Lodge
Leigh and Penny continued the stud until the mid to late 90's and then called it a day. Penny says "We converted the stables into a lodge and renamed it Kuilfontein Stable Cottages and it's been great. We converted the old feed room into the dining room, the pub is named the Rack & Ruin and as we offer overnight accommodation from horses travelling between Cape Town and Johannesburg, we still have a little bit of an 'in', although it's mainly jumpers, polo ponies, and show horses now." Their daughter Alexandra married Grant Stocks of the Stocks & Stocks family and they joined Leigh and Penny on the farm, helping with the hospitality side while Grant was slowly taking over the farming reins from Leigh. Son Patrick is a Chartered Accountant and lives in the UK.
Leigh is survived by his wife Penny, daughter Alexandra, son-in-law Grant and their children Anna and James, as well as his son Patrick, daughter-in-law Andrea and grandson Hugo in the UK. He will be remembered fondly as a larger than life character, always at the forefront of any party and a free spirit who gave life a full go.
‹ Previous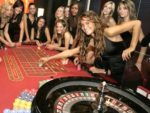 Racing Operator To Gamble On Casino's?