The 2015 National Sale Buyer's Guide, which meanders through the pages of the sale supplement, is a veritable mine of information. To unearth the good and the bad, here's how to think outside the box.
The sample used is that of lot 147, a filly out of the mare Fire Tread. Shown are the catalogue page of the dam, and the same information as it appears in the Buyer's Guide. Let's compare step by step.
The catalogue shows Fire Tread as a Gr3 winner and Listed winner, with three wins from 1200 to 1400m.
The Buyer's Guide expands on this with ratings 85/93/-/-/- meaning that Fire Tread's highest rating came in the 1400-1600m category, and that she wasn't tried further.
To remind, the distance categories for the ratings are 800-1399m/1400-1600m/1601-1999m/2000-2399m/2400m and more. This is equivalent to sprinters, sprinter-milers, milers, middle distance stayers, and stayers.
Fire Tread, in other words, was a sprinter-miler (without knowing for sure how far she could have stayed).
The rule of thumb about how far a horse will stay, is by looking at the aptitude of the sire and of the dam – the resulting progeny will in the majority of cases take after one OR the other.
In the case of Fire Tread, her foals should either be suited by 1400-1600m, or by what the sire throws.
The catalogue shows Fire Tread as dam of three black type horses.
Gr2 placed Gr3 winner Empress Crown.
Gr2 placed Listed winner Butterfly Girl.
Gr2 and Gr3 placed Mighty Atom.
The Buyer's Guide shows who was best, over what distance.
Empress Crown (2 wins from 15 starts – 1 SW 1 SP) rates 92/86/-/-/- . This suggests she was a sprinter rather than sprinter-miler (some deeper delving, which isn't visible here, shows that she was only tried 3 times beyond sprints, each time with excuses: not settling, and slow away twice).
Butterfly Girl (4 wins from 24 starts – 1 SW 1 SP) rates 75/93/63/-/-. This suggests she was a sprinter-miler (deeper delving shows she had only 3 of her starts in sprints, and two beyond 1600m; she earned her highest rating when 6th in the Gr1 Cape Fillies Guineas, possibly inflated since her next highest rating was 86)
Mighty Atom (9 wins from 54 starts – 4 SP) rates 92/99/93/80/-. This suggest he was a sprinter-miler, and also that he did get a mile well (deeper delving shows that he was highly tried, always finding something just too good for him)
In a nutshell, contrary to what the catalogue page' black type suggests, Mighty Atom was best of the three. He also was tough as nails, running 54 times, for 9 wins and 23 places. The number of runs for the two fillies (15 and 24) shows that they, too, didn't lack toughness.
With the exception of Mighty Atom, all of Fire Tread's eight raced offspring have been fillies – her current still unraced 2yo is only her second colt.
Not all of her progeny made it into the sale ring, and those that did mostly sold below the sale average, which is shown in the Buyer's Guide next to the sale price and sale venue. Mighty Atom was her second foal, and the first to go through the ring, at Vintage. His price of 130k shows as SI 1.41 (the average price for colts at that sale would have shown as 1.00).
Empress Crown made it to the National Sale, but her 275k was slightly below average (SI 0.93) – Mighty Atom at the time of the sale was a once-raced 2yo, so couldn't contribute to his half sister's appeal.
None of Fire Tread's next four foals went through the ring as yearlings or unraced 2yo's, and the next to be offered was the Horse Chestnut filly of 2010, who came under the hammer at the strong CTS Book One sale. Mighty Atom's and Empress Crown's record were visible then, but the sale price of 100k (SI 0.27) suggests that she probably was too small a fish in the big Book One pond.
The 2012 colt by Noordhoek Flyer made a decent 300k (SI 1.26) at the Ready to Run sale (which was, incidentally, the third highest price for a colt from his sire Noordhoek Flyer's first crop offered at auction). It needs to be added, though, that the colt had been a 100k (SI 0.29) pinhook at Nationals earlier that year – so again, perhaps, too small a fish in a big pond.
The conclusion to be drawn from this information is that Fire Tread is a well above average producer (3 of her runners are black type, all of them are earners), that she contributes toughness, sprinter-miler stamina, and that her sale progeny can be had at value-for-money prices compared to the overall sale prices where they were offered. Her catalogued yearling filly seems likely to be a sprinter-miler (1400-1600m), or miler.
‹ Previous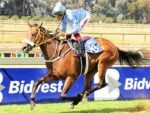 The Power Of Ratings