It was tremendous fun and a privilege and pleasure to join Marsh Shirtliff for a birthday celebration on Monday evening, arranged by his equally sociable son Guy, who has been in Singapore for several years now. We enjoyed a fine steak and some good red wine. It was great catching up with Marsh who is a thorough gentleman and I really enjoyed the tales he had to tell, writes Gareth Pepper.
From the amazing highs of International week, last week was decidedly quieter.
Tuesday morning arrived and something I feared since my arrival here – the early symptoms of Man Flu!
The heat and humidity can be tough on a normal day, but with Man Flu making me feel ill, it felt as though i had stepped into a sauna while wearing a tracksuit.
I came in to work and was promptly sent home by my colleague Matt who did not want to catch the dreaded bug.
Thankfully Matt and Craig covered for me and i was off for most of the week, recovering in my condo with an endless supply of movies and litres of my mother's famous chicken soup on the boil. I am well on the road to recovery and I am glad to have beaten this flu bug!
Decent Racing
Racing this weekend again sees some decent racing with the top-class War Affair having his 2nd run of the season.
The exciting winner of the Gr3 Lion City Cup has been working extremely well and when I quizzed Alan Munro about his mounts' wellbeing, his smile extended ear to ear and he was full of praise for the imposing individual.
Although the field for the Gr2 Steward's Cup has attracted 8 entries, the remaining entries are made up of some classy individuals.
War Affair looks very hard to beat in the opening leg of the 4YO series and is weighted to win by 8,50 lengths.
There are some exciting sorts including the David Hill trained Hughsy, winner of the Gr3 Admiralty Classic Stakes in his last start and one who looks to be headed straight to the top.
Michael Clements has a strong pairing of Pachebel's Canon, having his first run as a gelding and who trialled well in the week. Knight Wager is also a very exciting prospect that steps up to take on some of the best Singapore has to offer.
It is a race that, while looking one-sided, has the makings of a thrilling spectacle for the minor placings – not to be missed!
Tommy T
It is wonderful meeting a host of different people from around the world that ply their trade in Singapore.
I have been lucky enough to also meet a few people making their way through Singapore or friends of friends, and one such gentleman is Tommy T, a local celebrity in Cambridge, New Zealand.
I really enjoy getting my sporting updates from the land of the long white cloud and Tommy T is an astute judge of not only most sporting codes, but of horseflesh too. He is an enthusiastic follower of racing at Kranji and nothing gets past him.
I must thank him for imparting his knowledge ( sometimes his sidekick JT adds some thoughts too) and I can't wait to make my way out there in the not too distant future to enjoy a cold one with him at the Clubhouse – and perhaps work on my casting too!
Till next time.
‹ Previous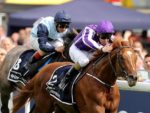 World's Greatest Flat Race