Geoff Woodruff's 2014 Triple Crown winner Louis The King has been retired from racing following an injury sustained in work.
Woodruff Racing confirmed that their stable star fractured a sesamoid, saying,"We are gutted, but he has done more than enough."
It was reported earlier this week that Louis The King had just one testicle removed as a compromise on whether to geld him or send him to stud.
"It was a compromise," explained trainer Geoff Woodruff. "He is still technically an entire and is still holding a good blood count.
"After work we could see the one testicle was up high and causing him discomfort so we just removed the one. It's a little procedure which seems to have gone very well."
Woodruff added that this procedure had been performed a number of times with great success.
"The same thing happened with Royal Air Force and he's at stud right now."
No further news on future plans were available.
‹ Previous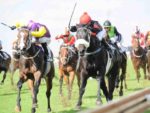 Scottsville Today – A Capital Clash!