When American Pharoah lifted Saturday's Gr1 Belmont Stakes, and became just the 12th horse ever to win the US Triple Crown, he continued the remarkable legacy of the undefeated Raise A Native.
The most influential of dual US classic Native Dancer's sons, Raise A Native is not only the male line ancestor of American Pharoah, but he is also the grandsire of Affirmed (Exclusive Native) – the last horse prior to American Pharoah to lift the US Triple Crown series, which consists of the Kentucky Derby, Preakness Stakes and Belmont Stakes.
To date, Raise A Native and his male line descendants have totally dominated North America's classic races. The Kentucky Derby has fallen 19 times to a male line descendant of Raise A Native, also the ancestor of 17 Preakness Stakes winners, and 19 Belmont Stakes winners.
Classic pedigree
The once defeated American Pharoah is certainly bred to be a classic winner – at least on his male side. His sire, Pioneerof The Nile, finished second in the Kentucky Derby, as did his grandsire, Empire Maker. The latter went on to land the Belmont Stakes, thwarting Funny Cide's Triple Crown bid in the process, while Empire Maker's sire, Unbridled, went on to win the 1990 Kentucky Derby, before embarking on a stud career which saw Unbridled sire winners of all three legs of the Triple Crown – Grindstone (Kentucky Derby), Red Bullet (Preakness Stakes) and Empire Maker. The Unbridled influence was not limited to his sire sons (which included the hugely successful Unbridled's Song), but is also felt through his daughters. Unbridled is the broodmare sire of Kentucky Derby hero Orb (Malibu Moon) as well as US Champion Sire Tapit (Pulpit) – the sire of last year's Belmont Stakes winner Tonalist.
Grindstone himself went on to sire 2004 Belmont Stakes winner, Birdstone, who in turn sired Kentucky Derby winner, Mine That Bird, and Belmont Stakes winner, Summer Bird. Ironically, Mine That Bird conquered none other than Pioneerof The Nile when successful in the 2009 Kentucky Derby.
Pioneerof The Nile's sire, Empire Maker, certainly had mixed fortunes in the Kentucky Derby-not only did he himself finish second in the great race, but he sired another son, Bodemeister, who also finished runner up in the Run For The Roses. Interestingly enough, Pioneerof The Nile hails from the same female line as former Hollywood Gold Cup winner Prince Blessed (Princequillo) – the grandsire of dual US Horse Of The Year, John Henry (Ole Bob Bowers).
Northern Dancer
It is also fitting that American Pharoah is inbred to 1964 Kentucky Derby/Preakness Stakes winner Northern Dancer (Nearctic), arguably the greatest stallion of all time. While Northern Dancer's influence was felt most in Europe, "The Dancer" still left behind a mighty mark on North America's premier classic races.
The Kentucky Derby has been won four occasions by Northern Dancer line descendants – Ferdinand (1986), Sea Hero (1993), Charismatic (1999) and Big Brown (2008), while the Preakness has fallen to a Dancer line runner on ten occasions. In comparison, the Belmont Stakes (the longest leg of the Triple Crown at a mile and a half) has been won by a male line descendant of Northern Dancer five times to date, with the most recent example coming in the form of Union Rags (Dixie Union) back in 2012.
Potent Male Line
Much of American Pharoah's classic capability appears to have come from his remarkably potent male line. American Pharoah is the only graded stakes winner, to date, produced by a daughter of sprinter Yankee Gentleman (Storm Cat), and his dam, Littleprincessemma, failed to win in two outings, and banked just $172 in prize money in a brief career.
Littleprincessemma is out of the Ecliptical mare Exclusive Rosette, a minor stakes winner, who went on to produce the graded stakes winners Misty Rosette (Gr3 Old Hat Stakes) and Storm Wolf (Gr2 Laz Barrera Memorial Stakes). With the pair both being sired by a son of Storm Cat in Stormin Fever, Littleprincessemma is thus a sister in blood to both Misty Rosette and Storm Wolf.
By far and away the best horse produced in his immediate family, American Pharoah (who looks a sitter to be named Horse Of The Year in 2015), traces back directly in female line to the important mare, and 1000 Guineas third, Highland Fling.
Highland Fling
The latter's runners included the high class runner, Saraband, a subsequent dual champion sire in Germany, and sire of champion South African sire, Quickmarch, while her other important descendants include successful sire Ultimus (Commando), July Cup hero Running Stream (Domino), Prix Lupin winner and high class sire Groom Dancer (Blushing Groom), and Arc de Triomphe winner Coronation (Djebel). Interestingly enough, Highland Fling is also the ancestress of South African classic winner Appointment (Pent House II), winner of both the Cape and SA Derbies.
One of the many interesting things about American Pharoah's pedigree is the presence of the mare Sown (granddam of broodmare sire Yankee Gentleman). A daughter of Grenfall, Sown is also the second dam of recent US champion Shared Belief, who, like American Pharoah, is a great great grandson of Fappiano. The latter is truly one of the great names in the stud book, with his name found not only in pedigrees of the above mentioned American Pharoah and Shared Belief (Candy Ride), but also of such important horses as War Front (Danzig), Tapit, Bernardini, Candy Ride (Ride The Rails), Quiet American (Fappiano), Will Take Charge (Unbridled's Song) and Take Charge Brandi (Giant's Causeway), to name but a few.
‹ Previous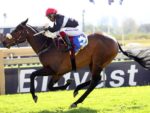 A Fleet Of Ferrari's