The drought is mercifully over. In the 37th year after Affirmed swept the classics in 1978, Zayat Stables' American Pharoah toyed with the field of seven other horses to win the $1.5 million Gr1 Belmont Stakes Presented by DraftKings on June 6 at Belmont Park.
After a good break, the Pioneerof the Nile colt trained by Bob Baffert easily took the lead and carried the field through fractions of :24.06, :48.83, and 1:13.41 for six furlongs as he used his long stride to gallop effortlessly down the backstretch.
The mile went in 1:37.99 and he cruised through 1 1/4 miles in 2:02.33.
When Materiality came to challenge in the turn, American Pharoah shrugged him off. When Mubtaahij went under a drive, he couldn't get within striking distance. When Frosted made the final run, jockey Victor Espinoza simply opened American Pharoah up, cruising away from the rest to hit the wire in the 1 1/2-mile test in 2:26.65, a fifth of a second faster than Affirmed's Belmont time.
"We knew we had the horse and we were hoping we had the horse," Baffert said. "Once Victor got him in the clear and got him in that beautiful mode of the way he just goes over the ground. Every fraction—I saw (1:13) and change and I just loved that, then 1:37. They turned for home and I was prepared for somebody coming, because I've gone through this so many times. I was just hoping, for once—I could tell by the eighth pole that it was going to happen.
"All I did was just take in the crowd. The crowd was just thundering and I was enjoying the call, and the crowd, and the noise—everything happening. Thirty-seven years—that little horse, he deserves it."
Frosted was second, 5 1/2 lengths behind, and Keen Ice closed to finish third. It was the fourth-largest winning Triple Crown-sealing margin behind Secretariat (31 lengths), Count Fleet (25 lengths), and Citation (eight lengths).
Mubtaahij hung on to finish fourth, 7 1/2 lengths in front of Frammento, Madefromlucky, Tale of Verve, and Materiality.
Off at 7-10 odds, American Pharoah loaded into the starting gate first, simultaneously with Mubtaahij, then jumped out after the bell rang, leaving most of the field behind. Materiality provided some pace challenge, as expected, but Espinoza sat comfortably ahead by a length after the first quarter-mile. Materiality got within a half-length at the half-mile marker, but no other horse ever got close to putting a head in front.
"He walked into the gate amazing," Espinoza said. "He was ready today. As soon as I sat in the saddle, there was so much power and so much energy this horse had… He was a touch slow out of (the gate), but I sent him anyway. I'm telling you, in the first turn, it was the best feeling I've ever had… Turning for home, I was like, 'This has not happened yet.' "
"We were going slow enough, with those fractions, but I didn't have anything," Materiality's jockey, John Velazquez said. "I was in trouble as soon as we got to the backstretch. American Pharoah is a great horse. That's the only way you can describe him. My horse ran as good as he could, but he was done early. The best horse won the race."
Frosted made the most substantial push, riding the rail in the final turn, and appeared primed for a stretch run when jockey Joel Rosario angled the grey runner to the outside of the leader, but American Pharoah would not be denied. Espinoza provided a few rhythmic, right-handed strikes with the whip to keep the colt focused and American Pharoah did the rest.
"I wanted to ride to the wire. I just dropped my hands and he just took off," the jockey said.
"My horse ran great, but the horse everybody expected to win, won the race," Rosario said. "My horse ran really great, and we got second place. It's exciting, because we have not seen this for so long and the winner really looked brilliant."
The 12th Triple Crown winner arguably had his toughest test in the Kentucky Derby Presented by Yum! Brands (gr. I), when he outlasted Firing Line by a length, then was untouchable in winning the Xpressbet.com Preakness Stakes (gr. I) under a downpour in Baltimore.
Owner Ahmed Zayat said he felt his colt was ready as soon as he hit the track in Elmont, N.Y.
"I looked at my wife in the post parade and I told her, 'Get ready to be the owner of the 12th Triple Crown winner,' " Zayat said. "He looked unbelievable—focused, honest, relaxed, full of energy."
Baffert was tortured by the Triple Crown three times prior, coming up short in the Belmont with Silver Charm (1997), Real Quiet (1998), and War Emblem (2002).
"While I was here in town, I was listening to every news station and people were saying, 'Oh, it never happens and everybody gets up for it,' " Baffert said. "But there's something about this horse that he just brought it every time… What a feeling. It's probably going to take a few days to sink in.
"I had my kids here and they got to enjoy it. Savannah, she's here somewhere," Baffert said, remembering a good memory mixed with a bad one. "I was holding her in my arms when she was 4-years-old for Real Quiet. Luckily, she doesn't remember that."
American Pharoah paid $3.50, $2.80, and $2.50 across the board. Frosted delivered $3.50 and $2.90, while Keen Ice brought $4.60 to show.
The Triple Crown-winning colt was homebred in Kentucky, out of the Yankee Gentleman mare  Littleprincessemma.Pioneerof the Nile, who Zayat raced and in which he owns a majorty interest, stands at WinStar Farm. The stallion's prized runner now has just more than $4.5 million in earnings with six grade I wins on his résumé.
Zayat said after the race he intends on running American Pharoah for the rest of the 2015 season.
"I personally made a promise to my family and to the fans more than anybody else," Zayat said. "We need to enjoy our stars and race them as long as we possibly (can)."
www.bloodhorse.com
‹ Previous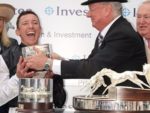 Frankie Grabs Epsom Derby – Again.