The National Horseracing Authority confirms that an Appeal lodged by Jockey Gavin Lerena was heard in Johannesburg on Friday 26 June 2015.
The background:
An Inquiry was held on 16 February 2015 into the events which took place after TIGER QUEST (AUS) broke down in the 8th Race run at the Vaal Racecourse on Thursday 5 February 2015.
Jockey G Lerena was charged with a contravention of Rule 72.1.26 in that as the rider of TIGER QUEST (AUS), he conducted himself in a manner which had, or might have had, the effect of discrediting horseracing, when he failed to take all reasonable measures to assist and prevent further injury and suffering to the filly once he was out of immediate danger and in a position to do so, after the filly had suffered a catastrophic breakdown and had come to a standstill at the 600m.
Jockey Lerena pleaded not guilty to the charge but was found guilty of the charge.
In coming to a suitable penalty, the Inquiry Board considered all the evidence presented at the inquiry including Mr Lerena's points of mitigation.
The Inquiry Board also considered that the welfare of the horse is paramount and everything must be done by the role players to ensure that when in the unfortunate event of a horse breaking down, that immediate assistance is given to the animal.
The Board also considered that once Jockey Lerena was on his feet and out of danger, he could have and was morally obliged to provide assistance to TIGER QUEST (AUS) in order to prevent further injury and suffering to the filly.
Having considered all of these points, the Inquiry Board ruled that Jockey Lerena be fined the sum of R15000.00.
The finding:
An Appeal by Jockey G Lerena against the finding by an Inquiry Board that he brought racing into disrepute was upheld by an Appeal Board.
The finding and the penalty imposed were set aside.
In addition, the Appeal Board ordered that, in terms of Rule 85.5.8, the prescribed appeal fee be refunded.
The Appeal Board will furnish the reasons for its decision at a later date.
‹ Previous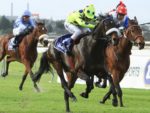 A Dayglo Yellow Moon