Milnerton based Mike Bass remains in the top five on the national trainer log and with Ormond Ferraris and Dennis Drier retains his status as a leader on the SA trainer's senior tour. He showed his prowess at Kenilworth on Sunday with a feature double that included the trifecta in the R150 000 Listed Olympic Duel Stakes.
Bass has always played a dominant role during the grey months (the travel agents call it the green season in the brochures) in his home province. And while recent memory throws up names of genuine 'winter wizards' of the ilk of the late James Lightheart and in the latter day, Mike Stewart, Bass has the string strength to hold his own in other provinces.
While his PE satellite yard never got off the ground, he has won the big races in KZN and Gauteng, and goes about the family business of producing winners – in a world that has changed dramatically since 1976, when he first started trading.
He had four runners in an open looking and very competitive Olympic Duel Stakes, including the classy topweighted Lanner Falcon and the enigmatically talented Pure Power, on a handy galloping weight of 53,5kgs.
Surfer Girl and Fear Not led the charge, with Robert Khathi dropping Pure Power out to near last after a keen start. She was settled near her stablemate Lanner Falcon, on whom Bernard Fayd'herbe was conserving energy.
At the 300m marker Fear Not and Perrini tired as Surfer Girl made her move up the inside, with Pure Power and Lanner Falcon bursting through simultaneously.
Khathi had ridden a cracker and timed his run to perfection as Pure Power held a flying Surfer Girl, with Lanner Falcon pipped a nose into third.
Under a half length separated the top three, with the winner's time clocked at 75,36 secs.
This was Pure Power's second stakes win (she won the Listed Irridescence Stakes as a 2yo) and it has been a patient and long road with her. She looks sure to earn more during the softer months that lie ahead, and is likely to go to stud at the end of the season.
Assistant trainer Candice Robinson said that Pure Power had been inclined to overrace in the past and that she had also been suspended for bleeding.
"But she has now won two since returning from Joburg and we will probably keep her up the straight as she seems best there. And well done to Robert (Khathi) – it was a good ride."
Robert Khathi, who takes his chances with both hands, said that his mount had come out running and that his instructions were to give her a chance:
"She settled well and I went for a run down the inside. She kept on well," he said.
Part owner Marsh Shirtliff who enjoyed a Gr3 and Listed winner, said that he had been 'confident all week.'
"I thought she was well in and fancied her. But after jumping well and then dropping out, I found myself swearing. Robert rode a good race though and it ended well," he said.
Pure Power has now won 5 races with 6 places from 21 starts for stakes of R378 750
She has some way to to make up her R1 million Cape Premier Yearling Sale Book 1 price tag, but could develop into a decent broodmare prospect.
She was bred by The Alchemy and is a daughter of Captain Al out of the one-time winning National Assembly mare, Just Assembly.
‹ Previous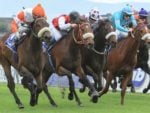 Marcus Bags Stormsvlei