Mike De Kock's Belmont Stakes entrant Mubtaahij continued his preparations for the big race this past Saturday, working five furlongs in 1:01.05 on the Belmont main track, the seventh-fastest time at the distance.
The colt was scheduled to work on the turf, but the move to the main track was made because the turf was too firm, said Trevor Brown, assistant to Mike de Kock.
Brown said he was very pleased with the colt's effort over the main track and is positive the UAE Derby (UAE-II) winner has taken more kindly to the surface compared to Churchill, where he finished eighth in the Kentucky Derby on May 2, his first start in the U.S.
With De Kock's arrival in New York this past Monday, Brown said the horse would have an easy week.
"We'll freshen him up now this week," Brown said. "We've been pretty hard on him (and) that's our normal routine. Two weeks out, we work him hard and the last week freshen him up, but he's going good and we're very happy with him."
Betting
Mervin Gamble, General Manager of Sports Betting at Phunelela responded to our query regarding the Belmont Stakes betting facilities.
"As Belmont is one of the NYRA tracks and we have been betting on these meetings for a while, the standard USA bet types and values will apply. These are:
Commingled:
Win (Unit R1.00 & Minimum R12.00)
Place (Unit R1.00 & Minimum R12.00)
Exacta (Unit R1.00 & Minimum R12.00)
Pick 3 (Unit R1.00 & Minimum R12.00)
Local Pools – SA units and minimums apply to Swinger ,Trifecta , Jackpot and PA.
The difference between NYRA and Churchill Downs (Kentucky Derby) is that NYRA have penny betting. This enables us to bet to lower units and minimums and we do not have the high values as for the Derby."
‹ Previous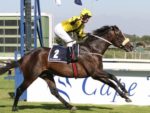 KZN Sires On The Rise