North America lost a legend last week when famed trainer and owner John Nerud passed away at the age of 102. Associated with numerous champions during his training days, Nerud also assisted Tartan Farms breed a host of influential broodmares and stallions including Kentucky Derby winner and leading sire Unbridled, and Nerud also bred the latter's sire Fappiano, whose blood can be found in many of the top performers in North America this year, including leading sires Tapit and War Front.
Fappiano
Not only is Fappiano ancestor of American Pharoah, his sire Unbridled is broodmare sire of reigning US Champion Sire Tapit (Pulpit), and another son, champion sprinter Rubiano, is damsire of red-hot sire War Front (Danzig), sire of recent Gr1 Phoenix Stakes winner Air Force Blue.
He is also the ancestor of leading sire Candy Ride, whose offspring include champion Shared Belief and promising US stallion Twirling Candy, while Fappiano son Quiet American is broodmare sire of US Champion and successful sire Bernardini, whose daughter Cavorting was an impressive winner of the recent Gr1 Test Stakes.
At the time of writing, Fappiano's name features in the pedigrees of three of the top four sires (by stakes) in North America and his influence just grows and grows.
Dr Fager
John Nerud, who also was involved in the creation of the Breeders Cup series, also trained the great Dr Fager (Rough 'N Tumble), North America's Horse Of The Year in 1968 and subsequently a champion sire, and bred Gr1 Breeders Cup Mile winner and leading sire Cozzene (Caro). Nerud saddled more than 1,000 winners during his career, including Dr Fager's champion half sister Ta Wee (Intentionally), who was champion sprinter in the USA in both 1969 and 1970. She went on to produce the stakes winning Great Above (Minnesota Mac), who went onto sire North America's Horse Of The Year in 1994 Holy Bull.
Intentionally
Another influential thoroughbred trained by John Nerud was the breed shaping sire Intentionally, whose offspring include the above mentioned Ta Wee and Gr1 Met Mile hero In Reality, who went onto become a top sire in his own right. Among In Reality's top performers were 2000 Guineas winner Known Fact (sire of champion miler Warning), champion sprinter Smile (broodmare sire of champion Smarty Jones), Wood Memorial winner and successful sire Believe It (broodmare sire of dual classic winner Real Quiet), and the top class stallion Relaunch. The latter is responsible for a pair of Breeders Cup winners, successful sire Honour And Glory, and is also the grandsire of Horse Of The Year and dual Breeders Cup Classic winner Tiznow (Cee's Tizzy). The latter has since become one of the top sires in North America and remains the flag bearer for this male line.
Needless to say, the Nerud influence can be felt the world over today. Unbridled is the great grandsire of this year's US Triple Crown winner American Pharaoh, while Cozzene is broodmare sire of top sprinter and outstanding sire Pivotal, who has been represented by three Gr1 winners thus far in 2015.
Tartan Farms also bred Codex (Arts And Letters), a somewhat controversial winner of the 1983 Gr1 Preakness Stakes. In a short stud career, Codex left behind a handful of Gr1 winners including Flamingo Stakes winner Badger Land, who went on to become champion sire in South Africa.
Badger Land
Badger Land, who left behind just six full crops in this country, proved an exceptional sire in South Africa, with his offspring including champion 2YO Blossoming Fields, Gold Cup winning champion Highland Night, Met winner Badger's Coast, top sprinters All Will Be Well and Hinterland, Gr1 Summer Cup hero Wolf Whistle, and champion 3yo Badger's Drift. The latter has been in the news recently as the broodmare sire of 2014-2015 Horse Of The Year and four time Gr1 winner Futura (Dynasty).
Badger Land has also become a top class broodmare sire, with Badger Land daughters having produced the likes of champion fillies Captain's Lover (Captain Al) and Ebony Flyer (Jet Master), champion sprinter Rebel King (National Emblem) and last season's Gr1 Wilgerbosdrift SA Oaks winner Pine Princess (Captain Al).
South Africa
The great Dr Fager, who is the only horse in North American history to capture four different awards in a single year, also made a mark on the South African turf. His beautifully bred son Kama (a close relative of leading sires Fappiano and Quiet American) is the sire of Gr1 July/Gold Cup winner Occult, and also features as the broodmare sire of former Champion 2YO Special Preview (Model Man). "The Doc" is also the broodmare sire of Capture Him (Mr Prospector), who ranks as the broodmare sire of the charismatic Equus champion Beach Beauty (Dynasty) and former Gr1 Gold Cup winner Wavin' Flag (Silvano).
Breeders Cup winner Cozzene is another John Nerud product to have made his mark in South Africa. He is the sire of Highlands Farm's outstanding broodmare Moonlit Prairie. The latter has produced three graded winners to date including triple Gr1 winner and sire Jackson (Dynasty) and Gr3 winners Heartland (Dynasty) and Jade Bay (Jallad).
Cozzene, himself responsible for a pair of Breeders Cup winners as well as the highly successful Juddmonte sire Mizzen Mast, is also damsire of Pivotal, whose offspring have enjoyed notable success in South Africa. Amongst the top local runners sired by Pivotal (Polar Falcon) are Gr1 Cape Guineas/Gr2 KZN Guineas winner and sire Noordhoek Flyer and Gr1 Thekwini Stakes heroine Amanee, as well as Pivotal Pursuit, a winner of his last three on the trot.
‹ Previous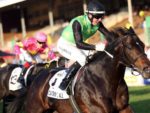 Captain Amongst World's Best