With the recent discovery of Homo naledi there is a distinct irony in the fact that we can wholly reconstruct people who existed thousands of years ago and yet struggle to remember someone who was with us until recently.
We all leave marks on the world during our tenure of this funny thing called life and we make our contribution to life's great tapestry either via the work we leave behind, or the people we touch. Some of us tread lightly, merely brushing the surface; others gouge deep holes– it all depends on your style I guess, but it is these tiny clues that mark our passing.
When it comes to the detritus of detail, racing probably errs on the side of efficiency, focussing on and remembering only the first few past the post (if we're lucky) and worrying somewhat less about the also rans and background scenery. And how quickly we forget even the few who do grace the winner's enclosure, wear the champion sashes or lift the trophies. We are awful at commemorating and celebrating the little people and those behind the scenes, making sure the cogs turn and the machinery keeps working.
Jeff Moffett
Jeff Moffett was one of life's tidy people and as such, would probably have found wry amusement that his passing was also neatly, tidily and efficiently dealt with. I only met him once, but had occasion to chat to Jeff by phone and exchange some correspondence. I found him well organised, very knowledgeable and despite being retired, a thorough professional. Racing folk will remember him as the handicapper at Germiston and latterly the General Manager at Newmarket. As it would be rather a shame to let him vanish into the great racecourse in the sky without an acknowledgement, I went to find out a little more about him.
Jeffrey Lionel Moffett was born on 5 March 1945 in Uitenhage. His ex-wife Betty, who many will remember from her days at the TBA says, "His maternal grandfather had a series of hotels and he was the one that liked horses and had racehorses. I think Jeff got his love for horses and racing from him. His parents moved to Cape Town where he grew up in Bergvliet and then they moved back to Johannesburg. Jeff did his schooling at Bergvliet Primary and then Jeppe's Boys in Johannesburg, followed by a BComm at Wits."
"He had quite a varied career. He worked for SAGE, a sub-division of General Electric, then Nascor (part of Anglo American) and from there he went to Germiston as the assistant handicapper to Lance Langerman in 1973. It was quite a prestigious job back then. He was there for years and then moved from Germiston to Newmarket as the General Manager. He took early retirement from Newmarket in 1995."
"We met at General Electric. Jeffrey was part of the accounts department and I met him at Head Office at Selby. I was a secretary and went over with my boss one day because I had some photo copies to do and our machine had broken down. The office was arranged in rows of desks like at school and every time I looked up he was looking at me. Our office moved to Benoni and as there was nothing else to do, I used to play honeymoon bridge with a gentleman at lunchtime. One day he mentioned that the Selby office was coming and that some of them played bridge. I partnered Jeff – I think he still thought I had some brains then!"
Racing
"We lived on Roy Unsworth's old property in Alberton for many years. Jeff wasn't allowed to own horses, but we rented the stables out and that way we could have horses without having to pay for anything – it was the best of both worlds. Carl Ebb was our first tenant. He's been the assistant to Syd Laird and he started with us just after he got his license. He was so excited – he pruned all the trees and everything."
"Jeff became pretty horse orientated once he went to work at Germiston. He loved his racing and once that became part of his life, it became all-consuming and nothing else was quite as interesting."
"It was quite strange, despite being a conservative person, he became very social. He liked to have friends to the house and we did most of our entertaining at home. Sundays were the busiest – you never knew who was coming. I don't know that I've ever made so many cups of tea and coffee in my life and I'm not the earliest riser, so you must know! We had this huge veranda around the house and many, many Sundays we entertained clients and had lunches and sandwiches.
One day Carl had a runner that paid R75 a win. My father went to the butchers who commented that we must have made a killing on Ebb's horse. My father said no, but the butcher wouldn't have it that we hadn't made a killing! We didn't get inside information. After Carl, we had Ernest Anderson, Joe Soma, Ian Jayes and Jeff Freedman was the last one."
Sense of humour
"Jeff was a very good handicapper and had a reputation as being very honest. When it all changed, well, I don't suppose he liked it very much. He went by form, not the merit rating system."
"Being a licensed official, Jeff was not supposed to bet, so I had to do the betting. We had some very nice little wins, well, I suppose I had them – I was the gambler in the family. I said to Jeff we shouldn't really be gambling because his grandfather in Uitenhage had lost two hotels through gambling on horses and Jeff replied – "Look on the bright side – we don't have two hotels to lose!" He had a good sense of humour and was a terrible tease – if he ever found your Achilles heel, he was like a dog with a bone."
Health
"His diabetes came as a bit of a shock. Jeff never liked to think he was ill. Talking about his health was a real no-no, but he didn't let it affect him. When he had a sugar low, he'd have a piece of chocolate! Strawberries and ice cream were also a favourite- he was very naughty. It was always a bone of contention that he didn't eat properly – he was a real meat, potatoes and rice man."
"After corporatisation, Jeff took early retirement. It was one of those things – a bit of a personality clash between various people. We divorced in 1995. It was sad in a way, but the friendship was still there once we got over it. We had a good friendship and saw each other socially. We've got a son named Steven with a 'v' – much to Jeff's horror! Steven lives in London now and has an events company."
"After he retired in 1995/96, Jeff moved to a flat in Killarney. He was a real home bird and became a dab hand in the kitchen after the divorce. He played bridge and carried on following the horses. He also loved to watch movies."
"Latterly he developed macular degeneration which affected his reading and things like that, but he always kept himself occupied, he was never bored. He could still see, but not very well, so he could no longer drive, but he could read with a magnifying glass and he still managed to follow the Computaform by squinting at it. As long as he knew the horses' name, he could tell you all the form, where it ran, how it did."
Memory
"He had a memory second to none –he knew all the telephone numbers of everyone he knew off by heart as he couldn't see to write them down. He really had a phenomenal memory – even Ormond Ferraris used to ring and ask him questions about what happened in the past."
"Of course the other thing about Jeff is that he was a veteran smoker. He started on Rothmans, then Benson & Hedges and eventually Stuyvesant. He was never without a cigarette. That eventually led to him having chronic obstructive pulmonary disease (COPD) and he died of lung failure on Friday, 26 June 2015."
"He was a lot of fun and I miss him dreadfully. The telephone calls were constant. I've moved into his flat to tidy everything up and everything is just Jeffrey- neat and tidy and everything in its place. He had a saying 'each thing has its place'. I keep expecting him to come round the corner with a cigarette or offer me coffee."
Graeme Hawkins
Graeme Hawkins was also a close friend and remembers, "I met Jeff in 1983 when I left Cape Town to join the TBA in 1983. He was the handicapper and programmer at Gosforth Park. This was pre the Merit Rating system, so we had a lot of fights about that. I remember arguing about Wolf Power in the November Handicap in particular!"
"He was an old fart, but a likeable old fart. I really enjoyed his company. He was passionate about the game and what he did and he did it well. He was an uncomplicated, but very firm, disciplined, passionate person. He made sure Newmarket always had a lot of character and collected a lot of really nice bits from around the world to keep up the class of racing. Jeff served under amongst other people Mrs Joan Ruffell (the first lady chairperson in SA) and Paddy Hinton and he oversaw the introduction of night racing at Newmarket."
"He was very firm in his views and always believed he was right (like so many of us!) There was a forum of all the club managers including Basil Thomas, Wally Segal, John Alexander etc – he was a pain in their backsides. He was pedantic and liked things to be done correctly. He did everything by the book and followed systems and procedures religiously."
"Jeff nurtured Patrick Davis and was responsible for sending him to the University of Kentucky for their equine course. Patrick is a lot like Jeff in many ways. Unfortunately Jeff didn't fit in all that well when the club system collapsed and Phumelela came in. They didn't see eye to eye, so he retired, although he continued to follow racing. His eyesight was pretty bad towards the end, so it was not all a bed of roses, his retirement, but he never let that get him down."
"He loved playing bridge – that and reading were his two main interests. He was a heavy smoker and he loved his brandy & coke. The electrocardiograph was pretty smooth throughout his life – he didn't allow himself too many highs and lows, but he was a good man, a good honest to goodness person, generous, and loyal to his friends."
Patrick Davis
Jeff was a long-time friend and mentor to Patrick Davis, who shared some of his recollections. "Racing is a funny old industry and once you've left, or retired, people tend to vanish and be forgotten about. Jeff was one of the top racing administrators of his time. I started out with him and we go back many years. Jeff had a holiday house down at the Gamtoos Valley close to our family farm – that's how my parents and the Moffetts got to know one another. He was not always the most popular of guys, but he was very competent and good at what he did – he was a real professional."
"Even though he was diabetic, he smoked like a chimney and didn't let it change his lifestyle – which one should! He once said 'Life's fun if you weaken, Patrick!' It always stuck with me. He was entirely unrepentant and I think the photo on his order of service summed him up perfectly – brandy and coke in one hand, cigarette and Computaform in the other."
‹ Previous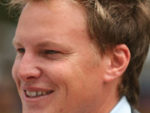 'Thou Shalt Not Win By Too Far…'