Stakes increase
Last week saw the announcement that the stake for the President's Champions Challenge was being bumped up from R2 million to an astonishing R4 million. The hike makes it the highest paid Gr1 in the country, eclipsing the Queen's Plate (R1 million), the Sansui Summer Cup (R2 million), the J&B Met (R2,5 million) and the Vodacom Durban July (R3,5 million). I'm not arguing that it's a good race and has been won by some wonderful horses over the years, but I'm not entirely sure it merits a R4 million stake. When one considers that our calendar lists Gr1's that are still run for R600k, it does seem a trifle bizarre.
Also, with the modern penchant for lumping as many big races into a single day as possible, the race is scheduled to be run on Champions Day, which will mean in excess of R10 million in stakes being paid out on a single race day. Great, or gruesome? Because while big prize money is all good and well, we are supposed to be a sport and last time I checked, sport was about endeavour and excellence.
Additionally, the Emperor's Palace Charity Mile is also receiving a stakes rise from R600k to a cool R1 million, even though it's only a Gr2. To be fair, there are a few other Gr2's which carry a similar stake (the newly renamed SAP Supreme Cup, the Southern Cross Stakes and the Betting World Guineas), but again, there are a number of Gr2's still being run for a R400k stake and many of those have a lot more provenance and gravitas to them.
Where's it coming from?
Be that as it may, what makes it all even more confounding is precisely how this was agreed and by who? As there are no sponsors involved, the logical assumption is that the additional monies are coming from the stakes pot. I did attempt to find out, but as usual, it seems no-one was home at head office.
It's a pity, as I think it's rather important to understand our various racing bodies, how they work and their relationships with one another. Trying to work it all out does occasionally feel less like join the dots and more like an elaborate game of Twister, in the dark, after a bottle of tequila.
Essentially it boils down to the Racing Trust and the fact that they hold 35.25% or somewhere in the region of 27 million according to reports) of Phumelela shares. Now, if you've not heard of the Racing Trust, fear not. They rival the Freemasons for openness and transparency. I wish there was an easier answer, but what I can tell you is that the Racing Trust is a non-profit organisation stated to have as its object, "the protection and furtherance of the interests of the racing industry." It is funded by dividends from its Phumelela shares which it allegedly distributes across the stakes pot, the Gauteng Jockeys Academy, the Gauteng Work Riders' Programme, the informal racing sector in the Northern Cape, contributions towards research and development in respect of African Horse Sickness, and special projects such as contributions towards HIV testing of grooms.
Who is the Racing Trust?
Five of its seven trustees are nominated by the Racing Association and for reasons known only unto them (I have asked), the remaining two trustees are nominated by SASCOC. As per a press release dated August last year, I can tell you that the current Chairman is one Johann du Plessis (the one and same director of Steinhoff and Klawervlei who tried to stand for a seat on the NHA Board last year). The rest of the board comprises Moutonshoek's RA member and breeder / owner Chris Gerber as PRO, Old Mutual, Oceana Group and breeder / owner Peter de Beyer, Investec & Kenilworth Racing board member Mark Currie and British American Tobacco, Phumelela director and owner / breeder Brian Finch. And of course the two SASCOC representatives, Gideon Sam and Vinesh Maharaj. Although there are rules governing how long Racing Trust members may serve on the board (3 years at a time and no more than 3 consecutive terms of service), Gideon Sam and Vinesh Maharaj seem to have been there since God was a boy. But hey ho, time does fly when you're having fun.
Where The Racing Association fits in
The Racing Trust folks are, understandably, a busy bunch. So much so that they have the RA handle most of their administration for them. When I approached Chairman Du Plessis for more information on this, he suggested I chat to their PRO Chris Gerber, who in turn informed me that they 'don't do PR.' Alrighty then.
The monies that the Racing Trust contributes to the stakes pot are therefore administered by the Racing Association and presumably, its CEO Larry Wainstein. I did try to contact both Mr Wainstein as well as RA Chairman Mr William Nsele for clarification as early as March this year, but as with the Racing Trust, it seems they are very busy people indeed and have not managed to get back to me yet. Perhaps they also need an organisation to do their administration for them.
Next we get onto the existence of the fabled document that is our Stakes Agreement. I predict that this document will go down in history as the most closely guarded secret after the Enigma Code, but we do know that it is an agreement between Phumelela and the Racing Association and it would seem that Phumelela negotiates a portion of the Racing Trust's dividends to use as stakes via the RA. So far so good.
The Racing Trust is a non-profit organisation and the Racing Association is also registered as a non-profit organisation. Interestingly, through an agreement with the racing operators, it is a well-publicised fact that the RA coffers receive all the nomination and acceptance fees in 'Phumelela country'. Given that all owners are charged nomination and acceptance monies whether they are RA members or not, this is a contentious issue in some corners. Either way, it amounts to quite a hefty sum (last year this figure came to in excess of R10 million) and as the RA is non-profit, one has to wonder quite where all that money goes. But perhaps that's a debate for another day.
More on that Stakes Agreement
Because the Stakes Agreement is a little tricky to get hold of, the rest has had to be gleaned from a number of different sources and by a number of different means, so I may be off on one or two points, but basically the Stakes Agreement sets out who pays for what. It seems the original, signed stakes agreement was dated 1999. This was followed by an oral agreement (perhaps that's why the pernickety thing is so hard to pin down?) and then a New Stakes Agreement dated August 2013. I'm led to believe that the New Agreement was amended again fairly recently, which is partly why I'm so fascinated by the darn thing.
It seems that among the most recent amendments to the Stakes Agreement was an arrangement whereby it was agreed that the amount Phumelela spends on 'putting on the show' is to be capped. As a result of this, the costs for transporting horses to and from races (previously contractually borne by the Operator) is now being funded out of the Stakes Pot. If my research is correct, it would seem to amount to somewhere in the region of R6 million. I did try and query both Phumelela as well as the RA as to how this was agreed, by whom and whether owners had been asked or even advised, and have every confidence that they will get back to me with an answer any day now. As mentioned, they are very busy people.
How that looks in practice
So then I went and pulled up the national programme and totted up our Graded Races and what they are worth and I came up with the following:-
Our national programme boasts a total of 34 Gr1 races (now worth a little over R40 million), 39 Gr2 races, 50 Gr3 races, 71 Listed races and 65 Non black type races, which, according to the National Feature Race programme, all add up to a total of R98,155,000 in available stakes. Obviously this doesn't include non feature races. A bit of mental arithmetic brings me to a figure of a little over 3000 non feature races per year. So around 92% of our racing programme consists of non feature races. Borrowing from an interview with Rian du Plessis back in 2013, he stated that the total figure for available stakes is around R300 million. If that is correct, then we spend R100 million on 8% of our racing while R200 million is left to cover the remaining 92%.
While owners already pay a percentage of stakes to trainers and jockeys, May 2015 brought the news that owners will also be docked 1% of winnings as a contribution to grooms as of 1 June. Somehow it seems owners were not consulted in this process.
This means that in a single year we have inexplicably lost R6 million from the stakes pot for transport, we are taking a further R2,4 million out of general distribution (R2 million for the President's Champions Challenge and another R400k for the Charity Mile) and channelling it into two individual races and then having another 1% is deducted for the grooms.
Racing facts
The SA Racing Fact Book states that there are around 7000 individual runners on an annual basis, of which around 2,500 ever win a race – that's 30%. With only 260 feature races on the calendar, that means that only around 3% of horses will ever earn a feature race cheque in their career.
The next bit of mischief is the noms / acceptance fee story and the news that these monies should now be paid to Kenilworth Racing. Perhaps more pertinent are the facts that the 10% discount for early payment has fallen away, that the RA is threatening to suspend nominations of trainers who fall more than 60 days in arrears and my favourite bit, the fact that this was all implemented retrospectively as of 1 August – even though the official notification was dated 25 August. It's a little like arranging lunch last Tuesday, isn't it?
Some final figures
In summary it's worth repeating a few figures. It costs around R100k to keep a relatively healthy horse in training per year. The law of averages dictates that the vast majority of horses out there are average at best and only 30% will ever win a race. Only 3% of horses will ever win a feature. Basic logic indicates that there are more owners with average horses than there are with champions, so it seems an odd decision to allocate such a substantial amount of cash into two races, rather than perhaps spreading it around the Gr1's to even things up a bit, or even distributing it across the maiden ranks, which incidentally have not seen an increase for a number of years now. As a comparable example, if the additional stakes were to be redistributed across the maiden ranks in Phumelela country instead, it could have improved the stakes of 400 maiden races to R90k!
The reason given for doubling the President's Champions Challenge stake was that it is "a true-run race where the conditions favour the best horse. So it deserves a big stake." The motivation for upping the Charity Mile? "We felt it was time."
I wonder what the ownership body might have chosen, had they been given a choice?
‹ Previous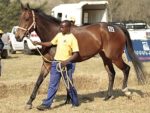 Yellow Star Farm Sale Results