Jockey Gerrit Schlechter is bracing himself for a lengthy spell on the sidelines as his back injury has proved worse than originally thought, writes Michael Clower.
He said yesterday: "Other problems have crept in and it doesn't look too good. I am waiting on the doctors but I am off for quite a while."
Schlechter, 50, was found to have a prolapsed disc when he could hardly get off Beyond Limits after winning on him at Kenilworth at the beginning of June.
When he returned three months later the injury struck again on only his second ride back. This time he struggled to even get to the start.
He is one of a select group of the current riders to have won both the Durban July (Eyeofthetiger in 2006) and the J & B Met (Past Master in 2011) and seemingly  the present near-five month absence is hard to bear– "I really miss it," he said feelingly.
Karl Neisius is optimistic that he will be given the all-clear to resume no later than the beginning of December.
He said: "I am signed off until November 14 but I will probably know about the 10th and then it will take about three weeks' riding work before I return to race-riding."
Inflammation in his lower back has meant that Neisius has not ridden since September 12 when he won on Exploracy for Shane Humby at Durbanville.
Devin Ashby, who had two pins inserted into the ankle he broke when a horse came over on top of him riding work at Milnerton, will have to wear his surgical boot for a further month "but I hope to be back by the end of December or early in January."
Fareed Anthony resumed last Saturday after being off for six months and he rides again at Kenilworth today.
He said: "I injured my neck and my back, and I now have to go for an evaluation of my spine. But the rest has done me a lot of good and I'm feeling much better.
www.goldcircle.co.za
‹ Previous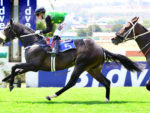 Turkish Delight For Marshall?