Some tonics are more effective than anything the doctors can prescribe and Mike Bass – already promised a trip to St Andrews – now has the Avontuur Fillies Guineas to inspire him as he drives himself on, pumping iron in the gym, writes Michael Clower.
He went home for the weekend, attended trackwork on Saturday morning and in the afternoon he watched on TV in delight as Silver Mountain gave weight and an impressive beating to older horses in the Lyric Consulting Handicap at Durbanville.
The Silvano filly looked a possible Guineas horse when she won her maiden but this, frankly, was more the performance of a potential classic winner. Despite a three-month absence and receiving a hefty bump from a loose horse, the 14-10 favourite swept clear just inside the final furlong to come away under hands and heels with Aldo Domeyer waving his index finger in triumph.
He said: "I think very highly of this filly, she gave me a really good feel in her first race and she got me quite excited here."
Candice Robinson added: "She is tiny – no more than 15.2 – and she is not very robust either but from day one she has done everything right and I have always rated her. I'm hoping that she can be something special and it certainly looks that way. She will run in the Choice Carriers (Nov 7) and then the Fillies Guineas."
Basil Marcus was also in need of a tonic.
According to son Glenn, he had a nasty fall three months ago landing on his shoulder with half a ton of steel-tipped horseflesh treading on his bicep so heavily that it was detached from his arm. The resultant operation failed to ease the pain and a further scan revealed two torn ligaments.
The second operation was performed last Thursday and so the victory of Gorgeous Gaby, owned by Glenn's syndicate and trained by Adam, had Marcus senior cheering. This was the second of three winners for Sean Cormack – he also scored on Candaleeyah for Shane Humby and the Dean Kannemeyer-trained Our Icon.
But it is on Dennis Drier's army that Cormack expects to fight his biggest battles in the next few months – "We've got a nice young strong team with some real quality among them including Well In Flight and Rock On Baby."
The jockeys' efforts to promote this meeting were rewarded with by far the biggest crowd of the Durbanville season and R40 000 cheques for both the Western Cape Equine Trust's rehoming programme and the local Grooms School Trust.
The jockeys' chase revealed some unsuspected talent – Donavan Mansour managed to finish within two lengths of the supposedly unbeatable Domeyer – and it was fitting that MJ Byleveld (one of the principal organisers) should win the Darkhorsewheels.com Handicap on Victorious Jay.
Vaughan Marshall has his sights on the CTS Million Dollar with this colt whose time was only a quarter of a second outside Act Of War's recent course record.
The winner was also the subject of a massive plunge, being backed at all prices from 8-1 to 5-2 favourite.
Indeed this was an extraordinary betting race. Jet Air (second last) was supported from 14-1 to 6-1, Groen Gevaarte (sixth) drifted from 9-2 to 16-1 and Tar Heel, who dropped right out in the final furlong, eased from 22-10 favourite to 7-1.
The Somerset winner was to some extent a victim of his poor draw but also, as in the Cape Nursery, of his own impetuosity with Mansour reporting: "I tried to drop him out but he was too aggressive and when he saw daylight he went."
Mike Robinson is reading his paper on Monday morning in a more relieved frame of mind thanks to the Grant van Niekerk-ridden Imperial Guard ending a painful ten-week winnerless spell.
"It's been a tough time," said Robinson. "I've been slated and called everything in the book. I've just had to keep my chin up and carry on digging."
Andre Nel, on the other hand, is in the happy position of finding himself sitting on a pool of unexposed talent and this was brought home to him when newcomer Quine, a chance ride for Bernard Fayd'Herbe, made a winning debut despite losing valuable ground at the start.
Sabine Plattner's new trainer said: "Quine is honest and I was confident she would run a place but she is not one of our better ones so this was nice."
www.goldcircle.co.za
‹ Previous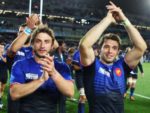 Roll On The Weekend!