A six-point penalty for winning the R1-million Peermont Emperors Palace Charity Mile is harsh, says trainer Alec Laird, who was winning the race for the second year running last Saturday.
"I'm flabbergasted," he said. "You can't win without a penalty so you've got to take it, but to get six points for beating a horse like ML Jet, a Graduation Plate winner, and a two-time winner like Mac De Lago, seems unwarranted.
His new 114 mark puts him only 1.5kg behind a horse like Legislate, a previous Horse Of The Year.
"He's five and would have run closer to a 114 earlier in his career if he was that good and now he can only run in weight-for-age races – they won't bring his weight down in a hurry.
"At least he's done us proud and even if he doesn't win another race, he pulled off a decent win in a race that carries the same stake as a Grade 1."
The L'Ormarins Queen's Plate over 1600m in January is a race Laird said Bouclette Top could target.
Laird won the race last year with Bezanova, who finished fifth behind his stable companion.
"He took the race well, although he got something in his eye. He's had that about three times in a race, I don't know if he just can't see things coming at him. But it was a pleasing run all the same.
"Last year we thought we'd win it with Bouclette Top and Bezanova won. They traded places exactly this year."
In other news from the stable, Forest Indigo – the 2013 Golden Horseshoe winner and a horse Laird rated about his best three-year-old in the same year as Bouclette Top and Bezanova – will be making his reappearance after 18 months on the side lines due to injury.
"It was not a common injury, the ligament and sesamoid in a hind leg. It didn't happen overnight. It was coming at him when he ran in the Cape Guineas in 2012. We were hoping to win the race and he was there, but stopped in the last 200m to finish fourth behind Elusive Gold. He then came out in the Gauteng Guineas in really soft going and Louis The King went past us like we were looking for parking. The injury became more serious after that. We had to scratch from the SA Classic and operate.
"We were going to bring him back around this time last year, but he got another related strain on the ligament, so we had to rest him up again.
"This time we've given him more time off and have brought him along slowly. We take every workout as it goes, so when he runs in a Pinnacle 1100m race next Tuesday, it'll be a nervous moment!
"If he stands up to that, we'll have more hope going forward. So far, so good."
www.tabnews.co.za
‹ Previous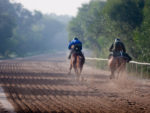 Stolen Goods, Anyone?