Sons of the mighty Sunday Silence (as usual!) dominated the finish to Sunday's topliner in Japan – the Gr1 Queen Elizabeth II Cup. Deep Impact (Sunday Silence) daughters Marialite and Touching Speech ran 1-3, with Heart's Cry (Sunday Silence) the sire of runner up, Nuovo Record.
Former Japanese Triple Crown winner and dual Horse Of The Year, Deep Impact, has certainly stepped up to fill the considerable shoes of his legendary sire, the deceased Sunday Silence. The popular bay, a winner of seven Gr1 races in Japan – including the 2006 Gr1 Japan Cup – is on course to record his fourth general sires title and to add to the five titles Deep Impact has earned as Japan's top sire of 2yos. His record places the stallion among the elite sires currently active at stud in the world today.
World Class
Deep Impact, whose full brother, Black Tide, was Japan's Leading First Crop Sire in 2012 and is responsible for this season's Kikua Sho (St Leger) winner, Kitasan Black, has been represented by 16 Group/Graded winners in 2015 – a total which places him above such outstanding sires as Medaglia D'Oro, Shamardal, Danehill Dancer and Giant's Causeway.
Like father, like son
Like his sire, Deep Impact has exerted a remarkable influence in Japan's top races. In 2015 alone, the progeny of Deep Impact have filled the first three spots in three major features in Japan. Deep Impact fillies, Mikki Queen and Culminar, also ran 1-3 in the classic Yushun Himba (Japanese Oaks) earlier in the year.
This was not the first time Deep Impact progeny had dominated a major Japanese classic however – Ayusan and Red Oval (Deep Impact) ran 1-2 in the 2013 Oka Sho, Deep Impact colts, Deep Brilliante and Tosen Homareboshi, ran 1-3 in the Derby a year earlier, and Deep Impact daughters, Gentildonna and Verxina, ran 1-2 in both the Oaks and Oka Sho in 2012. His daughters, Gentildonna and Denim And Rubies, pulled off 1-2 for their sire when filling the first two berths in the 2013 Gr1 Japan Cup, where the fillies accounted for such top class international performers as Admire Rakti (Gr1 Caulfield Cup), Dunaden (Gr1 Melbourne Cup), and Joshua Tree (Gr1 Canadian International -3 times).
Deep Impact has also enjoyed a remarkable run of success in the Japanese 1000 Guineas – or Oka Sho. From 2011 to 2014, the 1600m race was won by a daughter of Deep Impact – Marcellina in 2011, Gentildonna in 2012, Ayusan in 2013, and Harp Star in 2014.
International impact
The influence of Deep Impact has not been restricted to Japan however, with the great horse's son, Real Impact, landing the Gr1 George Ryder Stakes in Australia this year. Other international success for the progeny of Deep Impact include Beauty Parlour's victory in the 2012 Gr1 Poule d'Essai des Pouliches (French 1000 Guineas), with the latter's full brother, Barocci, himself a useful stakes winner, winning the Listed Prix Omnium II and placing in group/graded races in both France and the United States. Arguably Deep Impact's greatest daughter, dual Horse Of The Year, Gentildonna, showed her class in no uncertain fashion when she landed the 2014 Gr1 Dubai Sheema Classic on World Cup night.
Breeding Affinities
The sire has enjoyed notable success with Storm Cat line mares – the above mentioned Beauty Parlour being out of a mare by Storm Cat's greatest son Giant's Causeway, with other major stakes winners Ayusan (Gr1 Oka Sho), Kizuna (Champion 3YO Colt in Japan) and Lachesis (Gr1 QE II Cup) also being produced by Storm Cat line mares.
Interestingly, Deep Impact is also the sire of very promising 2YO, Larc, an impressive winner first time out this season. The latter is out of Gr1 winner, Lilacs And Lace (Ashland Stakes), who is a daughter of Wilgerbosdrift's popular young sire, Flower Alley. The latter has two Gr1 winning half brothers, Tosen Ra and Spielberg – both of whom are sired by Deep Impact!
Impeccable Pedigree
His remarkable legacy and ongoing success surely comes as no surprise, as the blue blooded Deep Impact lacks little in the way of either raw ability or pedigree. A son of 1989 Horse Of The Year and Japan's 13 times champion sire, Sunday Silence (Halo), Deep Impact is out of Gr1 Aral-Pokal winner and Gr1 Epsom Oaks winner, Wind In Her Hair (Alzao). The latter's second dam, Highclere, won both the Gr1 1000 Guineas and Gr1 Prix de Diane, and also produced champion, Height Of Fashion. The latter, a daughter of Bustino (whose sire Busted is broodmare sire of Wind In Her Hair) went on to prove herself a truly exceptional broodmare, producing champions Nashwan (Blushing Groom) and Nayef (Gulch), as well as the top class Unfuwain (Northern Dancer) – and all three have enjoyed success at stud. Height Of Fashion is also second dam of 2009 1000 Guineas winner Ghanaati (Giant's Causeway), and third dam of 2007 US Champion Turf Female Lahudood (Singspiel).
Wind In Her Hair's classic pedigree does not end with Highclere, however. Her fourth dam is none other than Hypericum (Hyperion), winner of the 1946 1000 Guineas, while the latter's own dam is the legendary broodmare, Feola (Friar Marcus), who was second in the Guineas and third in the Epsom Oaks. The latter surely rates as one of the most important broodmares in the stud book today – with her numerous important descendants including Pulpit (sire of champion US sire Tapit), Tale Of The Cat (sire of recent Gr1 Breeders Cup Distaff winner Stopchargingmaria) and former champion 2YO, Johannesburg. The latter is the sire of the outstanding stallion, Scat Daddy, who is set to stand for a fee of $100 000 in 2015.
Another important member of this family is former US Horse Of The Year, Round Table (Princequillo), winner of 43 races and USA's Champion Sire of 1972. Round Table, whose second dam is Feola, set or equalled a staggering 14 track records during a racing career which saw him lift such races as the Hollywood Gold Cup, Breeders Futurity, United Nations S (twice), Manhattan Handicap and Blue Grass Stakes – all of which now carry Gr1 status.
‹ Previous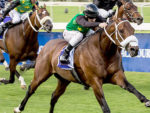 Blood Rules The Land