Despite a tough first leg, Avontuur sponsored Anthony Delpech came back strongly in the second leg of the International Jockeys' Challenge at Turffontein on Saturday, to take the top riding honours for the competition.
The six man South African team captained by last season's Champion  Jockey, Gavin Lerena, has once again won the challenge, the opening leg of which was held this past Friday at Fairview Racecourse in Port Elizabeth.
Other members of the triumphant local team included Piere Strydom,  S'manga 'Bling' Khumalo, Greg Cheyne and Anton Marcus.
S'manga Khumalo was injured in a shocking accident before the first race, and was stood down.
'Bling', as the popular rider is known, was reportedly in a stable condition after injuring his coccyx when thrown from first-timer, Greatfiveeight
Khumalo, who was reported from various sources, to be in a 'stable' condition, was replaced by Muzi Yeni.
The International team was captained by Hayley Turner, and included Pat Cosgrave (Ireland), Robert Havlin (Scotland), Eduardo Pedroza (Panama), Francisco Franco da Silva (Brazil) and Aurelien Lemaitre (France).
The now officially retired Turner brought the crowd to its feet when in a thrilling finish she got her mount Dream Galaxy's nose down on the line, to beat Greg Cheyne in a driving ride to win the eighth race by the proverbial whisker.
The jockeys rode in four races at each of the two events with South Africa achieving 453 points compared to the International Team's 368 points over the two days.
In the last eight years of this prestigious event, South Africa has won six times.
‹ Previous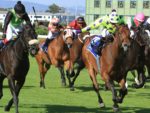 Signed, Vealed – And Delivered!