Dorrie Sham's homebred hero Memphis Mafia showed that his Listed Racing Association Stakes victory at the end of October was no fluke when he powered home to gain a narrow victory over Fly Like The Wind in the R75 000 Guineas Plate at Fairview on Friday.
The Fairview mile is proving a happy hunting ground for the fast-improving son of Lecture and the 3yo has really come good since taking eight runs to register his maiden victory – scoring a hat-trick of wins with his latest success.
It was a close call, as the Renate du Plessis trained Fly Like The Wind came right back to almost snatch a sensational win, after Memphis Mafia had looked a winner at the 200m marker.
But the underrated JP van der Merwe had the leader well balanced and he held on well.
For the Shams, the victory proved sweet vindication, after they had come in for stick from certain quarters when Memphis Mafia had bolted home at 33 to 1 to win the Racing Association Stakes
Twelve locals lined up, and unlike when he was withdrawn at the start of the Racing Association Stakes, the much vaunted Nottinghamshire was in the mix this time – and he could do no better than run a rather one-paced third.
Nottinghamshire's past form was good enough to add plenty of depth, and suggests that Memphis Mafia is no one-hit wonder.
Andrew Fortune took Seattle Swing out to lead the pack as JP van der Merwe had Memphis Mafia loping along in midfield on the outside of runners, with the 28 to 10 favourite Nottinghamshire stalking him further back.
Seattle Swing came under pressure in the straight as Raymond Danielson sent Fly Like The Wind forward on what looked to be a winning move.
But Memphis Mafia was going well and with Nottinghamshire pacing it with him for a stride or two, he coasted up and looked a winner inside the 200m.
But Danielson had an ace up his sleeve, and he got Fly Like The Wind to rally strongly and come right back in a heartstopper for backers of the Sham runner.
The photo showed that Memphis Mafia had hung on deservedly to win by a short head in a time of 98,84 secs.
Nottinghamshire had every chance but had nothing to come late, while Cruzcampo caught the eye storming up for fourth from some way off.
Memphis Mafia made it 3 wins with 6 places from 11 starts and R230 550 in stakes.
He was bred by his trainer Dorrie Sham and is by Lecture out of the four-time winning Special Preview mare, Olympic Special.
So what next for Memphis Mafia? Maybe the Cape Guineas…?
Justin Snaith had a great day at the office with a hat-trick of winners. Their PE yard has certainly turned the corner after a quiet start to the term.
Andrew Fortune rode two of the Snaith winners, while Raymond Danielson also booted home a double.
‹ Previous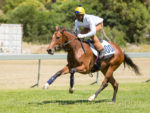 Mayfair Speculators Are Top Buyers