Noah From Goa shares an entry to the forthcoming Dingaans with Mike de Kock stablemates Muwaary and Jubilee Line – and he's done more than enough now to be considered a contender.
The three-year-old gelding by Tiger Ridge disposed of a small but quality field in a MR94 Handicap over 1450m at Turffontein on Tuesday, with Coral Fever (2.25-lengths) and the highly-regarded Bull Valley (3 lengths) in his wake.
While the physically massive Bull Valley gave Noa From Goa 5kgs and is bound to get much closer if they should they meet again, the Mike de Kock-trained galloper's win was game and full of merit.
Mathew de Kock, who'd assessed a fortnight ago that Noah From Goa would probably need to win another handicap if he was to be a Dingaans candidate, was satisfied with the plan achieved and said: "We'll see how things go from here, Noah From Goa took another step up and won well."
Noah From Goa was bred by Mary Slack's Wilgerbosdrift Stud, who races him in partnership with Mike de Kock, Gary Westwater, Chris Haynes, Dr John and Mrs Amanda Mcveigh, Noeline Malherbe and Gary Grant.
Grant, the intrepid traveller, was sampling some culinary and other delights on "a private island off the coast of Zanzibar" at race time. He commented via Whatsapp: "It seems they win when I am away. I am thinking of staying and shouting them home from here!"
www.mikedekockracing.com
‹ Previous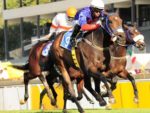 Ticket To Summer