In an unprecedented step, an obviously frustrated and angry racehorse owner has resorted to the use of social media to warn prospective buyers of his 2014 Dingaans winner, Unparalleled, who is set to be auctioned to dissolve the partnership.
The situation, not a unique one by any means, highlights the downside of owning horses in partnerships and syndicates  – which in today's economic climate is often the only way most people can afford to enjoy what is in essence a 'luxury pastime' – to borrow a recently coined term from an industry professional.
This is how we reported on Unparalleled's Dingaan's victory.
The owner's statement:
After being in the horseracing industry for many years I find myself up against an unscrupulous and vengeful trainer who has colluded with a big time owner who has convinced all of the existing owners of UNPARALLELED who won the Dingaans in 2014, and for the last 8 months has not raced, to lodge a dispute against me and attempt to sell my horse on Auction.
IN THE TRAINERS WORDS -"THE HORSE IS UNSOUND AND HAS CHIPS IN ALL HIS JOINTS AS WELL AS BEING A VERY BAD BLEEDER AND WONT EVEN FETCH R250K ON AN AUCTION."
It's a sad day in racing when even the horseracing authorities refuse to assist smaller owners like myself.
You may auction my horse and steal money from me (including the money you owe me) but in the end karma will get you and I hope I'm around to see you get what you deserve.
You may ask why I'm posting this – it's very simple: I made a business decision to move one of my horses to another stable and was subject to a barrage of verbal and written abuse.
The message is simple: if you want to own a racehorse certainly don't buy this one with all it's afflictions – rather go to a reputable trainer.
‹ Previous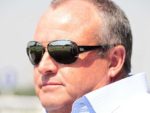 De Kock Doha Drama