Everyone loves a horse. More particularly, everyone loves a good horse. And when a good horse comes with a great story, well, you've hit the jackpot.
The story of Louis The King has always had a whiff of fairytale about it. The plain bay horse, unwanted in the sale ring and sold on a chance encounter in a Durban car park to a trainer who had never even laid eyes on him and an owner, looking for a new yard, naming the horse after his son.
A few years ago, it was my special privilege to stumble across the story of Louis The King. In many ways, as it turns out, I've been researching this story for most of my life. My teenaged-self attended parties at Terry and Annabel Andrews' old place in Philadelphia, and Philip Kahan introduced a (slightly older!) version to Bundaberg rum at the Alchemy one New Year's eve. I was on the rail the day Horse Chestnut won the Met and the first (and sadly only) day I tried my hand at Cape Hunt racing, Carol Millard met me outside the weighing room to offer commiserations and laugh with me about the experience. Somehow all these threads ran along and neatly tied themselves together in Louis The King.
#WhoIsLouis
Part is fact, part is fiction, but happily, the biggest chapter is still unwritten. Louis has his roots deep in the fertile racing soil of England. His dam, Pamushana, had 2 career starts under the care of Clinton Binda before retiring to the paddock. In foal to Black Minnaloushe, she was offered at auction in 2010 and caught the eye of Philip Kahan, who gave her a chance for R20k. Pamushana duly produced a bay colt, who would in his turn be offered at the Sun Coast Casino sale in KZN. A chance encounter in the car park aligned the stars. Geoff Woodruff had stopped at the sales, less to buy yearlings, than to deliver tickets for a client. He encountered Philip Kahan in the car park, who mentioned a colt that he'd had no bids for and would be happy to accept the reserve price. On a whim, Geoff bought him on spec and the plain bay with the fluffy forelock and unruly mane was dispatched to Randjesfontein. Shortly afterwards, Geoff was approached by Tiaan van der Vyver with a view to joining the yard. Geoff mentioned that he had a colt available, Tiaan drove out and had a look, liked what he saw and said he'd take the whole horse, registering the name Louis The King, after his son. Intriguingly, Pamushana died not long afterwards, making Louis a true one off.
Career
Geoff, always so generous with his time, gave a quick recap of Louis' career. "He's a very laid back horse at track, so we thought he was good, but not sure how good as he'd never bothered to show us. We went to the Vaal for the first time expecting a good run and he duly romped in over 1400m. Tim went racing next time and really liked him and I said 'well, this race will tell'. When he won that, I knew we were on to something. Of course, as soon as you think that, you get cut down to size. We were mildly disappointed in the Secretariat Stakes, but he jumped from the widest draw, never really got in the race and still finished 2nd. His next start was the 1800m Sea Cottage Stakes with Glen Hatt in the saddle, where he beat Heart Of A Lion."
Triple Crown
"He drew wide in the Guineas and I think people thought it was too sharp for him. He'd won 3 out of 4 and placed second – that was his form going into the Guineas – but he was kind of overlooked. It wasn't lost on Robbie (Fradd) though. He was confident and they duly arrived. The going on Guineas day was very flat. It started raining that morning and then didn't stop for two and a half weeks. We were starting to get anxious – everybody was – there were no tracks to work on and it was just terrible. Going into the Classic, Louis got fat! I didn't say anything beforehand – I was confident he was good enough – but I commented on it to Tim afterwards. Tim replied 'I didn't want to say anything as I knew you'd s**t on me!'"
Ostrich feather
With Triple Crown fever running high, I canvassed Maine Chance Farms' stud master John Slade for his opinion before the Derby. "One can take a chance with modest horses and hope to get lucky, and well-bred horses may throw a lot of average types, but they will produce some spectacular horses because the blood is there. Black Minnaloushe is a very well bred horse. The big thing for us is that we try to produce a classic type of horse and of the things we aim to achieve, Louis really ticks all the boxes. The Triple Crown is a very stiff test and you need a truly versatile horse to be able to do those 3 distances within that 8 week period. As a 3yo it is the ultimate test and I think the fact that it's only ever been done once in this country is testament to that. It's a rare achievement and if they can pull it off, will be an absolute milestone in our breeding industry in SA and obviously for the stallion. And it's quite conceivable that he could do it. Blackie has produced a champion sprinter and horses that can go a distance, so we'll see whether this might be an all in one horse. To have top speed and staying ability in one horse would be the achievement of a lifetime. It would be a great big ostrich feather in Blackie's cap if he can do that!"
Derby
Geoff maintains that he was confident. "Robbie always said he'd get the distance comfortably and I was pleased when everyone said he wouldn't stay – it took the pressure off." There are very few people who have trained a Triple Crown winner and asked what it felt like at the time, Geoff laughs. "You're very, very relieved, that's all. Delighted and relieved and absolutely shattered when you get home. One of our owners said to me ahead of the races that morning 'it must be very exciting'. I said 'Were you excited going into the exam hall at school? That's what it's like!'
It certainly felt that way as Louis swept into the lead with 500m still to go. At the 300m mark, Robbie hauled out the stick and started riding for his life. Time stood still as As You Like mounted a spirited challenge and Louis appeared to falter. However, he was merely pausing to change gear and with 100m to go, Robbie put away the stick and it was hands and heels all the way home, sweeping the Derby, the Triple Crown, the R2 million bonus and sealing his place in racing history. Ostrich feathers all over the place.
KZN
With Robbie Fradd unable to fly out from Australia, the ride passed to Kevin Shea for the Durban season. "Kevin got lambasted for being slow away in the Daily News, but he didn't do much wrong. Louis was looking at something coming out of the gate and from a good draw he was suddenly last, but that's how Louis likes to race. He was one of the fastest finishers and finished just over a length off Legislate."
"I was very confident going into the July – I really thought we'd see the best of him there, but he got cleaned out completely by Captain America. He was literally on his nose – how Kevin even stayed on, I don't know. He came out with big fat joint and very sore and I think that might have been the start of him losing his form. We dealt with it, but it always needed management after that."
Summer Cup
Louis flashed up for 3rd in the Charity Mile in November and then it was on to the Summer Cup. Piere Strydom was in the irons that day and remembers, "He's a very laid back type of horse. I won't say he has the best acceleration, but he's very game. I was quite happy with the pace and we had a nice position, but down the straight Killua Castle was accelerating better than him and I thought we're really in trouble. At the 500 we were in trouble, at the 400 we were in trouble, at the 300 we were in trouble. At 200m I realised Killua Castle hadn't pulled away. Louis was starting to find another gear and I realised we had a chance of getting up. As I said, he's such a gutsy, game horse that he managed to come back and win."
Next it was off to the Cape. Geoff continues, "His Queen's Plate run, less than a length behind Futura was very good. As for his Met run, I don't know. If there's one run I sorely regret, it's that. I think he should have been sat at the back. He's the sort of horse that wants to be sat on and come with a powerful run."
Geoff dismisses Louis' runs in the Horse Chestnut and Presidents Champions Challenge as 'substandard', but explains that his whole yard had been suffering with a virus at the time. In May they removed one of Louis' testicles, which had twisted and was causing discomfort. The team were gearing up for another KZN campaign and bullish about a second July attempt, when Louis fractured a sesamoid in his near fore. "I'd almost have any other injury," says Geoff ruefully. "When those sesamoids fracture, it can be life threatening, which is why even though according to x-rays he's completely mended, we would never dare race him again. But if things were different, I tell you I'd I'd fancy him for this year's Met."
After a long period of box rest accepted with his usual good grace, Louis The King relocated to Terry and Annabel Andrews' Sorrento Stud in the Western Cape and will serve his first season in 2016. "We chose Sorrento because for one thing Terry hasn't got a stallion that he would put in front of Louis and from there he's very accessible to the neighbouring farms. Terry and I have a long standing association – I used to ride in hurdle races against him."
New chapter
Louis arrived at his new home on 19 December. Most horse folks dream of a horse for Christmas and as presents go, a Triple Crown winner is a pretty big one! Terry and Annabel are understandably thrilled about their new resident, but are keeping things low key and in his typical fashion, so is Louis who appears to be settling into his new surroundings very well.
While he is a well-made, well-balanced horse, Louis is not noticeably out of the ordinary in any particular department as far as physical attributes go. The joy of Louis is that he is, to quote Geoff, 'just Louis' and the magic lies on the inside, but there's a rare energy about him that reassures you that it is there. In spades.
From 15 career starts, Louis won 7 times from 1400 – 2450m. He won the Summer Cup, finished second in the Queen's Plate and with the loss of Horse Chestnut last year, is our only living Triple Crown winner. There are shares available at R35k a share, which will permit shareholders 2 covers a year for the first 3 years. For everyone else, he will stand for a cover fee of R10,000 (R2,000 nomination and R8,000 on live foal).
Geoff says, "He's a Jet Master type horse – his pedigree is thin, but the X-factor is there and he's every bit as good as Jet Master and I think I knew the pair of them pretty well. Over 2000m on his day I'd say he's pretty much unbeatable."
The king has arrived. All he needs is a book of suitable princesses.
So here's to ostrich feathers. Lots and lots of them.
‹ Previous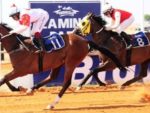 Seeing Red