Following the recent essays from Racing Record Annual on Star Effort and Empress Club, the spotlight falls on another remarkable filly – Olympic Duel, whose racing career preceded those of the two other fillies by one year and two years respectively. Hers is a story of great courage.
OLYMPIC DUEL 3 b.f.
Dancing Champ – Mashka (New South Wales);
won 6 [this season: 1600; 1800; 1800; 1600;]
born 20 Oct
If courage was to be the yardstick, the undisputed champion of the 1989/90 season would beyond a doubt be Olympic Duel. Lightly raced late at 2 in Natal, and a winner of 2 of her first four starts, Olympic Duel appeared to be a nicely above average (but not great) filly. On her way back from Natal to the Cape, she was involved in a road accident that claimed the lives of a several of the Millard horses and took care of the careers of a few others.
Although physically unharmed, Olympic Duel was left with some psychological scars – confined spaces, such as on transport vehicles and in starting stalls, were not her favourite haunts afterwards.
It took an unbelievable amount of patience and perseverance on the part of her trainer to get her to race again. Set to reappear in November, a very nervous Olympic Duel would have none of the starting stalls and refused to load. Five weeks later, late in December, she proved more cooperative over 1400m at Kenilworth.
Always off the pace, she ran wide and finished some five lengths behind Generally Fair and Master Fove. The filly had opened at 8/10 for that race, but drifted to 4/1, indicating the ability was there, but not the stable confidence.
The Cape Fillies Guineas was run two weeks later over a mile at Milnerton, on slightly yielding going. In a field of fifteen, Olympic Duel was easy to back at 7/1, with Old Rituals and Backapound joint favourites at 3/1. Again a bit unsettled and not easy to load, Olympic Duel jumped well to take the lead from the break.
Little changed in the order, and when jockey Coetzee went for his run up the straight, Old Rituals was the only one with enough pace to go with Olympic Duel. Two hundred out the Payne-filly had enough, and Olympic Duel ran out a comfortable winner by just over three lengths. This to the obvious delight of jockey Coetzee, whose skywards look at the end of the pull-up said everything.
Now that the ice had been broken, there was no going back. Three weeks after the Guineas victory came the Gr2 Rex Trueform Fillies Championship over 1800m at Kenilworth. At odds of 1/3 in a field of fifteen fillies, the start proved again a traumatic experience for Olympic Duel, who played up badly before finally being coaxed in last.
She broke moderately, and matters looked bleak when a chain reaction of bumps around the bend caused her to brush the rail and fall back. She cornered nearer first than last and looked to have little hope of winning from where she was. Class, courage and a clear run up the straight got her there, though, be it by less than a length from Backapound.
The Gr1 Paddock Stakes (WFA) over the same 1800m three weeks later looked no walk-over, as Olympic Duel now had to deal with her elders for the first time. Wainui, who'd won the Queen's Plate before running a good third in the J&B Met, looked a formidable opponent, and the two fillies started joint favourites at 2/1 in a field of sixteen.
Wainui made an attempt to lead all the way, with Olympic Duel a few lengths back in fifth. Matters were brought to a head at the 300m mark where the two joined battle, leaving the rest of the field behind. After a brief struggle Olympic Duel pulled away to win comfortably by almost two lengths from Wainui, with Danseuse Classique over 4 lengths back in third.
The roles were reversed just over 2 months later, when both fillies met again in Natal, in the Poinsettia Stakes at Greyville, where the distance of 1200m was very much in Wainui's favour. As things went, Olympic Duel ran really well, not more than 3 lengths behind Wainui in third. After this the Gr1 Natal Fillies Guineas over a mile at Scottsville looked a formality. Starting at 5/10, and always well up with the pace in a fast run race, Olympic Duel ran on nicely to win by over 2 lengths from Dancer's Choice and St Just.
Three weeks later it was Olympic duel's first opportunity to try a bit more ground, in the Gr1 Daily News over 2000m at Greyville. After her run in the Guineas she'd become (perhaps somewhat optimistically) an early favourite for the Rothmans July, but her stamina was as yet unproven – 1800m was as far as she'd gone.
The betting for the Daily News was 5/10 Olympic Duel, 6/1 St Just and 14/1 bar. Olympic Duel had shown in the Guineas that she wasn't averse to racing handy, and with obvious advantages attached to such tactics, that was again how she raced in the Daily News.
The pace was a good one, but not as fast as the Guineas. Olympic Duel found herself in front with 200m to go and appeared to have her race won. Our reading of the race at that point was that jockey and horse slackened their concentration, which gave St Just and Spanish Galliard on the outside, and Stamp Of Approval on the inside, renewed hope.
When St Just came alongside Olympic duel, the filly had to be asked for a second effort, and although she responded well, St Just had her head in front where it mattered. The Millard stable afterwards conceded that Olympic duel may not have been 100% for the race, which is quite possible as she ran about five pounds below her best form. Even so, this was one race she shouldn't have lost.
After her run in the Daily News, and given that she drew 19 out of 20 for the Rothmans July, it came as no surprise that Olympic Duel lost her position at the top of the betting boards in the weeks leading up to the July. But she ran the race of her life. Again handy throughout, she made her run up the inside and quickened as well as winner Illustrador did. Nothing else had a chance, and hadn't it been for Illustrador, Olympic Duel would have run out the winner by two lengths from Jungle Warrior and Respectable.
When the weights were published for the Gr1 Mainstay 1800, to be run 3 weeks later over 1800m at Clairwood, Olympic Duel was 2 kilos better off with Illustrador for a length beating in the July. But she was a kilo worse off with Jungle Warrior, although the slightly shorter distance gave some respite in the form of a reduced WFA-disadvantage for the three-year-olds.
Looking a picture on the day, and with a flood of money coming for her, Olympic Duel started an 18/10 favourite for the race, with Face North at 28/10, Illustrador 11/2 and Jungle Warrior 6/1. As was by now predictable, Olympic Duel raced handy. Face North, who'd led, skipped clear coming into the straight, and 400m from home was a good few lengths ahead of Olympic Duel and Rip Curl.
The latter came to within half a length of Face North, but 300m from home it was clear that Olympic Duel lacked her former zest. She'd lost her near-fore shoe during the race, but even so ran some eight pounds below her Rothmans July form. She was apparently not well after the race, and her Mainstay run is probably best over looked. It certainly wasn't a fitting end to a fantastic season for the filly, who'd earned over half a million in span of six months, including four Gr1 races.
Probably the best daughter to date in South Africa of Dancing Champ, Olympic Duel is the sixth foal of her dam Mashka, of whose previous produce only Olympic Duel's full brother Castleton was above average. Mashka is an unraced half-sister to useful winners Marico, Martella and Ashtontown, as well as to Strike Two, a daughter of Drum Beat and the dam of Counter Stroke and First Base, both topnotch sprinters.
The second dam Maricopa was an imported mare bred for at least 2000m, whose main claim to fame on the track was a fourth place in a 1400m Nursery handicap at 2 in the UK. Timeform rated her 81. Maricopa was out of Chione, a half-sister to multiple British classic winner Meld (dam of Derby winner Charlottown and successful NZ sire Mellay).
It is to be hoped that Olympic Duel, who is a big, balanced filly, will remain in training. Not that she will have things all her way, with the likes of Roland's Song reportedly also around for another year. But with the male opposition (at least over a measure of ground) unexciting as things stand now, her courage and gameness should provide her with good opportunity in major races from a mile upwards.
Olympic Duel still gets a little worked up before her races and usually loads last into the stalls, but she now tends to go in without any help from handlers. She's an undoubted credit to the expertise and patience of her trainer. (Millard) (Rated 111 at 3).
‹ Previous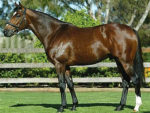 Leading Sires of 2015