Mike Azzie's impressive Listed Sea Cottage Stakes winner Abashiri looks likely to give Saturday's Gr1 Investec Cape Derby a miss and rather target the 2016 Sascoc Triple Crown in his hometown. A galloper described as his trainer's best since the champion National Currency, he gave his connections plenty of thrills and his supporters some nervous moments up the home straight at Turffontein on Saturday.
Abashiri was one of a trio of joint top-rated 3yo's to line up for the prestigious Cape classic this coming Saturday, but with the delayed running of the Sea Cottage Stakes, the Azzman has had a rethink – and feels it is best to avoid a Cape trip this week. And Abashiri's 16 draw no doubt played a part in the decision.
Abashiri went off at 7-10 and was coming in fresh off his Dingaans third placing to Noah From Goa.
He was one of a few to play silly games in the stalls and Zechner found himself much further back than he would have wanted early on.
Despite being way out of his ground coming into the home run, and looking to have a mountain to climb, the gelding quickened impressively – only to drift right across the track in the closing stages.
It was a move that could have cost him in a tighter fought contest, and Azzie will have to sort these quirks out ahead of the tougher races that lie ahead.
But in the end it worked out swimmingly and Abashiri won rather easier than the 2,50 lengths margin may suggest. He clocked 110,75 secs and beat Romany Prince, with Rocketball having every chance, a futher  0,75 lengths  back in third.
Karl Zechner is riding at the top of his game and showed maturity as he didn't panic when the red hot fancy was slow out of the stalls.
"I haven't ridden a horse like this before," said Zechner – we can interpret that the way we choose!
Mike Azzie bemoaned the lack of suitable races to facilitate the preparation of a decent 3yo rated 109.
"This is a very good horse – I'd say his my best since National Currency. I don't think we will go the Cape Derby route. He is badly drawn and the race is 7 days away," he said.
Abashiri was bred by Lammerskraal Stud and is a son of Go Deputy out of the seven time winning Elliodor mare, Donya, who won from 1200m to a mile.
Abashiri cost R400 000 on the National Yearling Sale and with his second win and 2 places from 4 starts took his earnings to R252 520.
On a Facebook post, owner Adriaan Van Vuuren was full of praise for all involved.
My wife Rika van Vuuren, my kids and then my horse – Abashiri, jou 'Biscuit'.
You are my one of a kind. Special thanks for all.the love and support from my family and special friends and for the person who found and trained our 'Abba' – Michael Azzie, together with Adam and Ryan Azzie, supported the Azzie Dream Team at the Stables.
To Lammerskraal for breeding our Champ and Bloodstock SA and of course the TBA. Top.class – the TBA bonus scheme and incentive progranme paid dividends and they offer perfect top quality horses at the right price. Do not overpay on any other local Sales.
Locally TBA is top class – visit them on www.tba.co.za and DO NOT miss their Sale in Cape Town coming up on 14th Feb 2016.
They know how to look after their loyal and supporting customers by covering all charges for getting the entire selection party on-site and happy!
My kind of people!
Top horses like Deputy Jud and Abashiri were value for money coming from this sale. Please.contact me on my Inbox for detailed reasons for making this your Sales Organization of Choice and not others (Paid the school.fees and kept book of each engagement). Same apply.for insurance cover !


‹ Previous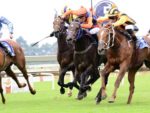 Mambo Nicks The Swallow