Earlier this year, my new year's wish to everyone was Roald Dahl's wonderful admonishment to "Watch with glittering eyes the whole world around you because the greatest secrets are always hidden in the most unlikely places. Those who don't believe in magic will never find it."
I had a dose of my own medicine last week with a 3-day extravaganza of all my favourite things all in one place and with CTS firmly in the driving seat and their foot planted flat on the accelerator, it was pulse racing, adrenaline pumping stuff.
CTS Cape Premier Yearling Sale
The CTS Cape Premier Yearling Sale set the scene with its glam inner city setting. I persuaded some racing newbies to come along and take a look around and they came home full of wonder at the beautiful horses, the exciting atmosphere and the crazy prices. I just have to make a quick mention of Ann Dalton and her team, who make sure that the yard runs like clockwork. The catalogue goes from strength to strength and congratulations are due to the selection panel as well as to the breeders for producing their yearlings to perfection – no mean feat so early in the year. The reputation of the sale and its graduates as well as the famous hospitality of the organisers have ensured that the sale has grown in prominence on the international racing calendar and the results prove that visitors aren't here simply out of curiosity, with the China Horse Club in particular, an eye-catching new addition to the buyer's list. And of course we were treated to the record-busting sales results that we have come to expect from one of the most explosive sales on the national calendar.
'Sales week' is also 'Met gallops week'. It also falls during the run up to the Dubai World Cup Carnival. With so much going on, plus the new-look racing programme with the Cape Derby, Majorca Stakes and South Africa's first Million Dollar race forming the brand new Investec Day of Dreams, CTS have turned a racing week into a racing spectacle par excellence and, if I may be so bold, a marketing exercise of the highest order. The carnival atmosphere started building with the arrival of the yearlings on Monday and saw its first spike among the little knot gathered at the Tellytrack stand on Thursday night when Harry's Son ran a very exciting second for Paul Lafferty on his Dubai Debut and of course, Sanshaawes' win for Mike de Kock in the District One Trophy Handicap.
The sale always produces its share of fireworks and duly delivered with two brand new SA sale records when Markus Jooste procured an early birthday present in the form of a R6 million Silvano colt from Drakenstein Stud and Tina Rau and Coolmore, went to R5,25 million for Klawervlei's Captain Al filly out of Secret Of Victoria. Visiting auctioneer Grant Burns brought down the gavel down on both lots and I'm sure he'll be back again very soon. Day two was equally pulse-racing with several more hefty price tags before the last page of the catalogue was turned and the gavel fell for the last time.
Dream Big

The last of the yearlings were still leaving the CTICC as the CTS team put the finishing touches to the brand new Investec Day of Dreams. I'll confess I had my reservations. I was not chuffed to have the Derby and Majorca rescheduled and I am not a fan of restricted races, particularly when the prize money for a non-black type race eclipses one of our most important Gr1 races 8 times over. However, I was about to be handed a big fat surprise as I loved the day from start to finish.
It was a perfect summer's day and everyone who came to town for the Premier Sale simply changed venue and congregated at Rosmead Avenue on Saturday afternoon. The car park was full and the course was buzzing. Investec were rumoured to have big plans for the day and they delivered. The crowds turned up and the Investec black and white theme worked exceptionally well. There was a fabulously elegant marquee and equally fabulously elegant VIP guests, but no matter where you were racing from, everyone got into the spirit of the day and there were suits, frocks and fascinators aplenty. Sadly what there wasn't, were name cloths for the Gr1 runners.
Good things come in threes
Every race day has its share of stories, but the three features were my favourites. The Derby line-up was strong and it is always my eternal sorrow that only one can win. While every runner would have made a deserving winner, there was more than a touch of racing karma when Piere Strydom took the honours on the appropriately named It's My Turn. Having lost the ride on Black Arthur, Piere was booked on Prince Of Wales. When Prince Of Wales scratched, he then jumped onto It's My Turn, who Justin joked was entered last minute and only because owner Fred Crabbia was coming for the day. Joke or no joke, It's My Turn put a decisive 2 lengths between himself and the second placed Brazuca, which just goes to show that the racing gods love a good story as much as the scribes. Judging by the enthusiastic shouts of "STRIKER" from the fans lining the rails, it's clear the blonde bomber is still a big crowd pleaser.
The second great story of the day is that of the Majorca Stakes and again the real magic was out on the track, with the first three past the post all sporting the Drakenstein Stud blue and white and the winning filly has a particularly fun story. After Mrs Rupert purchased Inara's dam, Mountains Of Mist, she was approached by the vendor who explained that the mare was a difficult breeder. Mrs Rupert gamely took her chances anyway. Mountains Of Mist found the South African climate much more to her liking and mated to Drakenstein resident Trippi, produced the wonderful Inara. Another pleasing bit of symmetry is that Inara gave young jockey Grant van Niekerk his first and second Gr1 wins (in last year's Paddock and Majorca Stakes) and of course made it a Majorca double with her win on Saturday. As if there wasn't already enough to like, Inara is conditioned by Cape favourite Mike Bass, who was on hand to receive his trophy and looking particularly well after his recent health scare. Neil Andrews deserves special mention for conducting the post race interview kneeling down – nice touch.
Tense wait
With 40 minutes between the Derby and Majorca, the hour to the Million Dollar felt interminable and nerves must have been fraying all over the course – not least of all in the Stipes boardroom! Again, there were so many star horses, jockeys and trainers that it was hard to pick a favourite. However, the diminutive figure of Glen Puller, accompanying his charge down the chute, caught the eye.
Racing's rich tapestry
The Illuminator story is one of those wonderful racing tales that you couldn't make up if you tried. Since taking out his license in October 1989, Glen has always had a small string of horses and his ability to produce good results off a limited budget has earned him a small, but die-hard support base. This includes Francis Carruthers and Ian Robinson, who can often be seen helping out at the yard. Ian relates there is a good core of owners who usually buy horses together, although Illuminator is an anomaly. "We bought 8 or 9 horses on the CTS March sale in 2014. Francis wanted a Trippi, but the one we pulled out had slack pasterns and Glen said it was no good. As it happened, this guy was in the box next door, so we pulled him out. He was very immature and Glen said we won't see him run till August 2015, but he's a nice horse, so let's see what we can get it for. In the end he went for R180k and I took 20% and Francis kept 80%."
Glen's prediction was spot on and Illuminator debuted on 1 September 2015 winning by a comfortable 1.25 lengths over Arctic Blast with apprentice Heavelon van der Hoven in the saddle. With two wins on the trot, Illuminator was starting to look like a serious Million Dollar prospect and Ian confides they turned down an eye-watering offer for him shortly before the Selangor. "Normally that sort of thing is the kiss of death, but we were very confident. The worst part is that he ran well in the Selangor, but was a bit disappointing in the Guineas and Andrew Fortune said we should geld him. We um'd and ah'd, but Glen insisted that we don't."
D Day
Nerves were running high into the big race and with what was a contentious final selection by some, Glen Puller was the only 'small' yard to make the final 16. Weichong Marwing was booked for the big ride, but cancelled on Million Dollar morning, leaving the door open for apprentice Heavelon van der Hoven. Ian continues, "Heavy does a lot of work at the stable for us. He won twice on this horse and was most frustrated how he was ridden in his other three runs. On Saturday I got a phone call at the stables to say that Weichong wasn't riding and that's when Heavy said 'gee whiz, won't you give me the ride?' I phoned Glen and he said he was happy, but what about Francis? I said 'leave him to me.' Francis was on the beach and didn't take his cell phone, so we couldn't get hold of him, and I was standing there thinking 'now what are we going to do?' In the end I said, 'Glen, if you're happy, I'm happy and I'll fight with Francis!' When he phoned back later and I told Francis the news, there was just silence and I thought 'Oh no!' but he was very supportive. There was the obvious concern that Heavy's a youngster and that there would be no quarter given, but we believed in the youngster and the horse and that's how we went into it. Even in the ring, at no stage did Heavy show any nerves at all and I think that made a big difference."
In the event, most eyes were on Mike Bass's filly, Silver Mountain. However Heavelon rode his own race, choosing to go down the outside, seemingly coming out of nowhere to win by three quarters of a length. The fact that everyone, including the assembled photographers were focussing on the inside rail resulted in a series of fantastic photos of Aldo Domeyer and MJ Byleveld looking across incredulously at the winner.
Overwhelming support
Kenilworth erupted and even the connections have been staggered by the response. Glen reported that he's had to take a break from the yard just to return all the messages. Similarly Ian says he had 23 messages before he even left the podium and says the well wishes and congratulations have been overwhelming. "My wife Judy was saying to me on Saturday night, she just cannot get over the support. To me that's 75% of the enjoyment. The R1.5 million is the other 25%!"
With the sales company directors owning half the field, more cynical folk may be forgiven for thinking uncharitable thoughts. However, if anyone thinks that racing is rigged, there can be no more emphatic proof that it cannot be the case than Saturday's result. If ever there was a day – certainly on the South African calendar at any rate – specifically designed to be about the money, then Saturday has got to have been it. And yet, in its magical way, racing prevailed and delivered a fairy tale – the little owners, from the little yard with the little horse and the little jockey won. It's the sort of story that sells books and movie tickets and, more importantly, the sort of story that sells dreams. If CTS wanted an absolute fool proof marketing strategy for their next big sale, they couldn't have written the script any better if they tried. Investec and CTS are to be roundly congratulated on a fantastic day, a fantastic result and something which delivered a Day of Dreams in every sense of the word.
‹ Previous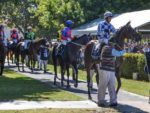 Heavy's Big Payday