Bloodstock South Africa hosts a top-class catalogue for the second Val De Vie Yearling Sale which will be held at the international award-winning estate situated just outside of Paarl on Sunday 14 February at 14h30.
The exquisite Val De Vie provides a fitting background for the glamour and elegance traditionally associated with the Sport Of Kings and if you have ever been in love, you will know that it is also Valentine's Day!
Many of the Cape's top breeders have entered yearlings for this sale which looks set to offer something for everyone, with some of the country's top stallions being represented, as well as promising younger sires.
The select session (or green pages of bygone days) are back after proving a great success last year.
The vendors pay a premium for the privilege of a berth on these hallowed pages and put their good reputations on the line.
We weren't disappointed last year – and they look to provide an exciting start again this time round.
Lots 1-11 are the chosen few and the quality and mix of sires, which includes the likes of established starmakers Trippi, Captain Al and Var, as well as Met winner Ideal World (check lot 10!), is bound to have the seats packed well in advance of the first call by Graeme Hawkins and Andrew Miller.
At an average speed of 28 lots per hour, the balance of lots 12 to 118 will leave plenty of time for a candlelit dinner and the celebration of the purchase of your dream.
Click here to view the 2016 Val De Vie Yearling Sale Buyer's Guide
‹ Previous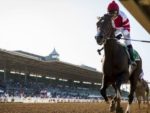 Valor On Song