Some rules are for bending and others not. Apprentice Lyle Hewitson, who had his first professional ride at Scottsville on Sunday, has experienced that reality with the news that he will not be allowed to meet his two riding engagements in KZN on Wednesday as a result of a change of venue.
Gold Circle moved the Scottsville meeting to the Greyville polytrack after continuous rain in the region and as all races are run around the turn at the city track, Lyle is subject to the qualifying ride rules which limit the new apprentice to mounts up the straight.
Hewitson, who only joined the Academy in January after matriculating at Kearsney College, was last season's champion workrider and had 88 rides for 23 winners, including a four-timer in February last year. His strike rate was over 26%
Ironically, he managed to get the National Horseracing Authority of SA to bend a rule that states that no apprentice may ride in a race within a six month period of arriving at the Academy and had his first ride on 6 March.
So why on earth would they not apply similar flexibility by allowing him ride at Greyville? Particularly as he has already ridden winners around the turn!
Now let's just hope the NRB get to spell his name correctly in the official card changes.
‹ Previous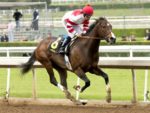 America's Sweetheart