Both Abashiri and Heaps Of Fun have accepted to run in the R2-million SA Classic and R1-million Wilgerbosdrift SA Fillies Classic respectively over 1800m at Turffontein on Saturday 2 April.
In doing so Abashiri, winner of the Betting World Gauteng Guineas, will continue in his endeavour to win the R2-million SA Triple Crown while Heaps Of Fun, the Wilgerbosdrift Gauteng Fillies Guineas champion, is being aimed at the R1-million Wilgerbosdrift Triple Tiara for fillies.
Abashiri will come up against many of the same runners he beat with ease in the Guineas and from a No 4 barrier position many pundits will expect him to dish up much the same sort of fare to his opposition in this event. Karl Zechner takes the ride once again.
Anton Marcus has stayed with Brazuca who failed to overcome a wide draw in the Guineas and could only manage fourth place. This time he is drawn at No 9 which, over 1800m, is not that much of a disaster.
Stable companion New Predator did not accept to run in the Classic but is an early declaration for the R1-million HF Oppenheimer Horse Chestnut on the same day where he will come up against Captain America.
Champagne Haze, who finished a 2.50-length second to Abashiri in the Guineas is well drawn at No 1 and will have champion jockey Gavin Lerena, who will return from Hong Kong to ride at the meeting, in the irons.
One runner who can be expected to improve on his average run in the Guineas is Sean Tarry-trained Liege. He bounced back to form with a facile win at Turffontein last week and should run a lot closer to Abashiri on this occasion.
Heaps Of Fun was aided by a superb ride from S'manga Khumalo to win the Fillies Guineas. She beat Negroamaro, who will be ridden by Marcus again, by just under a length and it should be an interesting tussle between the pair again.
However, KwaZulu-Natal visitor Princess Varunya might have failed in the Guineas but trainer Kom Naidoo said prior to that race the Classic and Oaks were her main mission. She has stayed on the Highveld and will have fully acclimatised, so with Anthony Delpech in the irons and No 2 draw she cannot be ignored.
Frosty Friday ran a 1.70-length third in the Guineas off a wide draw. Sadly for the connections she is drawn No 13 for this race but over this distance Muzi Yeni should be able to get her well positioned.
Lerena will be aboard She's A Dragon who finished a 3.70-length fourth in the Fillies Guineas.
The final fields for the balance of the races on Classic Day will be announced on Tuesday.
 Final field for the R2-million SA Classic (Grade 1) over 1800m at Turffontein on Saturday 2 April.
1 – 4 ABASHIRI (M G Azzie) K Zechner 60.0 – 111
2 – 9 BRAZUCA (J A Janse van Vuuren) A Marcus 60.0 – 109
3 – 1 CHAMPAGNE HAZE (G M Alexander) G Lerena 60.0 – 106
4 – 14 ROCKETBALL (G H Van Zyl) M Yeni 60.0 – 103
5 – 12 SUYOOF (M F De Kock) S Brown 60.0 – 103
6 – 8 MUWAARY (M F De Kock) C Murray 60.0 – 102
7 – 5 ROMANY PRINCE (O A Ferraris) A Delpech 60.0 – 102
8 – 7 MALAK EL MOOLOOK (S G Tarry) …………… 60.0 – 101
9 – 2 LE CLOS (M G Azzie) C Zackey 60.0 – 97
10 – 13 TRADING PROFIT (M G Azzie) B Fayd'Herbe 60.0 – 96
11 – 11 LUNAR APPROACH (S G Tarry) S Khumalo 60.0 – 95
12 – 6 LIEGE (S G Tarry) J P v'd Merwe 60.0 – 93
13 – 10 VAL ET AL (G V Woodruff) C Maujean 60.0 – 90
14 – 3 SAMURAI BLADE (S G Tarry) …………… 60.0 – 88
Same Trainer: (1,9,10) (5,6) (8,11,12,14)
Final field for the R1-million Wilgerbosdrift SA Fillies Classic (Grade 1) over 1800m at Turffontein on Saturday 2 April.
1 – 10 HEAPS OF FUN (S G Tarry) S Khumalo 60.0 – 104
2 – 3 NEGROAMARO (J A Janse van Vuuren) A Marcus 60.0 – 104
3 – 13 FROSTY FRIDAY (G H Van Zyl) M Yeni 60.0 – 101
4 – 5 SHE'S A DRAGON (C Mayhew) G Lerena 60.0 – 101
5 – 8 JUXTAPOSE (S M Ferreira) C Maujean 60.0 – 98
6 – 2 PRINCESS VARUNYA (K Naidoo) A Delpech 60.0 – 98
7 – 4 PERSIAN RUG (M F De Kock) B Lerena 60.0 – 94
8 – 7 NOOR (M F De Kock) C Zackey 60.0 – 92
9 – 1 WITCHCRAFT (S G Tarry) J P v'd Merwe 60.0 – 88
10 – 9 ALEXA (G V Woodruff) R Danielson 60.0 – 87
11 – 11 MELLIFLORA (M G Azzie) K Zechner 60.0 – 86
12 – 6 CHRISTMAS CAROL (G V Woodruff) B Fayd'Herbe 60.0 – 83
13 – 12 POLYPHONIC (A G Laird) C Murray 60.0 – 82
Same Trainer: (1,9) (7,8) (10,12)
‹ Previous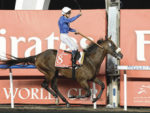 History of the Dubai World Cup