The National Horseracing Authority confirms that an Inquiry was held at its regional office at Greyville Racecourse, Durban, on 22 March 2016.
Apprentice Jockey C J Habib was charged with a contravention of Rules 77.1.1 read in conjunction with 77.2.9, in that a urine sample taken from him at the Greyville Racecourse on 27 January 2016, disclosed upon analysis the presence of Oxazepam and Temazepam which are banned substances in terms of the Rules of The National Horseracing Authority of Southern Africa.
Apprentice Habib pleaded guilty to the charge.  The Inquiry Board accepted his plea and found him guilty as charged.
After considering all the evidence the Inquiry Board imposed a suspension from riding in races for a period of 30 days, of which 15 days are suspended for a period of 2 years on condition that he is not found guilty of a contravention of Rule 77.1.1 that during that period.
Mr Habib has the right of appeal against the penalty imposed.
‹ Previous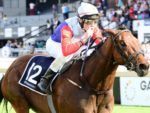 DWC's Golden Honour Roll