The J&B Met winner Smart Call flew to Mauritius on Sunday on the first leg of her journey to America, where she will attempt to emulate her paternal grandmother Banks Hill by winning the Breeders Cup Filly and Mare Turf.
The Mauritzfontein Stud-owned and bred Smart Call is currently rated the joint sixth best thoroughbred racehorse in the world after winning the Met with contemptuous ease.
The win was another feather in the cap for Bloodstock agent Alistair Brown, who sourced Smart Call's superbly bred sire Ideal World on behalf of Mauritzfontein.
Ideal World is grabbing more and more attention due to the class of his first couple of crops.
Brown is quite a low profile racing industryman, considering he has been responsible for the import of champion sires Al Mufti and Fort Wood and also such well performed stallions as Strike Smartly and Goldkeeper, Gr 1-Cape Guineas producing sire Sail From Seattle and latterly Noble Tune, who has attracted many Cape mares to the KZN Midlands due to his increasingly attractive pedigree.
Well known bloodstock agent Robin Bruss also had a lot to do with the existence of Smart Call.
Bruss was asked by Mauritzfontein Stud's late great Bridget Oppenheimer to find an overseas mare which she could send to her beloved champion Horse Chestnut due to the export protocols of the time making it difficult to send a South African mare.
Horse Chestnut was standing in Kentucky in the USA after his glittering career was ended by injury early in the year 2000.
Bruss's search was in the long run to yield both a Vodacom Durban July winner and a J&B Met winner.
He found a mare at the Inglis Sale in Australia called Great Verdict and bought her in foal to Zabeel for Aus$370,000, at a time the exchange rate was only about 3 to 1.
Great Verdict was by an unfashionable stallion called Christmas Tree, but her dam Summoned had been very successful, producing the champion racehorse and sire Zeditave as well as four other stakes winners.
Bruss also liked the mating with Zabeel.
Great Verdict was in Kentucky two weeks after the sale, a far cry from the arduous journey Smart Call will have to undergo due to the current quarantine requirements placed on horses travelling from an African Horse Sickness endemic country.
The Zabeel foal Great Verdict gave birth to in the USA was none other than Grey's Inn, who won the Vodacom Durban July for Oppenheimer in 2004, conditioned by Horse Chestnut's trainer Mike de Kock.
Great Verdict produced three foals by Horse Chestnut and the oldest of them, Good Judgement, was shipped to South Africa to stand at Mauritzfontein Stud before she had ever raced.
Good Judgement's fifth foal to race was Smart Call.
It was somewhat ironic that Smart Call upset Legal Eagle in the Met as the latter is by her close relative Greys Inn, who has become a top class sire.
However, Ideal World is the sire on everybody's lips.
Brown could not have found a more suitable replacement for Fort Wood, who in no uncertain terms ended the bleakest spell in Mauritzfontein's glittering history.
Fort Wood, who was the sire of Horse Chestnut, was by one of the most influential stallions in thoroughbred history, Sadler's Wells, and his dam Fall Aspen was one of world's best broodmares.
Among Fall Aspen's eight Graded stakes winners was the US Champion two-year-old colt Timber Country, who went on to win the Preakness; Hamas and Fort Wood, who both won Gr1's in Europe and became sires; Northern Aspen, a Gr 1 winner in the USA; and the Gr 2 winner Colorado Dancer, who became dam of Dubai Millennium, the eighth highest Timeform rated horse in history.
Ideal World is by Kingmambo, a champion three-year-old in France, who became one of the world's leading sires. Kingmambo was superbly-bred being by one of history's most influential stallions, Mr Prospector, out of Hall Of Fame mare Miesque.
Ideal World's dam Banks Hill was by the most successful stakes producing stallion in thoroughbred history, Danehill. She was out of Hasili, who became the first Northern Hemisphere-bred dam in history to produce five Gr 1 winners. Among the latter was Dansili, who sired Prix de l'Arc de Triomphe winner Rail Link.
Banks Hill was a three-time Gr 1-winner herself and was named European Champion filly and American Champion Female Turf Horse in 2001. Among her Gr1 wins was a 5,5 length victory over the South African-bred Spook Express in the Breeders Cup Filly and Mare Turf.
Ideal World was touched off by a nose in the Gr2 Prix Niel over a mile-and-a-half by Vision D'Etat and the latter ended his career as a four-time Gr 1-winner.
South Africa are indeed fortunate to have such a blue-blooded stallion standing out here and the dividends are already being reaped.
Some of the other horses on the flight to Mauritius on Sunday included Noah From Goa, Nassa, Same Jurisdiction and Madame Dubois.
www.goldcircle.co.za
‹ Previous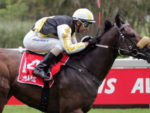 Touring In Style