The Gr1 feature at Turffontein today carries the name of legendary owner and breeder Laurie Jaffee, who passed away in 2008 at the age of 85. He probably contributed more to racing than anyone else over his close on a half century of involvement in the game.
Granted his colours in 1959, Jaffee quickly made his mark and one of his early successes was his Summer Handicap winner, King's Guard.
Jaffee held numerous top positions in the industry. He was a former head executive steward of the Jockey Club, a past chairman of the Johannesburg Turf Club and Transvaal Racing Club, and life vice-president of both.
He owned – or had shares in – numerous top horses including Durban July winner Ilustrador, Bush Telegraph, the stallion Jallad and champion filly Empress Club.
London News, winner of the 1996 Durban July, gave Jaffee perhaps his most memorable day in racing when the horse powered to a ground-breaking win in the QEII Stakes in Hong Kong in 1997.
Saturday's feature carries Jaffee's name with his champion Empress Club, a South African Horse of the Year.
The daughter of Farnesio died suddenly in December 2004 at Gainesway Farm near Lexington. She was in foal to Gainesway stallion Orientate.
Empress Club, known as the 'galloping goldmine' was bred in Argentina and imported as a yearling by Jaffee to South Africa.
She won 15 of 20 races, including eightGr1's and was a five-time South African champion.
Following her arrival in the USA, she won the 1994 Gr3 Hillsborough Handicap at Bay Meadows.
Empress Club retired to Gainesway, then operated by Jaffee's' friend Graham Beck, with a record of 16 wins from 26 starts and earnings of $1,155,235.
Her first foal was a Lyphard colt named Azouz Pasha, an English stakes winner.
Empress Club's other two winners were also Northern Hemisphere winners.
‹ Previous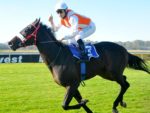 Aldo's Got The Oomph!