While South Africa's own national currency may have hit all-time lows in recent months, the brightly ascending star of Mike Azzie's sensational Go Deputy gelding Abashiri continues to soar.
The Lammerskraal-bred took his next step to joining the illustrious lights of Horse Chestnut and Louis The King as our likely third Triple Crown winner with a stunning showing at Turffontein on Saturday.
But let's not get ahead of ourselves. This outstanding 3yo's trainer Mike Azzie has done that often enough to his own detriment and we all know how this game tames lions.
The Azzman mentioned his charge in the early days already as a galloper of the same ilk as his ill-fated sprint champion National Currency.
And if we didn't believe him previously, Abashiri is quickly convincing us as his veteran trainer has allowed him to do his own talking – on the track.
His win in the second leg of the SASCOC Triple Crown on Saturday was pure clinical demolition. But then again, so was his win in the first leg at the end of February.
Taking off with 400m to run in the R2 million Gr1 SA Classic, the odds-on Abashiri simply toyed with his opposition to give regular pilot Karl Zechner and passionate owners Adriaan and Rika Van Vuuren, who boosted the on-course attendance with their own supporter's party, a memorable first Gr1 winner.
And let's not forget South Africa's most vocal and public spirited jockey agent, Desmond Zacpack Zackey!
The SA Classic form looks strong too, on a line through Brazuca.
Abashiri beat the Cape Guineas and Investec Cape Derby runner-up by a hefty 3,75 lengths in a  time of 108,94 secs.
Fair enough the MR 88 rated Tarry charge Samurai Blade ran third – but something had to, and Abashiri could have doubled the escape margin if pushed by Zechner – and ''Aba', as is his wont, lost his customary ground by showboating towards the outside rail in front of the grandstand in the latter stages.
The merit of the win was outlined by an emotional Mike Azzie who told of a bad injury suffered by Abashiri three weeks prior to the race.
He had expected his charge not to make it to the course for the Classic and also admitted that his family deserved credit for putting up with him – 'I have been an impossible person to be around these past three weeks'.
"Adriaan (Van Vuuren) nearly wanted to bite my head off and asked how these things happen. But we tubbed and poulticed him and went back to the drawing board. He was a fit horse and they don't lose that. So we gave him eight day's box rest which only left him ten day's work into the race.It worked out well," he said with obvious relief.
Azzie said that the last time he had seen a horse draw away from his field like Abashiri had done was Horse Chestnut. "But I am not saying that he is that good – yet! He has plenty to prove still," he said in a rare show  of caution.
Abashiri was bred by Lammerskraal Stud and is a son of Go Deputy out of the seven time winning Elliodor mare, Donya, who won from 1200m to a mile.
Abashiri cost R400 000 on the National Yearling Sale and with his fifth  win and 2 places from just 7 starts took his earnings to R2 190 000.
Now he has to go 650m further in three weeks' time in the SA Derby on Champions Day.
That shouldn't stop him.
Clyde Basel may just as well write out that R2 million bonus cheque so long.
_________
Gr1 SA Classic  (SAf-Gr1)
Turffontein, South Africa, April 2, R2 million, 1800m, turf, good, 1.48.94
1 – ABASHIRI (SAF), 60.0, b g 3, Go Deputy (USA) – Donya (SAF) by Elliodor (FR). Owner Mr A & Mrs F J Van Vuuren; Breeder Lammerskraal Stud; trainer MG Azzie; jockey K Zechner
2 – Brazuca (AUS), 60.0, ch c 3, Teofilo (IRE) – Base Paradise (AUS) by Choisir (AUS)
3 – Samurai Blade (AUS), 60.0, br c 3, Where's That Tiger (USA) – Shao Shao (AUS) by Shinko Forest (IRE)
Margins: 3.75, 0.75, 1.40


‹ Previous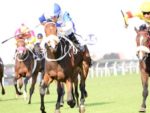 Varsfontein Filly On Fire