The BHA was on Wednesday night under pressure to give a full account of the mistakes that led to the mishandling of the Jim Best inquiry as it emerged a rehearing of the case may not be able to take place before September.
Best's solicitor Harry Stewart-Moore said it was time the regulator explained to the sport how things went so badly wrong that an appeal board had to order an unprecedented second inquiry and quash findings of guilt against the Lewes trainer over an appearance of bias and insufficiency of reasons.
And Rory Mac Neice, the PJA lawyer who raised concerns that the BHA was a client of Matthew Lohn 12 months before he was chosen to chair the Best inquiry, said an explanation should be an absolute priority to repair the reputational damage the affair has wrought on the disciplinary function.
At the Best appeal the BHA issued three unreserved apologies to the Lewes trainer and agreed to pay legal costs likely to be in the region of £50,000 after failing to disclose that Lohn carried out other work, for which he was paid £55,000, when he also chaired the disciplinary hearing at which Best was convicted on non-trier charges.
The BHA had promised to be "fully open and transparent about the wider matters that have arisen" once the case was over and yesterday indicated it was sticking to that line on legal advice until after the rehearing in order not to risk prejudicing the case.
Stewart-Moore said: "One of the main points of Tuesday's hearing was for the BHA to put all of its cards on the table as regards its integrity department's woeful treatment of Jim Best. For the BHA to now say that concerns regarding Mr Best's position at the rehearing is preventing it from explaining to the industry how this terrible mess has been allowed to come about is therefore not only rather rich but entirely illogical.
"According to the BHA we have already been told all the facts that affect Mr Best's case. It would therefore be hard to consider a continuation of this erroneous line of logic as anything other than a cynical attempt by the BHA to buy more time for certain individuals at the BHA whose positions would currently appear untenable.
"We do not see how the BHA can properly exercise its integrity function until a full and frank explanation of the Best debacle is provided."
www.racingpost.com
‹ Previous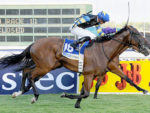 First Time Sale On 10 June