Gr1 SA Derby runner-up Rocketball was amongst three supplementary entries received at first declaration stage for the R4,25 million Gr1 Vodacom Durban July at 14h15 on Monday 9 May.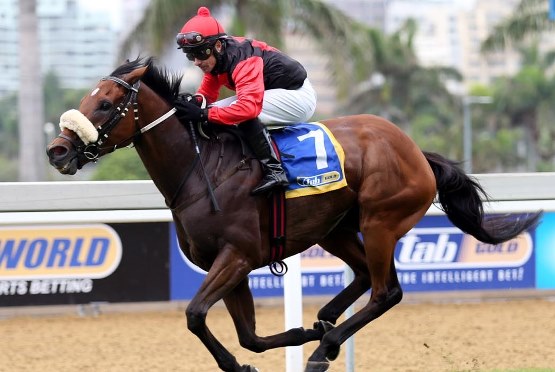 The Dean Kannemeyer trained It Is Written and Justin Snaith's fast improving Brooklyn Brawler are the other two.
Thirteen horses have been scratched.
We are informed that the next big race log will be published on 30 May.
0
Legal Eagle
(4G)
0
120
AT
Sean Tarry
0
Abashiri
(3G)
0
117
A
Mike Azzie
0
French Navy
(4G)
0
115
A
Sean Tarry
0
Brazuca (AUS)
(3C)
0
111
AT
Johan Janse van Vuuren
0
Inara
(4F)
0
111
A
Mike Bass
0
New Predator (AUS)
(3C)
0
110
A
Johan Janse van Vuuren
0
Paterfamilias
(6G)
0
110
BA
Mike Bass
0
Unparalleled

Scratched

(4G)
0
110
A
Johan Janse van Vuuren
0
Master Sabina
(6G)
0
108
AT
Geoff Woodruff
0
Samurai Blade (AUS)
(3C)
0
108
AT
Sean Tarry
0
Stonehenge
(4C)
0
108
AT
Sean Tarry
0
Bela-Bela
(3F)
0
107
A
Justin Snaith
0
Gold Onyx (NZ)
(8G)
0
107
AT
Sean Tarry
0
Mac De Lago (AUS)
(4G)
0
107
AT
Weiho Marwing
0
Olma
(4F)
0
107
AT
Frank Robinson
0
Punta Arenas
(7G)
0
107
CA
Dennis Drier
0
Silver Mountain
(3F)
0
107
A
Mike Bass
0
Black Arthur
(3C)
0
106
A
Justin Snaith
0
Deo Juvente
(4G)
0
106
A
Geoff Woodruff
0
Rabada
(3C)
0
106
A
Mike Azzie
0
$Rocketball
(3G)
0
105
AT
Gavin van Zyl
0
Baritone

Scratched

(3C)
0
104
A
Justin Snaith
0
Prospect Strike
(3G)
0
104
AT
Sean Tarry
0
Exit Here

Scratched

(3C)
0
103
BA
Charles Laird
0
Master's Eye
(4G)
0
103
A
Justin Snaith
0
Solid Speed
(5G)
0
103
BA
Dean Kannemeyer
0
Halve The Deficit
(7G)
0
102
A
Sean Tarry
0
$It Is Written
(5G)
0
102
A
Dean Kannemeyer
0
Negroamaro
(3F)
0
102
A
Johan Janse van Vuuren
0
Romany Prince
(3G)
0
102
A
Ormond Ferraris
0
Disco Al
(6G)
0
101
A
Joey Ramsden
0
Dynastic Power
(5G)
0
101
A
Vaughan Marshall
0
It's My Turn
(3G)
0
101
A
Justin Snaith
0
Ten Gun Salute (AUS)
(3C)
0
101
AT
Duncan Howells
0
The Conglomerate (AUS)
(4G)
0
101
A
Joey Ramsden
0
Trophy Wife
(4F)
0
101
A
Sean Tarry
0
Afrikaburn

Scratched

(4G)
0
100
AT
Gavin van Zyl
0
Mambo Mime
(3C)
0
100
A
Dean Kannemeyer
0
St Tropez
(4G)
0
99
A
Joey Ramsden
0
Ultimate Dollar

Scratched

(4G)
0
99
A
Justin Snaith
0
Balance Sheet
(4G)
0
98
A
Dean Kannemeyer
0
Dynamic
(6G)
0
98
A
Justin Snaith
0
Master Switch
(4G)
0
98
AT
Geoff Woodruff
0
Sylvester The Cat
(3G)
0
98
A
Duncan Howells
0
Diesel Jet
(4C)
0
97
A
Erico Verdonese
0
Marinaresco
(3G)
0
97
BA
Mike Bass
0
Cape Speed
(3G)
0
96
A
Dean Kannemeyer
0
Celtic Captain
(3G)
0
96
BA
Gavin van Zyl
0
Trading Profit
(3G)
0
96
A
Mike Azzie
0
Deputy Jud
(4G)
0
95
A
Mike Azzie
0
Saratoga Dancer
(4G)
0
95
A
Duncan Howells
0
Deputy Ryder
(4F)
0
94
XA
Neil Bruss
0
Stormy Eclipse

Scratched

(4G)
0
94
AT
Charles Laird
0
Persian Rug

Scratched

(3F)
0
93
A
Mike de Kock
0
$Brooklyn Brawler
(3G)
0
92
A
Justin Snaith
0
Jubilee Line
(3G)
0
92
A
Mike de Kock
0
Nightingale
(3F)
0
92
A
Mike Bass
0
Silver Spring

Scratched

(7G)
0
92
A
Gavin van Zyl
0
Unbelievable Chad

Scratched

(3G)
0
92
AT
Paul Lafferty
0
Bankable Teddy
(3C)
0
89
BA
Brian Wiid
0
Ole Gunnar
(3C)
0
88
AT
Paul Lafferty
0
Rainy Day Blues
(4G)
0
87
AT
Joe Soma
0
Elusive Silva
(3C)
0
86
A
Justin Snaith
0
Night Shadow

Scratched

(4G)
0
86
A
Gavin van Zyl
0
Milla's World
(3C)
0
85
A
Sean Tarry
0
Fort Meyers

Scratched

(4C)
0
84
A
Sean Tarry
0
Kinaan (AUS)

Scratched

(3C)
0
84
A
Mike de Kock
0
Wargames

Scratched

(4G)
0
78
BAT
Johan Janse van Vuuren
(68)
Important Vodacom Durban July dates to diarise:
First Supp. Entries: Close 11:00 Tuesday, 10 May 2016
Second Declaration: Close 11:00 Monday, 30 May 2016
Final Supp. Entries: Close 11:00 Monday, 6 June 2016
Weights Published: Tuesday, 7 June 2016
Final Declaration: Close 11:00 Monday, 20 June 2016
Final Field and Draw: Announcement of the Final Field and Barrier Draws will take place on Tuesday, 21 June 2016
Public Gallops: 7am at Greyville Racecourse, Thursday, 23 June 2016