The new rules which impose further restrictions on the NHRA handicappers came into force recently. A consequence of these rules is that there will be an increasing number of horses whose official MR will differ from their true MR, suggests Peter de Beyer.
An obvious example is the Mike Bass-trained filly Nightingale, who ran a 0,50 length second to Bela-Bela in the KZN Fillies Guineas (MR 105), but can only go up 5 points to an official MR 92.
Those of us who can do our own handicapping have no problem dealing with this, and indeed may profit from punting opportunities from these anomalies.
What about the large mass of less sophisticated punters who rely on the official MRs as a guide to  exposed form when structuring their bets?
They are being misled by the official MRs and will inevitably be less successful in their betting endeavours.

Would such a punter necessarily include an MR 92 horse in his exotics at level weights against an MR 106 opponent?
Would his decision change if he was informed that it is actually an MR 105?
If the NHRA is to persist with the current system, then I believe that it is essential to publish the true MR's of all horses, as well as the adjusted 'official' MR's in order to treat our customers (punters) fairly with respect to the information that is provided.
For background, read more by clicking on the links below:
The handicapping policy changes
Now please take a minute to comment and tell us what you think!
‹ Previous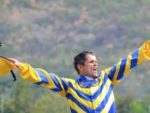 Green, Green, Grass Of Home…