Jet Explorer is the War Horse that recovered from horrific facial injuries in the 2014 Gr1 Rising Sun Gold Challenge and not only made it back to racing, but to the winner's enclosure, possibly better, happier and stronger than ever before.
There's an old expression that when life hands you lemons, you should make lemonade. Well, when life hands you peaches it seems, you need to write about them.
As we near the business end of the season and there is more attention than usual on figures and stats, it's worth remembering that there is more to being a champion than winning. No, I haven't forgotten that this is a racing column. I realise that crossing the line first is generally the bit everyone focusses on, but if that's all you focus on, you risk missing the rest of the picture. And there's quite a lot of it behind the winning post.
Yes, the big wins are important – for race results, for championships and for the record books – but for every race, there can only be one winner but for every winner, there are at least 10 other stories to tell. Stories of near misses, opportunities lost, disappointments and heartbreak, the inexplicable run, the back to the drawing board run and just occasionally the improved run and renewed hope. Sometimes there are victories along the way that aren't celebrated only in the winner's enclosure.
The meaning of life
I think whoever invented riding – or racing – understood a little about reward. I think they understood that rewards are that much sweeter when they are preceded by endeavour. And particularly failed endeavour. Or at least unsuccessful endeavour. Because it's the fire and determination to get back up and try again that defines so much of who we are and what our sport is all about. It's about competition. It's about courage and determination. It's about constantly working to be better, stronger and faster.
Which means it's about how you win as much as it is about what you win.
Although the two are often confused, winning is not success and one will be disappointed if that is what you believe.
The reason for this is that winning is temporary – it's what got you there that lasts.
Jet Explorer (Jet Master – Polar Star) was bred by Henry and Patricia Devine and joined Snaith Racing as a late 2 year old. Jono remembers him as a particularly good-looking and promising young horse who fulfilled the lofty expectations by winning the Gr2 Betting World 1900, finishing 3.75 lengths behind Heavy Metal in the 2013 July, 2.6 lengths off Jackson in the 2013 Champions Cup and putting in a breath-taking run from the back of the pack to finish 3rd in the 2014 Queens' Plate.
Tragedy
On 7 June 2014, Jet Explorer cantered down to the start of the Gr1 Rising Sun Gold Challenge with Richard Fourie in the saddle. At the jump, Sean Cormack made an early move on Beach Beauty in an effort to overcome her outside draw, bringing her right across the field towards the rail. The pace slowing into the first bend, caused scrimmaging towards the rear of the pack. Jet Explorer was lying towards the back of the field and briefly brushed Ice Machine to his left. As Richard shifted his mount out, Astro News shifted in from the right, causing Jet Explorer to clip heels and come down in a horror fall at the 1200m mark.
Jet Explorer came down hard on his face, shattering his jaw. "I don't think people realised just how serious his injury was," says Jono Snaith. "It was horrific. With the snapped jaw hanging down, Justin said the horse looked like an alien. Most people would have had him euthanased on the course, nevermind surgery, but the strangest thing happened when Justin got to the parade ring. Jet Explorer used to be quite a difficult horse, but when Justin ran up to him that day, he was almost helpless. He didn't try to turn away and just hung his head down as if to say 'help me'. It was at that point that Justin said 'no way, this horse wants to live.'
With the shock of the accident and the sight of the severely injured horse, Justin then incurred the wrath of the on-course vet who somewhat absurdly tried to insist on scoping the horse for an epistaxis. Things got heated and Justin says he was weighing the fine for assaulting an official in order to protect his horse, but fortunately help was at hand. Dr Ralph Katzwinkel of Summerveld Equine Hospital was on course and helped everyone see sense.
Despite the extent of the injuries, Dr Katzwinkel agreed to try and reconstruct Jet Explorer's face, which required extensive work to wire up both jaws. He warned that it was high risk and that there was a good chance of failure, but in the end, everything went well and the operation was a major success. With the first obstacle of the surgery out of the way, the next major hurdle became getting Jet Explorer to eat again. "It was a huge worry, because if they don't eat within a certain period, the horse will die," explains Jono, but they had counted without Jet Explorer's fighting spirit.
Comeback
Unbelievably, not only did his jaws heal, but he recovered well enough to return to work 3 months after the accident and he did his first piece of fast work at the Philippi gallops on Tuesday, 23 September 2014 with old friend Richard Fourie in the saddle. Why did they bring him back to racing rather than just retiring him? "Although he'd been through a lot, he seemed to be in good place mentally," says Jono. "He didn't do much in terms of morning work. He went to the beach a lot and spent time in the paddock – we were mainly running him just to keep him fit. He looked good, his coat looked good and perhaps because of how much work and TLC the injury required, it's amazing how much better he was with people after the accident. I think he learnt to trust people a lot more." Unbelievably Jet Explorer was back at the races on 25 October 2014, finishing 4th to Readytogorightnow in a 1400m Pinnacle Stakes at Kenilworth.
After the Pinnacle Stakes, he stepped up in trip in the Green Point Stakes, finished a narrow second to Jet Aglow in the 2014 Jet Master Stakes and then finished less than 2 lengths off Futura in the 2015 Queen's Plate. His 2015 KZN season was a little lacklustre and Jono explains, "When he came back, he'd lost a bit of confidence. Because he sustained his injury under racing conditions, it took him a long time to relax and realise that the trainer and jockey weren't going to hurt him."
"The riders were under strict instructions not to give him a hard ride unless he was in the firing line and not to use a stick and just allow him to enjoy his racing. He didn't get any hard or punishing rides and after a while he seemed to be enjoying his racing."
Better than ever
He then had a good break and since returning to work in December 2015, has gone from strength to strength. He was 6 lengths off Captain Alfredo in the Southeaster Sprint, before heading to PE for the 2015 Memorial Mile, where he finished 4th. He has just notched back to back wins in the Windy City, including last Friday's East Cape Poly Challenge, which neatly delivered S'manga Khumalo his 200th winner for the season and helped him inch a little further into the lead for this season's jockey championship.
"We raid him to PE. It's sort of like being in semi-retirement. He doesn't stay there and always comes straight home after races, then has a week off in the paddock and going down to the beach. He's happy. We knew S'manga was approaching his 200th winner and hoped it would be Jet Explorer, but there were no special instructions other than to 'please look after our special boy'. He did a great job."
Future plans
"As long as we feel he's in a good space and still enjoying himself, we'll continue to race, but the Devines have given strict instructions that as soon as he tells us he's ready and doesn't want to race again, he must be retired immediately. They have been amazing – all they're worried about is this horse and they've said from day one that as soon as he decides he's had enough, he must be retired to a good home. That's a big thing for us and we've short-listed some people who we know and trust and he will retire in the best of hands. He's been so special, we'll make sure that he'll be looked after well for the rest of his days."
"The Devines love this horse and after everything he's gone through he's very special to them. The races he's won have given them a lot of joy. Mr Devine isn't all that well and this is the best horse he's got racing at the moment. I think that's what makes it extra special – it's not just a normal horse that wins a race, he's overcome a lot of obstacles."
In the end, life's not about how hard of a hit you can give … it's about how many you can take, and still keep moving forward.
Everyone gets knocked down, champions get back up.
‹ Previous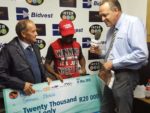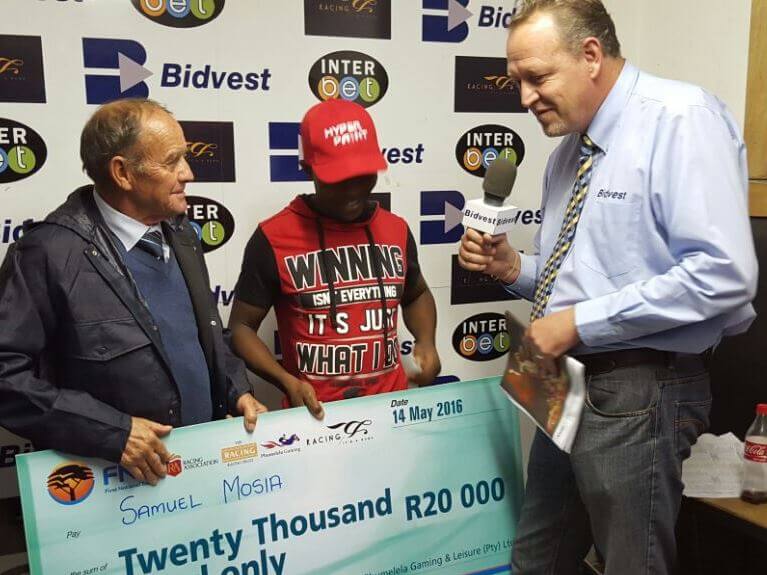 Mosia Is Top Workrider