Lyle Hewitson is one of South Africa's newest apprentices. Having made his way through the work rider ranks, he has burst onto the professional scene with dazzling speed. I thought I'd ring up and see how he is doing.
There's a story about a concert pianist who sits down in a hotel lobby at the keys of a grand piano and plays an impromptu recital. He plays Mozart, jazz, pop and back to classical again, playing everything from memory so beautifully that the audience is moved to tears. At the end of the set, a man approaches him and says, "I'd give anything to be able to play like that." To which the pianist replies, "I have." What he meant was that what he did was no matter of wishing, fluke of nature, whim or hobby. It was serious. What he meant was that his passion was so great that it drove him to practice to the exclusion of everything else. Not that there was anything wrong with 'everything else', it just wasn't his passion and didn't fulfil him the way music did.
I first met Lyle Hewitson in January 2015. When I asked why someone who otherwise seemed relatively sensible wanted to be a jockey, he answered, "I've always been in love with horses and now the racing bug has bit, and I'm sure it's there to stay." Although he said it quite seriously, there was a small, sceptical part of me that thought 'ahh, that's nice', mentally patted the nice young man on the head and figured he'd see sense and grow out of it soon enough.
I love eating humble pie – it comes with zero calories. Watching Lyle that afternoon, a few observations stuck. The 17 year old lad had not only made it to the track under his own steam, he'd financed the trip himself. He'd taken pains to dress smartly and his kit was neatly organised into one of those small cabin bags one often sees travelling jocks wheeling along behind them. He was polite and dealt with owners, trainers and racing staff in a confident, professional manner. While quietly accepting congratulations on his day's win, rather than being buoyed by the achievement, it seemed to make him more serious and purposeful. In short, what I'd mistaken for playing at being a jockey was in fact serious practice. I'm pleased to say the practice has paid off. A year after keeping his promise to complete matric at Kearsney College, Lyle realised his dream by joining the SA Jockey Academy in January 2016.
Academy life
Lyle explains, "Before we start track work, we wake up early, clean boxes and those who need to, are taught to ride. The apprentices who are still at school, have lessons from 10:30 till 14:30. From 14:30 it's back to the stables to ride and clean boxes, etc. Because I've got a few years' experience behind me already, as soon as my insurance came through – which was about three weeks in – I was able to start track work. So instead of going to stables, I could go to Summerveld with the second and third years and ride work." Having been a regular at the Durban training centre since 2010, Lyle slotted in comfortably. "I just went from ring to ring and kept myself as busy as possible in the morning. There wasn't a single person who wouldn't help, put me on horses and give me a chance. Everyone was very welcoming."
With his extensive work riders' experience behind him, it was not unexpected to see Lyle sign his papers and canter to post as a fully-fledged apprentice at Scottsville on 6 March 2016. "The Academy told me initially it would take about three months, which is more or less when the other experienced riders have had a chance to go. I was eager to ride and at the rate I was progressing, I put the application through. The NHA were very facilitating and helped me get everything organised. They gave their approval for me to be licensed in just under three months, so I signed my papers and by the time three months had passed, I had everything in order."
First ride
Were there any butterflies cantering down for the first time as a fully-fledged apprentice? "To be honest, I was very relaxed. It was an apprentice handicap, so there were no nerves about riding against the bigger jockeys.
Naturally it was a very big moment, but more because of the realisation that this was the start of my career and my dream.
It was more a sense of accomplishment, that I'd done it, I was finally where I wanted to be and that this was the start of everything."
Lyle was in at the deep end at his second meeting at the Vaal four days later, suiting up in open company. Was it a milestone sharing the jockey room with senior riders? "I'm confident in what I'm able to do, so my focus was on my strategy for the race. As long as I do my bit, then everything should be fine. That's how I approached it and again, it was more a feeling of accomplishment, rather than nerves." The strategy seems to serve him well as he brought home 3 places from his 7 engagements.
First win
His first winner came on his third book of rides at Fairview on 18 March 2016 aboard the filly Blizzard Belle. "It was a real fairy tale story. The win was for Yvette Bremner, who was the first person I ever rode work for as a kid. My dad is the assistant at the yard and the win came in his silks. It was pretty incredible," he says with justifiable pride.
The winners have been coming thick and fast ever since and he currently has a total of 28, meaning his apprentice allowance is down to 2.5kgs and he is half way towards the 40 win mark and a drop to 1.5kg. Perhaps even more impressive is his strike rate of 17% wins and 55% places. As Lyle is quick to post photos of his wins (along with thanks to all the connections) on social media, it allowed me to clock another observation – every winning pic shows him crossing the line with a huge smile on his face. Is it as much fun as it looks on Facebook?
"Smiling for the camera isn't something I plan, but when I ride a race, it's almost a natural thing.
I don't even know I'm doing it, but somehow whenever I cross the line, I've got this big grin on my face.  I think it's just the thrill of riding winners and riding in races in general."
How has the transition been from work rider to full time apprentice? "There are quite a few guys who came through the work rider ranks like Calvin Habib, Diego De Gouveia and Serino Moodley. We all rode against each other 2 years ago and it's great to see them doing well. Our first year group at the Academy includes Julius Mphanya who was also a work rider, there's Nooresh Juglall's brother, two other first years and me. Our first year group is small, but they've been very supportive."
"One of the biggest advantages of being full time is fitness. I'm riding six rides a day and racing almost every day of the week, so my fitness and physical strength are improving. Race riding has also made me a better rider. There is nothing like experience and you pick up things all the time. The senior jockeys all try and help you along and I've had a lot of help from everyone. There's a lot of constructive criticism, which sometimes seems a bit tough, but as long as you see it in the right way, you can learn. I don't try to emulate anyone specific in terms of my riding style, but I do watch other jockeys. It goes beyond just race riding though. I also watch how other riders conduct themselves off the track and there are a few that stand out for me as being really stylish in the way they dress and present themselves.
If I'm impressed by it, then I'm sure other people will be too, so I try and pick up ideas from everyone."
Does he do kit for anyone? "When I wasn't riding, I did kit for some of the senior jockeys, but I've usually got a full card now, so I can't and normally have someone helping me." A jockey's biggest enemy is always the scale, but Lyle says weight is no problem. "I'm happy where I am. It's much easier when you keep active and as long as I keep working hard, my weight manages itself."
Future Goals
"Champion apprentice is an obvious goal. This season might be a bit out of my reach, as I can't realistically expect to achieve that between March and July. Callan has a good lead and he's still got winners to ride, but maybe next year. It will definitely be my main goal before my time is up. I will be based in Durban for the rest of this year as I have to do a year of Equine Studies, but we'll see what happens after that."
Spectacular start
While statisticians are checking when last an apprentice progressed through the ranks quite as fast, other people are also taking note. "I didn't expect this year to start as well as it did, but I couldn't have wished for better. I'll just take things as they come and hopefully things keep rolling the way they have. There are definitely other people who are taking notice. I've started getting calls from different centres and trainers that I've never engaged with before are asking me for rides. I'm getting comments from owners, trainers and even the public. It's quite cool that my name's becoming familiar."
Lyle Hewitson. Remember the name.
‹ Previous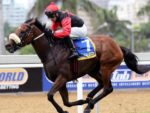 July – First Declarations