South Africa's leading apprentice jockey Callan Murray has signed a sponsorship deal with champion Cape breeders Avontuur.
The Gauteng-based rider joins senior jockeys Anthony Delpech, Greg Cheyne and MJ Byleveld, who have plied their trade for many years under the prestigious internationally acclaimed banner of the home of fast horses and fine wines.
Avontuur General Manager Pippa Mickleburgh  announced on Monday that the 19 year old would join the Avontuur stable and have his first ride in his new branding at the Vaal on Tuesday 14 June.
"We proudly produce a high quality winning product both in terms of our horses and wines and take the concept of marketing and image management very seriously at Avontuur. We have great pleasure in welcoming Callan to the fold. Talented, professional and ambitious, he fits in perfectly to where we would like our brand projected and his youthful exuberance  complements our existing team of brand ambassadors perfectly," she said.
Callan currently leads the National Champion Apprentice log by 20 winners with six weeks left of the new season. He comes out of his time on 9 January 2017.
In April he rode his biggest winner to date when steering Fursa home for Mike de Kock in the Gr2 SA Fillies Nursery.
He rode 16 winners in May and is looking to ride an average of 16 winners per month to crack the magical 100 winner mark this season.
The articulate youngster, whose Attorney mother oversees the financial nuts and bolts of his career, has come a long way since riding his first winner for Charles Laird aboard the Ingrid and Markus Jooste-owned Tennessee Strategy on 12 November 2013.
He is riding close on seven days a week and said that he believed that hard work had never killed anybody.
"I am starting at the bottom so take what I can get while trying to establish myself with the better stables in the various centres. I have received unbelievable support from Mr Mike de Kock and he has shown masses of confidence in me. It is a dream for any young rider and I do my best to deliver," he said.
He added that with the amount of travelling that he was doing, it was difficult to ride work more than three days a week and then that tended to be at Randjesfontein.
"It is about establishing a name and finding a balance. Rome wasn't built in a day and I try and maintain loyalty to those supporting me," he says maturely.
We asked Callan if he felt that he could win the championship.
"Lyle Hewitson is my closest threat and while I would never say that he can't catch me, I don't intend to stop riding winners – and in fact find that the competition that he provides makes things interesting. He is a good rider and, like me, is very motivated to succeed. I will just keep doing the basics right and won't be distracted by watching him in the rear view mirror either though," he laughed.
Of his first sponsorship, he said that he was the envy of his colleagues and regarded the approach by Avontuur as an honour.
"I was so thrilled to be selected by a sponsor of Avontuur's stature and intend making the most of our relationship to ensure maximum mutual exposure. I hope to carry the flag with pride and even though I am more a ginger beer drinker than a wine connoisseur (at this stage!), I intend getting up to speed on the various Avontuur labels. Being in the racing industry, it is not difficult keeping up with the unbelievable exploits of stallions Var and Oratorio and the Avontuur stakes winners on the tracks," he said.
‹ Previous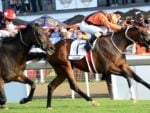 July Newsflash – Zechner Back On Aba?