Former leading trainer Dominic Zaki (47), has joined the team at Tellytrack in the capacity of Editorial Director.
Zaki's role at the station will be the day-to-day product, he has been charged with ensuring that the right information is flighted at the right times, including betting scrolls, tote pools and carryover figures, cutbacks from one racing centre to another and so on.
Zaki, a Top 10 Trainer in South Africa four times in the last decade, handed in his licence late last year, mainly due to the spiralling costs of keeping a big yard operational.  He's been looking to stay involved in the sport ever since.
"I've been asking around, trying to get into racing in a different role and was fortunate to get offered a position at Tellytrack," Zaki said on Monday. "I've been working in the racing industry since my early teens and I have the knowledge and experience to make a difference.
"My specific duty is to ensure that correct and pertinent information is scheduled and flighted to benefit punters, owners and trainers and I am committed to making a positive contribution. Our aim is to increase betting turnover at all times, to display the kind of information that encourages viewers to bet and makes the experience enjoyable. Timing is important."
Zaki said he's enjoyed support from the Tellytrack staff. "Everyone's been very helpful.  This is a different ball game altogether, I've seen how things work behind the scenes.  It's a different perspective to what I was used to in training, but I am enjoying it."
www.turftalk.co.za
‹ Previous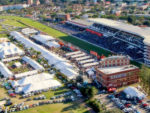 KZN Tracks – Gold Circle Stands Firm